Free
Forest Hills
Contrary to popular belief, it's not just old birds and birders walking the trails around this suburban oasis. Thanks to miles of paths ranging from flat to challenging, nature lovers of all ages take advantage of the scenic beauty of Radnor Lake to stretch their legs and socialize. It has the added benefit of being a great date idea, as well as one of our very best hikes in the area.
Discover the OGs of Nashville Hot Chicken
Free
Various
They must be adding fertilizer to the chickens in Middle Tennessee, because upstart hot chicken joints are sprouting up all over town. But for a true taste of history, you should experience your fiery fowl cooked by the families that have been doing it for decades. Prince's Hot Chicken is the undisputed king of the cluckers, but don't miss out on a trip to Bolton's or 400 Degrees to experience more masters of heat.
Stroll as you learn on any of our many walking tours
$-$$$
Multiple locations
Despite all those hills, Nashville is still a pretty good walking city, and several different tour companies will be happy to lead you on a guided walk where you can get some exercise while discovering new facts about your town. There are tours focused on food, drink, music, history, and ghosts. When that double-decker tour bus goes creeping past, you'll get a little smug satisfaction knowing you're actually experiencing Nashville from street level.
Sip some Tennessee whiskey straight from the source
$
Marathon Village
While the big boys Jack (Daniels) and George (Dickel) get most of the attention in the world of Tennessee whiskey, Nelson's Green Brier Distillery has as much history as any of them, and is conveniently located right in town, rather than almost 80 miles away. Shuttered since Prohibition, the operation has been revived by brothers Andy and Charlie Nelson who have recently released their first Tennessee whiskey after years building the new distillery. They offer tours and samples every day.
Explore the center of East Nashville's hipster universe
Free
East Nashville
Twenty years ago, there wasn't much to see in Five Points except for the odd geometry of the intersection of multiple roads. Today it's one of the cultural and entertainment hubs of the city, with the best wine store on that side of the river in Woodland Wine Merchant, a great neighborhood pizzeria in Five Points Pizza, a fine casual French bistro (and another of our best restaurants) in Margot Cafe, a bar where you can still smoke indoors in 3 Crow Bar, and a chill music venue in The 5 Spot Club. That's just scratching the surface of Five Points. Discover the rest for yourself just by walking around.
Visit the home of President Andrew Jackson at The Hermitage
$$
Hermitage
If you're looking for a little history in Nashville, you could do a lot worse than visiting the home of Andrew Jackson. The Hermitage, a stately mansion-turned-museum was the president's residence for more than 40 years, and now hundreds of thousands of visitors tour the building and the grounds every year.
Check out our nonprofit film center, the Belcourt
$
Hillsboro Village
Nashville's oldest movie theater has been around since 1925, including acting as the home of the Grand Ole Opry from 1934 to 1936. After a major refurbishing a few years back, the theater has been modernized into one the best places to watch a movie in town. Offerings range from art house films to documentaries to new releases.
$
Multiple locations
No, golf isn't just for rich country club snobs. Thanks to Nashville's collection of great Metro Parks-operated golf courses, you can get in a quick round for less than 10 bucks if you're willing to walk and carry your own clubs. And you should. It's exercise, it's outside, and even if you've never golfed once in your life, it's a relaxing way to spend an afternoon goofing off.
$$
Nolensville Road
While the Nashville Zoo at Grassmere is a great place for families with all sorts of playgrounds and room for kids to run themselves to an early bedtime, adults can have a great time even sans les enfants. Divided into neighborhoods, you could spend a whole day exploring the habitats that house thousands of animals.
Free
West End
While it might seem quite incongruous that there's a massive exposed aggregate recreation of a Greek monument in the middle of a city park, once you know the backstory, the Parthenon makes more sense. Nashville has been known as "the Athens of the South" for years thanks to the plethora of colleges and universities in town. So when it came time to celebrate the city's centennial in 1897, an homage to the real Athens was logical. Even if you don't buy that, it's a great place to throw a frisbee and lounge about.
Find something new to decorate your rec room at Hatch Show Print
Free
SoBro
Founded in the 19th century to print posters for traveling circuses and minstrel shows, Hatch Show Print preserves the traditions of letterpress printing still beloved by music fans and art directors. Mr. Hatch used to say, "Selling without posters is like fishing without worms," and these lo-fi posters are still used for marketing campaigns and tour swag for bands like REM and Bruce Springsteen. Visit the shop in the Country Music Hall of Fame to watch the ancient presses still in operation and pick up a fantastic souvenir of Nashville history.
Get down home at the center of the bluegrass universe
Free-$$
The Gulch
The Station Inn has been known as one of the premier venues for bluegrass music since opening in 1974. Name a famous act in the genre, and they've surely graced the small stage in the cozy club. There's still live music every night of the week with a free bluegrass jam on Sundays. Bring an instrument and play along or just listen to local musicians jamming for the love of the music.
Free (if you know the secret)
Donelson
The sprawling Gaylord Opryland Resort is a marvel of lovely excess, with multiple pavilions covering acres of land and almost 3,000 guest rooms. Like a premium casino resort without the clamor of slot machines, it's a fantastic place to stroll around and people-watch, especially when the resort is decorated for various holidays. Pro tip: Avoid the exorbitant parking fee by parking at the back of Opry Mills Mall next door and walking a couple minutes to the resort's Cascades Lobby.
$
Music Row/Vanderbilt/Belmont
Belmont University is famous for being one of the top music and music business schools in the country, so it's just logical that they should also house a collection of some of the greatest musical instruments ever crafted. The Gallery of Iconic Guitars (GIG) is the collection of guitars from a university benefactor who wanted them displayed and actually played after his death. From acoustic guitars to electric prototypes of famous axes, this is a gearhead's dream.
$$
SoBro
Sure, the Bluebird Cafe may have gotten all the screen time back in the day on Nashville the television show, but locals hardly even try to get into that Green Hills stalwart because it's full of tourists. If you want to see talented songwriters performing in the round, The Listening Room Cafe in SoBro features similar talent, better food and a more casual atmosphere than at the Bluebird. They're both great in their own ways, but likely to be a bit crowded. For something a bit more underground, check out Nashville's criminally underrated hip-hop scene.
Design your own art crawl down Fifth Avenue
Free
Downtown
Lots of people hit the First Saturday Downtown Art Crawl, but it can get a bit crowded with patrons packed tightly into tiny galleries fighting for a free plastic cup of box wine. Instead, create your own itinerary by touring some of the eclectic galleries along Nashville's Fifth Avenue of the Arts some other day of the month. Worthwhile stops include The Arts Company, Rymer Gallery, and Tinney Contemporary.
$
Pie Town
There are plenty of really good craft breweries in Nashville, but nobody combines good food, interesting beers, and a comfortable taproom any better than Tennessee Brew Works. The kitchen makes a point to incorporate their beers in most of the small plate options and in a noteworthy burger. There you can enjoy your food and drink while overlooking the modern brewing facility or on either of two outdoor decks.
Take a drive down "The Boulevard"
Free
Belle Meade
In a town where old homes are constantly being torn down and replaced by four "tall skinnies" on the same lot, it's nice to know that the opulent homes up and down Belle Meade Boulevard aren't going anywhere. Drive the speed limit (because Belle Meade cops will not mess around) as you tour the strip and see the homes of the guys who probably own the banks that own the mortgage on your home.
Free
Downtown
If you haven't visited the expansive modern Tennessee State Museum in its new digs on Rosa Parks Blvd, you really should. (Your tax dollars paid for it and admission is free, after all.) The museum offers some fascinating and bizarre artifacts. The permanent collection of thousands of artifacts rotates through the displays frequently, and from an Egyptian mummy to a death mask of Napoleon to the dried thumb of a famous horse thief, you never know what you'll find there.
$$
SoBro
Boasting the largest collection of Johnny Cash artifacts and memorabilia in the world, our Johnny Cash Museum and Cafe is much more focused than its larger neighbor at the Country Music Hall of Fame. Don't plan on missing either one of them, but if you only have a couple of hours, spend the money on Cash.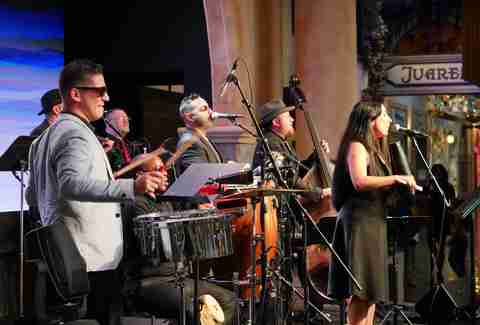 $$
Germantown
The Nashville Jazz Workshop is a non-profit organization dedicated to teaching and preserving the traditions of jazz music. They offer music classes to all levels of proficiency, as well as concerts featuring student ensembles as well as notable touring musicians. Admission prices range from free to cheap, so keep an eye on their performance calendar.
$$
Germantown
The largest group of fanatics of the new Nashville SC soccer team calls themselves The Roadies, and their motto is an honor to the hard work of the crew that makes sure that the show always goes on, "First in, last out!" They sing and cheer through the whole game as they root on our boys in gold. You're welcome to join them, but you'd better come ready to bring the noise!
Free
Arrington
The owner of Arrington Vineyards is none other than Kix Brooks, as in "and Dunn," so it's no surprise that he would want to combine music with his wine operation. Every weekend, from April to October, Arrington hosts Music in the Vines where guests can picnic for free while listening to jazz and bluegrass bands around the property. You're also welcome to buy a bottle or three to enjoy while you take in the tunes.
See the strangest vehicles ever driven at Lane Motor Museum
$
SoBro
The Lane Motor Museum is a little-known destination in a nondescript industrial neighborhood south of downtown, but it's certainly worth seeking out. Their collection of 150 unique cars, motorcycles, amphibious vehicles, and military transports includes rare examples and prototypes that you'll never find anywhere else under the same roof. Its owner Jeff Lane has been collecting and restoring vehicles since he was a teenager, so you're actually viewing his life's work.
See literally any performance at the Ryman Auditorium
$$-$$$$
Downtown
They don't call the Ryman "The Mother Church of Country Music" for nothing. It is best known as the long-time home of the Grand Ole Opry, but through the years it has hosted eclectic musical acts ranging from Bill Monroe to Elvis (both Presley and Costello) to Widespread Panic to Foo Fighters. No matter who's on stage, or even for a tour between performances, the Ryman is always a pilgrimage worth making.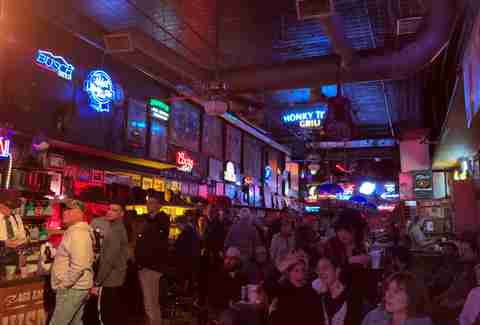 Free
Downtown
An easy rule of thumb when picking which of Lower Broad's multiple honky tonks to visit is that the fewer floors the building has, the better the music. It just makes sense that having to book bands for one stage instead of four means that management can pick superior musicians. If you see that The Don Kelley Band or Brazilbilly are playing at this local favorite, you'll be sure to hear some of the best old-school country in town. Plus you can dine on Robert's "Recession Special," a fried bologna sandwich, chips, a moon pie, and a PBR for just six bucks!
Enjoy the sun and the moonshine at 6th & Peabody
Free
SoBro
Popular Yee-Haw Brewing Company and Ole Smoky Moonshine have joined forces to create this adult playground just a couple blocks off of Broadway, and it's the perfect place to while away an afternoon. In addition to beer and moonshine tastings, there's food from White Duck Taco and the Prince's Hot Chicken food truck to pair with your drinks. The indoor area at 6th & Peabody is cavernous with huge televisions and a stage for live music, but it's the party patio that is the real difference maker. Even bigger screens are available for your game-watching pleasure along with all sorts of al fresco activities like basketball, table tennis, cornhole, and free retro video games. It's like somebody built your ultimate rec room, except you don't have to clean up after your heathen friends at the end of the party.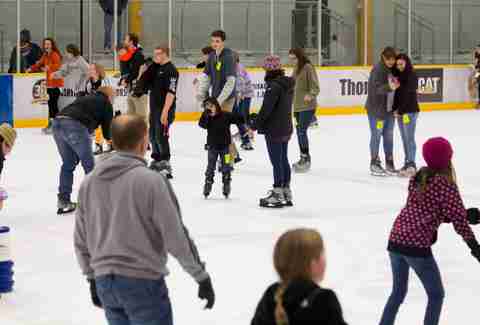 $3
Bellevue and Antioch
At the original location in Antioch and the newest facility in Bellevue, the Nashville Predators have partnered with the city to create new sheets of ice for everybody from junior hockey squads to the old man teams that play their games after midnight. The Preds also hold open practices from time to time at the Ford Ice Centers, so you can watch your favorite team on the ice and then rent some skates to show off your own skills afterwards.
Free
Germantown
Just down the hill from the State Capitol, this 19-acre park tells the story of Tennessee's history and geography through a 200-foot granite map of the state, a Pathway of History revealing important events that shaped Tennessee culture and a Walkway of Counties that showcases flora from across the state. The 95 counties of Tennessee are also represented in the massive carrillon with 95 bells ringing the hour and playing versions of the state songs. When the weather allows, the splash pad is a popular place for kids to play.
Soak up some culture at The Frist
$15
Downtown
The Frist Art Museum is novel in that it doesn't really maintain a permanent collection of artwork, choosing instead to showcase rotating exhibits of local, regional artists along with major US and international traveling exhibitions. That means there's almost always something new to see at The Frist, not the least of which is the cool art deco architecture of the former post office that has been converted to a world-class gallery space. The Frist offers free admission days throughout the year, so sign up for their email newsletter to find out when you can get in gratis.
Take a walk in the (ball)park at GLOW Nashville
$29.99
Germantown
From November 22 until the end of 2019, First Tennessee Park, home of the Nashville Sounds AAA baseball club, will become a winter wonderland as GLOW Nashville takes over the ballpark. In what could very well become a holiday tradition, the grounds will be decorated with millions of twinkling lights illuminating a snow tubing park, an ice skating rink, and the city's tallest Christmas tree. Guests can enjoy food and drink at The Mistletoe Cafe or Blitzen's Band Box, shop for holiday gifts at the Winterfest Market, or visit with the Big Man himself in Santa's Workshop, a magical two-story gift box filled with Christmas cheer.
Sign up here for our daily Nashville email and be the first to get all the food/drink/fun the Music City has to offer.