The 16 All-Time Greatest Things to Do in Nashville
Honky-tonks are just the beginning of what makes Music City so special.
Ryman Auditorium

| Image by Kit Wood, courtesy of Ryman Auditorium, Photo-illustration by Maitane Romagnosa for Thrillist
Ryman Auditorium

| Image by Kit Wood, courtesy of Ryman Auditorium, Photo-illustration by Maitane Romagnosa for Thrillist
All Time Greats is the ultimate city bucket list. Whether you're a local or a visitor, consider this the essential guide to getting the most out of Nashville. Looking for events happening this weekend?
Check out our LA weekend guide
.
While spring can be lovely in Nashville (if we recall it fell on a Tuesday this year), it's but a fleeting respite between the sometimes oppressive summers and dreary winters that the city has learned to endure and thrive under. Nashville really shines during the fall, when the weather is crisp enough for hot apple cider or a nip of Tennessee whiskey, and the changing leaves provide a beautiful backdrop for any outdoor activity. Plus, there's plenty to enjoy indoors if the mutable weather skews a little wet or chilly, so don't be afraid to take this party inside.
Fall is the perfect time to discover a new favorite coffee joint or brewery, or maybe take a tour of Nashville museums and music venues. If you're more of a last-minute planner, check out our weekend guides for the best things to do on any given Sunday (or Friday or Saturday) in Nashville. But no matter the time of year, any one of these activities is sure to convince you that there's no better city for having a good time than Nashville.
Things to Do in Nashville This Fall and Winter
Downtown
If you take a trip to Nashville and don't at least take a peek at "The Mother Church of Country Music," did you really even visit at all? Many locals and tourists would say no, because the Ryman Auditorium is truly worth the pilgrimage. Not only is the converted tabernacle the most famous home of the Grand Ole Opry where the weekly live radio show introduced the world to country music through voices like Hank Williams, Patsy Cline, Johnny Cash, and Roy Acuff, but the building also hosted performances by the likes of Harry Houdini, Charlie Chaplin, John Phillip Sousa, and W.C. Fields back in the day. Even better, the Ryman still hosts concerts today, so you can sit in the same pews as those Houdini-heads and enjoy the best touring artists of the current era. If you can't take in a show, backstage tours are available and definitely worth the time.
Honky-tonks
Downtown and East Nashville
The neon canyon of Lower Broadway is lined with music clubs, locally known as honky-tonks, the traditional name for country bars with live music. While you're not likely to hear many bad bands anywhere downtown, even in the Disney-fied mega tonks with celebrity names on the sign over the front door, locals will point you toward smaller historic spots for a more authentic experience. Among the spots where you'll actually encounter Nashvillians among the tourist throngs are Robert's Western World, Legends Corner, The Stage, and Tootsie's Orchid Lounge. If you're willing to make the schlep to East Nashville, Honky Tonk Tuesdays at American Legion Post 82 are a fascinating melange of hipster and urban hillbilly culture.
Donelson
Opened as the Opryland Hotel in 1977 and renamed during the course of several expansions over the decades, Gaylord Opryland Resort is a massive entertainment complex that attracts visitors who aren't even staying at the property. Now covering more than three million square feet of space, the complex is pretty much visible from the International Space Station, and it's easy to while away several hours wandering among the pavilions and indoor garden atriums, especially during the holidays when millions of lights adorn the property indoors and out. The addition of an indoor/outdoor water theme park attraction called Soundwaves offers aquatic activities even during the steamy heat of summer and chill of winter.
Music museums
Downtown, North Nashville
It's no surprise that Music City is blessed with several excellent museums that showcase various musical genres, and each offers a specific focus to make them stand out from the crowd. The Country Music Hall of Fame showcases the history of hillbilly music all the way up to modern-day country, and even casual fans of country will find something fascinating among the multiple wings of the museum. The CMHoF also operates RCA Studio B where visitors can stand where hundreds of iconic country music tracks were laid down by artists ranging from Elvis to Dolly. The Musicians Hall of Fame focuses on the players who created the songs we all grew up on, and The National Museum of African-American Music showcases the contributions of Black musicians to almost every genre of music through the years. The Jefferson Street Sound Museum homage to the days when the North Nashville street was home to an active jazz, blues, and R&B scene where a young Jimi Hendrix played with The King Kasuals on weekend leave from nearby Ft. Campbell and Little Richard and James Brown brought the house down at rhythm and blues revues.
Where to Eat and Drink in Nashville
East Nashville
When chef Margot McCormack opened her rustic French-inspired restaurant in East Nashville's Five Points neighborhood, the area barely even had any fast-food options. The cozy space in the refurbished service station continues to thrive more than two decades later, serving a constantly changing menu of classic continental cuisine made with ingredients that showcase local farmers and purveyors whenever possible.
Meat & threes and soul food
Germantown, North Nashville, West Nashville
Meat and three is a Nashville culinary staple where diners choose from a menu of meats like fried chicken, fish, ham, or roast beef off of a steam table and then two or three Southern side dishes to accompany their plate lunch. Soul food similarly has its roots in the Black community and shows the best of Southern cuisine. Arnold's Country Kitchen, the acknowledged masters of the craft, has unfortunately closed, but there are still plenty of other great choices for some downhome goodness around Nashville. Check out Big Al's Deli, Wendell Smith's, or Silver Sands for excellent examples of the art of Southern cooking.
Downtown
Internationally renowned chef Jean-Georges Vongerichten's first foray outside of the better-known major culinary centers of the world is in the basement of the venerable Hermitage Hotel, and it's a fabulous addition to the local dining scene. Featuring an elevated menu taking full advantage of the region's abundant produce, a meal at Drusie & Darr is upscale without being stuffy, and as a hotel restaurant, you can enjoy it at breakfast, lunch, or dinner.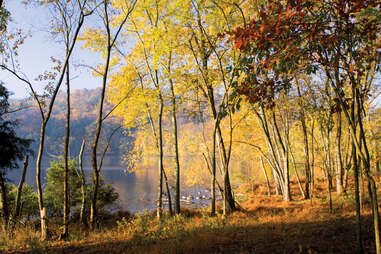 Things to Do Outdoors in Nashville
Forest Hills
This 1,368-acre park and protected natural area is a true suburban oasis situated a fairly short drive from downtown Nashville. Home to abundant wildlife including owls, herons, and nesting eagles along with minks and otters, Radnor Lake is a dream for nature photographers and hikers who enjoy the multiple trails ringing the lake.
West Nashville
The head of this historic 444-mile parkway starts outside of Nashville. It travels all the way to Natchez, MS, tracing the traffic corridor used by indigenous residents and settlers including explorers Lewis and Clark. While vehicular traffic can be slow thanks to a federally mandated 50 mph speed limit (and the accompanying high dollar fines for speeding on a federal highway), there's no need to rush or you might miss the many historical sites along the way. It's also a popular route for serious cyclists, and you can reward yourself at the end of a ride with a recuperative meal at the famous Loveless Cafe.
East Nashville
Running along the Cumberland River in East Nashville, Shelby Bottoms is a lovely natural area featuring marshy areas along the river that are home to all sorts of wildlife along with a paved greenway for walkers, runners, and cyclists to get out in nature without fear of vehicular interference. A decommissioned airfield along the trail is a fantastic spot for some fast, flat laps on your bike and also home to seasonal bluegrass jam festivals that neighbors can walk to with their lawn chairs. Stop at the nature center near the entrance for a quick primer on what to look for on your jaunt through nature.
Where to Go Shopping in Nashville
East Nashville
Nashville is a major center of vinyl music, with multiple record pressing plants still in operation despite the headwinds of the streaming society. With such a vinyl-loving population, the used record shops around town are some of the best you'll ever find. At the top of that list of stores is Grimey's, a long-time institution where locals sometimes sell their record collections to make rent and frugal shoppers take advantage of that by scoring some serious deals on rare recordings. Grimey's also hosts small live band performances amongst the bins of discs, the ideal environment to really get into the music.
Melrose
In addition to those record stores that buy music to help struggling artists pay their bills, local used instrument stores and pawn shops are excellent spots to benefit from someone else's misfortune by discovering deals on guitars and the like. Gruhn Guitars does sell lots of used instruments, but not the cheap kind. This store offers some of the finest and rarest stringed instruments and amplifiers in existence, including prototypes that were never available at retail. Whether you're looking for a one-of-a-kind guitar, banjo, or mandolin, or you just want to treat it like the museum of musical history that it is, Gruhn Guitars is a truly unique destination.
Sylvan Park
Thistle Farms is an organization with a mission to aid victims of addiction, trafficking, prostitution, and abuse by offering residential programs to protect and educate these women on their road to recovery. A portion of the program includes self-sufficiency and business skills education. As part of this initiative, residents produce candles, beauty and home products, essential oils, apparel, and accessories that they sell at their welcoming store and cafe in West Nashville. Drop in, shop, and do some good at the same time.
Arts and Culture Events in Nashville
SoBro
If you thought Nashville's nickname of "Music City" only refers to country music, it's time to think again. In addition to strong rock, jazz, hip-hop, and R&B scenes, Nashville is also home to one of the most acclaimed symphony orchestras in the country. Think about it, if you were a talented musician, wouldn't you want to live somewhere where you could play symphonic shows at night during the week, sit in on recording sessions during the day, and maybe head out on tour with a band on the weekends? Well, plenty of great players think that way, and the members of the Nashville Symphony have garnered more than a dozen Grammy Awards and perform at 140+ concerts in the majestic Schermerhorn Symphony Center and other venues around town every year.
SoBro
Located in and operated by the Country Music Hall of Fame, Hatch Show Print carries the legacy of the enduring art of letterpress poster printing as well as the history of the generations of musicians who used them as a major source of promotion. Since its founding in 1879, the old-school print shop has produced marketing materials for minstrel shows, circuses, political candidates, and musicians across genres. Still utilizing basically the same equipment and techniques of the early 20th century, Hatch Show Print is a snapshot of history, and weekend seminars offer the opportunity to make your own letterpress artwork.
West Nashville
Although the beautifully groomed botanical gardens at Cheekwood are (deservedly) the major draw of the preserved 1930s estate, it's worth the time and extra admission to include a visit to the mansion and its extensive art collection ranging from ceramics, glass, sculpture, and vintage furniture to photography and paintings by some of the masters of the 19th and 20th centuries. Of course, a picnic on the lovely cultivated grounds in one of Cheekwood's thematic gardens is also a fine way to spend an afternoon.
Chris Chamberlain is a food, drink, and travel writer. If Nashville was the
Love Boat
, he'd like to think he'd be Julie, your cruise director. In truth, he's probably more of a Gopher. Join him on the Lido Deck on Twitter @CeeElCee.