When the heat of the summer starts to get you down, the best solution is to head for the hills. And the absolute best high ground near Nashville is a mere three hours east in the Smoky Mountains. The area offers so many recreational and entertainment options that it's like stepping into the pages of a "Choose Your Own Adventure" book. If you decide to hit the road for a little elevated air, here's a guide to where to go, where to stay, what to do, and what to drink.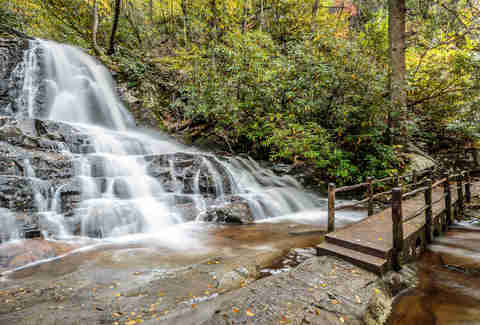 The Great Smoky Mountains National Park is one of the most-visited recreation area in the country with more than 11 million tourists making the trek each year. Don't worry about overcrowding, though. The park covers more than 800 square miles and contains 850 miles of hiking trails and unpaved roads, so you should be able to find your own little slice of solitude somewhere. Bonus: The Tennessee government stipulated back in the 1930s that "no toll or license fee shall ever be imposed," so visiting is always free.
Popular natural spots to visit include Clingmans Dome, which at 6643 foot is the highest point in the park, the tallest mountain in Tennessee, and the third tallest east of the Mississippi River; or Laurel Falls, a beautiful cascade that attracts smaller crowds thanks to the two-hour roundtrip hike from the trailhead at the visitor's parking lot.
Hit the road for a view
The GSMNP and the immediate surrounding areas are also perfect for taking scenic drives where you might encounter the morning fog that gives the mountains their name. The Roaring Fork Motor Nature Trail is a 5.5 mile one-way loop that offers views of fast-flowing mountain creeks, forest areas filled with old-growth trees, and historic buildings like preserved log cabins and grist mills. Cades Cove is one of the most popular destinations in the park thanks to an 11mi drive around a green valley surrounded by mountain peaks, where each curve offers new sweeping vistas and the potential to glimpse all sorts of wildlife ranging from wild turkeys to black bears. Even more adventurous is Highway 129, which runs alongside the border of the GSMNP and Cherokee National Forest. Known as "The Tail of the Dragon," this challenging stretch of road features an astounding and harrowing 318 curves over 11 miles, making it a bucket-list drive for motorcyclists and intrepid sports car enthusiasts. Proceed with caution!
Rent a cabin
Outside of the park, the most popular spots to visit are mountain towns like Gatlinburg, Pigeon Forge, and Sevierville in Tennessee along with the less touristy destinations in Jackson County on the North Carolina side of the Smokys. Jackson County destinations like Cashiers, Cherokee, Sylva, and Dillsboro have their own charm and a less frenetic pace of life.
In Gatlinburg, rental cabins are the places to stay. Big enough for a group of friends or families, most of the better ones are equipped with full kitchens, rec rooms with pool tables and video games, and hot tubs to soak in after a long day of tourism. Airbnb has hundreds of listings for you to choose from. During colder months, Ober Gatlinburg is a popular spot for skiing and snowboarding, as well as hitting up the restaurants and bars for après-ski activities.
For daytime fun, the Ripley's family of attractions has eight options. Visit the Aquarium of the Smokies, the Mirror Maze, or the Odditorium, where you can view more than 500 exhibits and artifacts ranging from shrunken heads to a robot sculpture made from scrapped cars to a gallery of taxidermied mutant animals. If these kind of museums are up your alley, then you're the target audience for The Salt & Pepper Shakers Museum. It also only costs $3 to get in, and you can apply your admission fee toward the purchase of any item in the gift shop. It's also located near the Winery Square center, if you're looking to do some more retail browsing.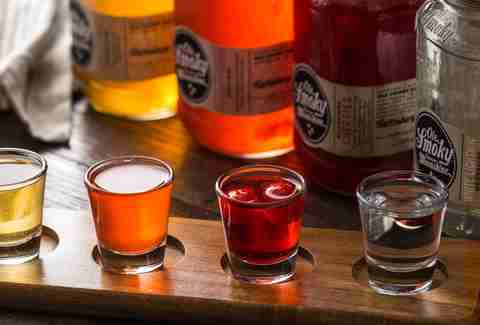 Gatlinburg is also in the middle of the area where Tennessee moonshine was traditionally made, and Ole Smoky Tennessee Moonshine is the most-visited distillery in America. Sure, it's basically just flavored vodka sold in jars filled with grain alcohol infused with flavors ranging from Apple Pie to Sweet Tea to Peach, but let he who has never tried one of those whipped cream/blood orange/glazed donut vodka flavors throw the first stone.
Up the road from Gatlinburg is Pigeon Forge, best known as the home of Dollywood, the biggest ticketed tourist attraction in Tennessee. For more than 30 years, Dolly Parton has invited fans and families to the theme park, and she is beloved in the area for providing millions of dollars in aid to the area after 2016's tragic wildfires. In addition to plenty of thrill rides, the park also features live music and crafts that are representative of the traditions of the Smoky Mountains.
Catch more thrills in Pigeon Forge
For more exhilarating experiences, try the Smoky Mountain Alpine Coaster, kind of like a luge run on rails down the longest downhill track in the country. At more than a mile long, it's a 7 to 8 minute-long thrill ride. And while it might not be 100% historically accurate, the Hatfields & McCoys Dinner Show is an evening of a-feudin' and a-fightin' with live music, dancing, feats of strength, and an all-you-can-eat buffet.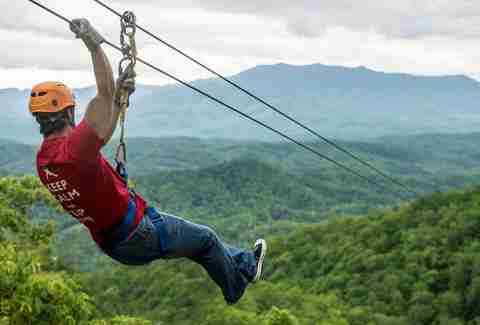 Chill out in Sevierville
Smaller and less ostentatious than its country cousins in Gatlinburg and Pigeon Forge, Sevierville is actually closer to the interstate, so it's a good place to make your home base for your Smoky Mountain adventures. Stay at the Berry Springs Lodge for a tranquil getaway near the entrance to the National Park. Enjoy fishing on the lodge's small pond, take a ride on a complimentary mountain bike, or just rock away the day in a comfy chair on the expansive main deck. Just a few minutes away in Sevierville you can experience the thrill of Legacy Mountain Ziplines, explore the subterranean wonders of Forbidden Caverns, or embrace your inner Bo or Luke Duke at the Floyd Garrett Muscle Car Museum.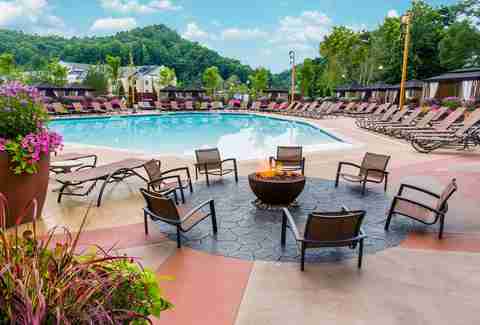 If the ironically tacky attractions of Gatlinburg, Pigeon Forge, Sevierville aren't your thing, head across the state line to Jackson County, NC where the pace of life is a little slower. Close enough to the Smoky Mountains to take advantage of their beauty and all the activities in the park, the towns in this amiable county each have their own personality. But if you still want to have a bit of exciting nightlife, Cherokee is home to the huge Harrah's Casino and Resort, where you can play roulette, blackjack, poker, etc., catch a show, eat at one of the 10 restaurants, play a round of golf, and party at the pool or nightclub.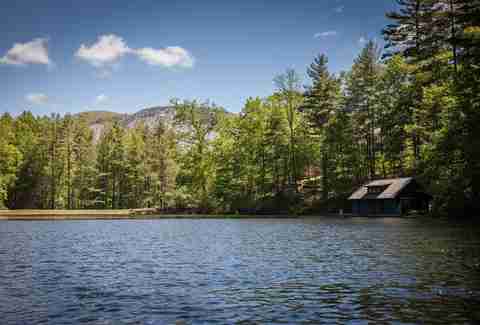 Relax in Cashiers
Cashiers is known for the Lonesome Valley spa and resort facilities, with its renowned Canyon Kitchen restaurant, featuring al fresco dining with views of the mountains or indoor options inside a huge old barn. Canyon has been a leader in preserving and promoting the cuisine of Appalachia for years -- the menu changes "on the whim of the chef" but you can expect plenty of grilled meats, Southern desserts, and locally sourced fish. Attire is "mountain casual."
Dillsboro, NC is more of an artsy town with plenty of working galleries and pottery studios, many of them open for visitors to see the crafts being made. Several of them have formed co-ops so that you can shop from multiple artists in one stop. There's also Country Traditions, which offers gourmet groceries like aiolis and jams, wine tastings and bottles to go, and cooking demonstrations.
Discover the local beers in Sylva
Most beer fans know that Asheville, North Carolina is a pilgrimage destination thanks to its more than 40 breweries, but the small mountain town of Sylva, about an hour southwest of "Beer City USA," has three fascinating breweries within a mile of each other on the town's quaint main drag. The Sneak E Squirrel is a rag-tag brewery cobbled together by a group of hyper-intelligent and driven friends who also like to gather during the evenings for board games and mystery theater parties. Located next to the train tracks that run through downtown Sylva, Heinzelmännchen Beer is a German-style taproom that refers to itself as "your gnometown brewery," and the tiny wood gnomes of fairy tales and Travelocity ads adorn almost every corner of the quaint space. Working out of a tiny brewing system, owner Dieter Kuhn produces unfiltered altbiers, the same kinds of beers made in the warmer parts of his homeland in Germany, which has similar weather and terrain to Sylva.
Innovation Brewing Company is probably the best-known and most respected brewery in Sylva, and it's just a short stroll from the other two brewhouses along Main St. The talented staffers aren't afraid to experiment with traditional beer-making styles, as the name implies. There's always something new to try on the board of 25-plus beers, and a permanent food truck on premise provides something to soak up some of those fine IPAs and Pale Ales.
Sign up here for our daily Nashville email and be the first to get all the food/drink/fun the Music City has to offer.