Living in one of the nation's "it" cities -- that's also the world Capital of Country Music -- means that we see our fair share of tourists passing through. And although we love to poke fun at the hipster foodies and wannabe cowboy sightseers, we're still happy to have 'em. After all, who wouldn't want to visit Nashville?
The Bachelorette Partiers
Apparently the number one rule in planning a bachelorette party is that it has to be in Nashville. More specifically, it has to be on Lower Broadway in downtown Nashville. Another rule is that everyone must be wearing cowboy boots and singing karaoke together as a group. This is not optional.

The "Got a Good Deal" Sports Fan
This guy is likely from Chicago and will tell everyone he meets that he's here because he can sit in the best seats at Bridgestone for the same price that he would have paid for the nosebleed seats in Chicago. He'll wear his jersey everywhere that he goes so that no one mistakes his misplaced loyalty.

The Passer Througher
We all have those friends that are just 'passing through' on their way to another destination. They'll require a couch to sleep on and a list of "where the locals go" for breakfast so they can experience a little bit of Nashville before getting back on the road.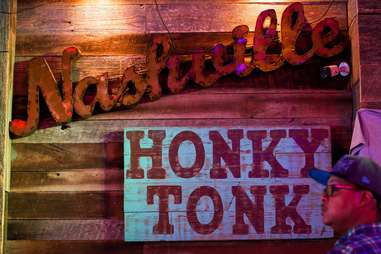 The Honky-Tonker
This is likely the tourist that you're all too familiar with. The ones that come to town dressed head to toe like a character they saw in an old Western movie. They're typically confused that we don't ALL have strong Southern accents and they spend pretty much their entire stay hanging out on Lower Broadway.
The Self-Proclaimed Foodie
The foodies are the new wave of tourists that we're experiencing in Nashville. They spend two-thirds of their stay here waiting in line at the Pancake Pantry, and then the Pharmacy, and then try to get a seat at the Patterson House. You'll commonly hear them ask "what's the deal with this hot chicken that I keep hearing about?" and then you promptly direct them to Hattie B's while you head to Prince's.
The Impossibly Hipster Foodie
These foodies fall into a very special category that can only be described as "hipster foodie." They're in Nashville as more of means to boost the quality of #foodporn on their Instagram and Snapchat accounts. The quality of the food itself is irrelevant, it just needs to be served on a reclaimed wood table, lit by Edison bulbs, and look good on a smartphone's screen.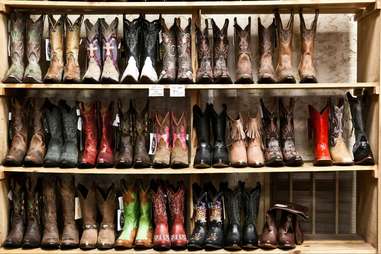 The Person Who's Just Here for the Boots
This is the honky-tonker that didn't realize he or she loved honky-tonkin' until he or she got here. After taking just one step onto lower broadway, they realized that their trip wouldn't be complete without a new pair of cowboy boots that they will inevitably wear for the remainder of their stay in Nashville (and then quickly discard when they get back to Cleveland).
The Old-School Country Music Loyalists
These country music lovers are more into the classics and are the reason that the bars on Lower broadway get so much business during daytime hours on weekdays. They don't want to talk about who is better: Garth Brooks or Chris Gaines?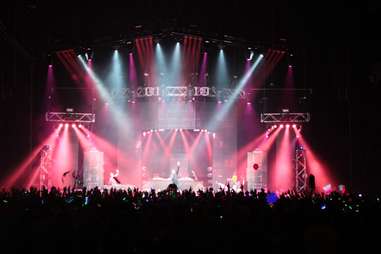 The Young Country Music Loyalists
These fanatics are in high abundance during the summer, especially the closer we get to CMA Fest. They're typically wearing ornately decorated cowboy boots and an outfit that looks like they walked off the set of The Dukes of Hazzard. If all else fails, you'll know them based on the loud Taylor Swift music (because her music is country, right?) that they "sing" as they walk down the street.

The Guy Who Really Likes the Show Nashville
Obviously referring to the ABC show Nashville here. This guy know nothing about our city besides what he's seen on the show and'll spend half of his time here driving extra slow through downtown in hopes of seeing Juliette Barnes (or some other fictional A-listers). If all else fails, he'll end up at the Bluebird Cafe because that's where all the stars hang out.
The Segway Posse
Because the best way to see our great city is clearly by taking a segway tour complete with mandatory safety helmets.

The College Touree
She's the teenager here with her overzealous parents who's likely spending the weekend in Nashville in hopes of eventually obtaining an acceptance letter to Vandy, Lipscomb, and/or Belmont. While she's here, she's also checking out all the neighborhoods so she knows which parts of town are "super fun".

The Conventioneer
These tourists are here for business (and maybe a little pleasure). They're easily identified by their sleek suits and the large badges that they wear around their neck at all times. Conventioneers stick pretty close to the Music City Center but might wander as far as Lower Broadway so that they can "experience Nashville."

Antique Junkies
Super fans of both American Pickers and The Antique Roadshow, these tourists make their way to Nashville in search of antiquated Southern treasures. They will remind you that antiquing is a very serious sport. They'll also remind you that you should have bought that mid-century modern chair for a reasonable $75.
Sign up here for our daily Nashville email and be the first to get all the food/drink/fun the Music City has to offer.
Brita Britnell is a Nashville based food photographer and writer who often falls into the hipster foodie category when acting as a tourist in other cities.