It's easy for Nashville locals to get tourist fatigue, like when you get caught in traffic behind a pedal tavern or hay rides full of bachelorettes. But there's a reason why people spend their money to come here -- it's a great city, and we're lucky to wake up here every day. So what do you do when you have friends or family in town, and want to show them a side of the city that doesn't involve going on a Nashville sightseeing tour or suffering at Lower Broad bar? Head to of these many Music City spots and attractions that will make everybody happy.
Recommended Video
This Fanny Pack Gives You an Instant Dad Bod Beer Gut
Downtown
Boot shop by day and honky-tonk by night, Robert's Western World has been the launching pad for numerous local acts through the years. BR549 introduced old-school Western swing and rockabilly to thousands of fans in the '90s, and current house group Brazilbilly keeps the tradition alive. Then there's the Don Kelley Band, which always features the latest local guitar hotshots and rollicking covers of country classics. Last year, one of their performances got so wild that their drummer ended up falling backwards off the cramped stage through the front window (he was fine, thankfully).
Laugh your way around town with NashTrash Tours
Germantown
Easily recognizable by its garish pink bus, NashTrash is a tour led by a pair of bedazzled guides who call themselves the Jugg Sisters. The two-hour trip travels around Downtown, teaching you virtually nothing factual about Nashville, and instead cracking you up with a bawdy mix of music, improv, and audience interaction.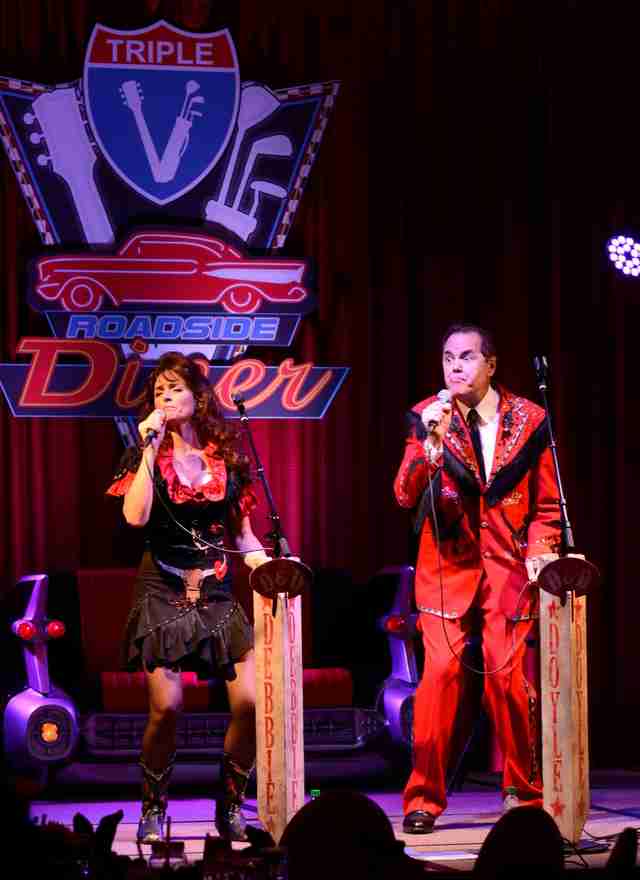 The Gulch
Pretty much the last building in The Gulch with any original character left, The Station Inn is known as one of the top bluegrass music venues on the planet, and on most Tuesday nights it transforms into the home of the raucous Doyle & Debbie Show. This parody of an old-time country duo addresses the rampant sexism and jingoism of the genre in songs such as "Fat Women in Trailers" and "God Loves America Best" interspersed with hilarious bickering.
Watch the Battle of the Bands before the Music City Bowl
Downtown
We know, we know. Locals prefer to flee Downtown when college football descends on our fair city for the annual Music City Bowl around New Year's. Fans of SEC, Big Ten, or ACC teams can get quite rowdy, clogging Lower Broad bars in search of Fireball shots. But the traditional Battle of the Bands the night before the big game is a spectacle worth seeing, as the schools' marching musicians face off across Broadway, competing to win the adoration of the huge crowd. The rest of the Fan Zone is also a blast, with plenty of tailgating, pep rallies, and even a hot chicken eating contest.
Downtown
A trailer park-themed bar might sound cheesy, but this is the brainchild of Max and Ben Goldberg, the genius restaurateurs behind some of Nashville's hottest dining and drinking destinations: Pinewood Social, The Catbird Seat, The Patterson House, and Bastion. Paradise Park is their high-concept take on a lowbrow burger joint and saloon, and we recommend the Doublewide: two 1/3lb patties dripping with cheese, best accompanied by an order of tater tots. It's an especially welcome dish when you're ready to wrap up your night around 2:30am.
The Gulch
We locals used to look down our noses at the queues of hungry tourists lined up outside the Pancake Pantry in Hillsboro Village, but now it's this Gulch eatery where the visitors flock. Luckily, breakfast is served all day until it closes at 3pm, so clever customers know to go for a late lunch when lines are shorter -- though an East Nasty biscuit and fried chicken sandwich is always worth the wait.
Downtown
Going to a concert here is always a great bet for a night out, but until you've taken the full historic tour of the "Mother Church of Country Music," you haven't really experienced the full glory of the Ryman. The building dates back to 1892, when Thomas Ryman constructed the Union Gospel Tabernacle in an attempt to atone for the ill-gotten profits he earned from selling booze. Go backstage, see tons of memorabilia, and visit the dressing rooms that have hosted everyone from Aretha to ZZ Top.
Try the OG of hot chicken at Prince's
North Nashville
Locals argue who makes the best hot chicken in town, but there's no doubt about who did it first. Since the 1930s when Thornton Prince's scorned girlfriend reputedly attempted to punish his infidelity by loading up his fried chicken with an infernal amount of hot peppers, the Prince family has been spreading their culinary love (and the pain) to thousands. After all these years, Prince's Hot Chicken Shack finally expanded to two locations, so now you have options as to where you and your guests can feel the burn.
SoBro
The Country Music Hall of Fame isn't just full of dusty old Conway Twitty costumes and performance photos of Faron Young. Sure, there is plenty of memorabilia from the Golden Age of country, but there are also rotating exhibits that will interest just about any music lover. Past and present exhibitions include collections recognizing Nashville's history as a center of rhythm and blues, and the place where Bob Dylan met Johnny Cash, Kris Kristofferson, and the rest of the Nashville Cats to record Blonde on Blonde. And then there are guitars, outfits, and more from the new guard of country acts, like Chris Stapleton, Margo Price, Jason Isbell, and Kacey Musgraves.
Midtown
While the Bushwacker originated in the Caribbean, the frozen concoction (ice cream, kahlua, and various rums) is a Nashville favorite, and Broadway Brewhouse is undisputedly the venue that popularized the drink in Music City. Of the business' five locations, the original Midtown one is absolutely the best spot to enjoy the drink, especially after a long day of sightseeing.
SoBro
You might catch the former White Stripe in the midst of working on his latest creation at his zany record shop and studio, which is virtually hidden in an industrial strip Downtown. In addition to tons of amazing vinyl, you can find plenty of other merch and oddities, and even cut your own tunes in the old-fashioned recording booth for just $20 a pop.
SoBro
Tucked between the Omni Hotel and the Country Music Hall of Fame, Hatch Show Print produces marketing materials for local and national ad campaigns, as well as postcards and tour posters for famous musicians. This institution has been around since the 1870s, when they started creating handbills for church revivals, circuses, and minstrel shows. Now, they offer tours where you can see all the old artwork, learn its rich history of printing, handle some of the vintage equipment, and even make your own posters.
Downtown
Sometimes karaoke in Nashville feels too intense, as if the performers are trying to score a record contract by while they belt out some Patsy Cline. But at this lower Broad emporium, nobody takes themselves too seriously. It's great for groups -- and making a fool out of yourself in front while you sing "Wind Beneath My Wings."
Sign up here for our daily Nashville email and be the first to get all the food/drink/fun the Music City has to offer.