9 Household Items That Are Worth the Investment
Adulting isn't always easy or cheap -- especially when it's time to invest in big-ticket furniture and household items. Whether it's your first go at buying a decent sofa for your place or you're scouring online reviews for a replacement mattress, you want your place to feel like an adult lives there, but you also don't want to blow your entire savings account on a home-goods refresh. From kitchen appliances to smart electronics that'll make your life a bit more seamless, we've gone room-by-room to help you focus your household investments in the right place -- so you'll know where you can afford to skimp.
Invest in art for your entryway
The first thing you see every day when you walk in the door from work should be something that makes you happy (well, other than your pet). This is where splurging on a piece of art you absolutely love to welcome you -- and guests -- into your home will go a long way. Whether it's a painting you found on vacation or a gallery wall that allows you to mix and match photos with bright prints, don't forget to invest in the actual frames for these pieces, too. To find inspiration on affordable sites, check out online art resources like Minted or the limited edition photo art from Lumas.
Become your own handyman with a tool kit 
Depending on the size of the problem, hiring a handyman can average anywhere from $77 to over $300. Spend more upfront to have the right tools, and you'll spend less money in the long run paying someone else to fix smaller household problems. You'll be surprised how far investing $100 can get you with a tool kit, like this 65-piece set that'll help you with everything from hanging picture frames, to building your Ikea furniture, to installing shelves. Make sure any kit you purchase comes with the essentials to a DIY fix: screwdrivers, a hammer, and pliers. Some tool sets even come with a power drill for when you can't seem to get that screw out of the wall.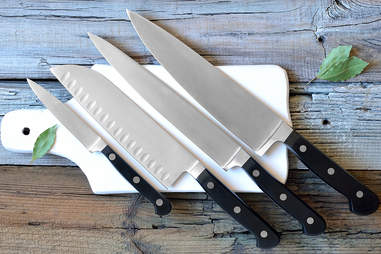 Shutterstock
Sharpen your meal prep with new knives 
You know you've hit adulthood when you're ready to stop using a butter knife or that one random steak knife in your drawer for everything. Whether you're struggling to slice through veggies or bread, upgrading your knives is one of the most gratifying kitchen investments you can make since you'll see (and feel) the results instantly. If you want a whole knife set, consider this eight-piece combo that comes with a block. Or, If you're not ready (or don't have the counter space) for a full set, at least get yourself a decent chef's knife. Just don't forget to buy three good-quality cutting boards to go with it: one for meat, one for fruits, and one for veggies. You'll thank us later when your strawberries don't taste like garlic.
Allocate cash toward a good sound bar
If you're constantly turning the volume up and down on your TV anytime someone whispers or a loud explosion occurs, it's time to upgrade to a decent sound system. And no, you do not need to immediately jump to getting a new TV or even a swanky floor speaker (especially if you live in a smaller apartment). The right sound bar will do wonders for your home entertaining. Make sure to go for ones that are Wi-Fi and/or Bluetooth enabled so you can easily connect to your phone, computer, or other external devices. Think options like this sound bar with built-in subwoofers for $200 or this smart option from Sonos.
Shutterstock
Don't skimp on a mattress (and a nice pair of sheets)
We will spend about one-third of our life sleeping (or at least rolling around with anxiety attempting to do so). So if you're still snoozing on the same mattress you've had since college, you're overdue for an upgrade. This is an investment that will pay itself back -- after all, backaches are no joke and getting good rest is essential for mental well-being. But rather than debating Casper vs. Tempur-Pedic vs. Leesa, it's more about focusing on what kind of sleeper you are and what type of support you want and pairing that with a mattress material. Expect to drop at least $400-600 and up to $2,500, but remember, this new mattress could last you a decade, so the money will be well-spent. For sheets, focus on breathable, durable fabrics, like long-staple cotton or linen.
Step up your dinner game with a multi-cooker
From making tender carne asada to homemade soup, you'll be glad you put $50-$100 toward a multi-cooker after you see how much time you'll save working in the kitchen. Consider options like an Instant Pot, which will allow you to get the benefits of slow cooking your favorite dishes, but in 30 minutes or less. With newer models, you can even operate it from afar via Wi-Fi, right from your phone. Freshly cooked meals as soon as you get home and all of it prepared hours before? Uh, yes, please.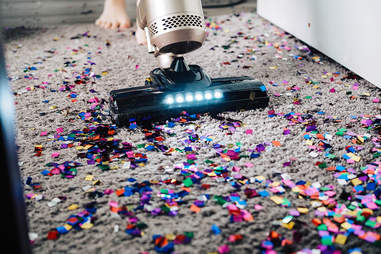 Unsplash
Make cleaning up easier with a cordless vacuum 
Whether you live in an apartment or a house, you (and your floors) know the difference between a good vacuum and a cheap one. And no one likes emptying a bag or having to unplug and move every time you've reached the end of your cord. So splurge on a cordless like these lightweight Dyson vacuums that'll make you want to clean your home every week. For those who are buying their first vacuum and want quality at a more reasonable price, this cord-free upright vacuum with floor nozzle LED lights will suck up dirt and debris for under $150. Also, remember to take advantage of seasonal sales and even Black Friday deals if the price seems out of reach.
Monitor your energy use with a smart thermostat
With so much smart technology at our fingertips, it can feel overwhelming figuring out where you actually need to add these items throughout your home -- and what's just a flashy upsell. Start with what impacts your well-being on a daily basis: how warm or cold your place is. Investing a little bit up front to cut back on your electricity bill in the long term is easy with all of the smart thermostats available now. Think Nest thermostats starting at $169 or KONO Smart thermostats that directly connect with your Amazon Alexa, Apple HomeKit, and Google Assistant technology. Because sometimes you just need to let the robots do it for you. 
Lounge like a VIP on a comfortable (and stylish) sofa
You stream so much Netflix and Hulu, why would you not invest in the piece of furniture you spend a ton of time sitting on? It's the centerpiece of your living room, and if you live in a small apartment, it's one of the more significant furniture pieces guests will see. This is one of those purchases you should absolutely shop for in-person to try out. Consider deep couches where you can pull out the cushions to double as a sleeping area for guests (or just to upgrade your naps). Keep in mind that even if you end up spending anywhere from $700-$1,000, it's something that can move with you and remain a staple item in your home.