How to Take Your New Year's Eve Party From Basic to Unforgettable
Jenna Gang/Olivia Mack McCool
Jenna Gang/Olivia Mack McCool
Volunteering to throw a New Year's Eve party is an easy way to earn brownie points with your friends (everyone avoiding expensive party tickets that only come with one glass of champagne and standing in line in the cold = a huge win). But that doesn't mean you can get away with putting minimal effort into the party planning. Because setting out a few bags of chips and beer you picked up at the last minute will reverse all the friend karma you just built up.
From upping your appetizer game, to creating a DIY cocktail garnish bar -- with the help of SOLO plates and cups, of course -- you'd be surprised at how easy (and we repeat, not stressful) it is to throw a NYE party truly worthy of celebration. Here are 10 party hacks to help you start 2020 on the right foot and make it one of the most memorable nights of the year for everyone who made the right choice to RSVP.
Choose a clear and realistic theme
Give guests one last chance to play dress-up in 2019 -- costumes upgrade an otherwise standard NYE bash, and create memories (i.e., photos) to take into the new year. Whether it's black and gold attire, a totally '80s NYE, or a tropical Tiki party (because everyone would like to pretend it's not snowing outside), opt for a clear, realistic theme that you know guests will be able to execute. Make sure to list the theme on your invitation, or even make the invite itself themed. Evite sites like Paperless Post, Punchbowl, and Canva have themed templates ready to inspire you.
Know that timing is everything
Even though it would be nice to throw out any sense of time on the very last day of 2019, a good New Year's Eve party has a somewhat set run-of-show because no one wants guests wiped out by 11pm. So, make sure the party starts late enough so that people aren't twiddling their thumbs waiting for the ball to drop after hours of socializing. Advising guests to arrive anytime after 9pm will give everyone plenty of time to catch up, grab a few cocktails, and enjoy the festivities. Timing also applies to entertainment, too. Wait to turn on the TV countdown until 15 to 20 minutes before midnight so that you don't have guests glued to the screen all night. Or at least consider putting it on mute so the music can still bump until the very last seconds.
Serve drinks that speak to the season
There's no better excuse than New Year's Eve to upgrade the libations, so don't just serve beer or a big-batch punch. Instead, make drinks feel more decadent by incorporating seasonal ingredients: Think an apple cider Old Fashioned (when doesn't whiskey warm you up?) served with a cinnamon stick, comforting eggnog topped with freshly shaved ginger, or this classy Blackberry Thyme Sparkler made with Champagne. For non-drinkers, mocktail cranberry mules with floating cranberries make a festive and fruity crowd-pleaser. Serve the cocktails to guests in SOLO cups and give yourself the gift of starting the new year not washing glasses.
Glam up your cocktails & cups
Speaking of cocktails, it's the last night of the year, so make sure your drinks look like they are ready to celebrate, too. But rather than you having to play mixologist all evening, get your guests in on the drink glamification with a DIY garnish bar. Set up a platter of items like citrus slices, berries, olives, cocktail syrup, rosemary springs, cinnamon sticks, and swizzle sticks so that guests can accessorize their SOLO cup. Feel free to tailor the garnishes to your theme if that feels right -- like neon-colored plastic umbrellas and edible flowers for a beach-themed party. This is also a fun way to prevent people from accidentally picking up the wrong cup (because no one likes realizing they have someone else's drink by noticing a lipstick stain halfway through a sip).
Create a playlist that ebbs and flows with the night
Walking into a party that is physically shaking from the bass before you've had a drink or two can be a bit jarring. That's why you should stack and order tracks based on tempo and mood to flow throughout the night -- so by the time the clock strikes midnight, everyone's ready for something that gets everyone dancing or a great classic sing-a-long (read: "Sweet Caroline"). If you're having trouble thinking of music that'll please everyone, crowdsource songs with friends a few days before the party by asking them to send you their favorite playlists so you can pick and choose what you like. Just remember to hide the aux cord or conveniently "forget" your WiFi password so no one hijacks the speaker. The last thing you want is someone playing "Shots" on repeat at 9:30pm.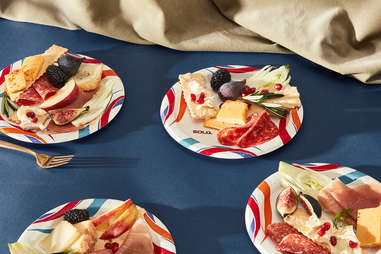 Pace the appetizers
Just like a good party, appetizers should also have a beginning, middle, and end. Make sure to have light, cold apps -- like cold noodle salads or caprese skewers -- already prepped and arranged next to a stack of SOLO plates when guests arrive. Another easy way to always have grazeable munchies on hand is to turn your SOLO plates into individual charcuterie boards with single servings of crackers & cheese, cured meats, apple slices, and blackberries. Then, the middle of the party is when it's time to serve hearty options like spicy meatballs or warm spinach artichoke dip with pita bread. Don't forget about serving late-night snacks (Parmesan chicken tenders, baked sweet potato fries) after the ball drops, too.
Play a few games to break the ice
Encouraging everyone to participate in a game is an easy way to kick off the evening -- or revive the party if the energy is dwindling. It's also a fun way to bond with your friends or help them mingle with guests they haven't met before. Choose games that will leave people laughing (and don't require much explanation) so that everyone can feel included. For big groups, Password or Never Have I Ever are both easy crowd-pleasers. Leave out your favorite board games and a deck of cards -- on a side table -- so that guests can spontaneously start playing in smaller groups if they want to. This way, no one feels forced to play a laborious game of Monopoly and they'll be out of the way of other people who are about to enter the extremely intense dancing phase of the night.
Kick off new year's resolutions with a bang
Make poppin' bottles even more of a celebration by using them to document everyone's new year's resolutions. Simply place a plain white label over each champagne bottle label and set them out on the bar with markers and a sign encouraging guests to write their resolution on the bottle. That way, when it's finally time to break into the bubbly, pour into clear SOLO cups and toast to everyone's goals for 2020 -- even if it's as simple as ordering less food delivery or taking the stairs instead of an elevator.
Give guests mementos to take home
Sure, it's almost 2020 and everyone and their grandmother has a camera phone, but your guests will still love a physical, take-home photo they can hold. An instant camera makes for a fun way to document the night and create take-home keepsakes -- and also (hopefully) encourages people to stay off their phones and enjoy the party. You can even create your own staged photo area by glamming up a wall with a festive backdrop, like plenty of colorful balloons. Now, your New Year's Eve party will be immortalized on your friends' refrigerators well into 2020.
Reward designated drivers with a party favor
Safety is always in style -- no matter what year it is. That's why you should reward any guest who took on the normally thankless job of designated driver. To say "thanks" to those who've stepped up to get others home safely, hand out gold SOLO cups filled with caramel corn, a bag of assorted candy, or even a gas gift card to anyone who's not drinking on the way out. You'll start out 2020 as not only a good host, but with good karma.