The Best Naked Races & Rides in America
<a href="http://www.shutterstock.com/gallery-1100387p1.html?cr=00&pl=edit-00">Ververidis Vasilis</a> / <a href="http://www.shutterstock.com/editorial?cr=00&pl=edit-00">Shutterstock.com</a>
Nude beaches are well and good if your idea of a vacation involves sipping fruity drinks while trying to avoid looking at people you'd rather not see naked.
But what about folks who enjoy being in the buff while they GET buff? Surely there must be naked fun for the active person, right? Indeed there is, friend, with races (and bike rides) across the country where participants are encouraged to leave their favorite running tights/bike shorts at home (so much chafing!). And while camps, resorts, and protest associations host plenty of these deals every year, here are the 12 best in the United States.
Chicago, IL
The World Naked Bike ride actually stops through 74 cities around the world and is a form of protest against the excessive use of oil. Or something. While the cause is noble, it's also easy to forget when you're standing in the middle of the West Loop and 400 naked people whiz by you on "people-powered" transportation. The Chicago version isn't much different from other nude rides throughout the world but, since it's not heavily patrolled by police, organizers do warn riders that "spectators can get grabby" and they recommend shy riders stay toward the middle.

Kissimmee, FL
The term "streaking" here isn't quite as wild as when Frank the Tank bolted through campus in Old School. No, since this race is held at the Cypress Cove Nudist Resort, there's not a whole lot of difference between what the racers are doing and what everybody else at the resort is doing. There just wearing running shoes. This is more or less a fun run for those whose idea of "fun" involves jogging naked in Florida. Also known as, feeding the mosquitoes.
Kissimmee, FL
In order to create a true "only-in-Florida," clothing-optional experience, the folks at Cypress Cove needed another event to add to their already-popular naked 5k. And since "naked Medicare fraud" doesn't really sound very sexy, they opted for a four-mile paddleboard race around Brown Lake. Held the day after Surf Expo in Orlando, last year's inaugural event drew 20 participants.

Burlington, VT
Sure, Vermont has only one strip club (and even it barely qualifies), but who needs to spend money to see naked people when UVM students bare all for free at midnight on the last day of classes each semester? Yes, they're outside naked, in Vermont... IN DECEMBER. And while the school officially canceled funding for the ride in 2011, it's carried on thanks to student support.
Burlington, WI
If you've always wanted to do one of those mud races but weren't big on ruining a perfectly good set of worn-out gym clothes, this is the race for you. Hosted by the Sun Ray Hills clothing-optional camp, this race takes you through 3.1 miles of obstacles -- like a foam pit, mud crawl, balance beam, rope ladder, rope swing, and a giant slip and slide -- all completely naked. Though it sounds both messy and potentially damaging to anyone considering reproduction, the race is actually held to draw attention to breast and testicular cancer, and to encourage people to get checked out.

Los Angeles, CA
Los Angeles isn't exactly the city you'd put at the top of your list for promoting "body positivity," but this annual ride through downtown and Echo Park attempts to do just that; Angelinos flaunt it all on this police-escorted ride, although naturally since it's LA, riders are joined by dozens of skaters and rollerbladers. Also, since it's LA, two fistfights have broken out in recent years -- one in 2013 when a rider was randomly punched and another when angry drivers didn't appreciate having their commute lengthened by a bunch of nudists.
Land O' Lakes, Florida
Unlike college football, naked racing has figured out a way to crown an undisputed champion without anyone complaining about being left out. This race, which doubles as the National Championship of Nude racing, is also the sport's largest, and draws over 400 racers from 19 states. And don't think all that bouncing slows anyone down: Top times for this 5K are 15:58 for men and 19:25 for women. Okay, maybe it slows them down a little.

San Francisco, CA
What's a trip to San Francisco without hundreds of naked protesters getting in the way of your selfie in front of the Bay Bridge? While other cities have super-secret routes to keep riders away from gawkers, not so in SF. Here, the annual naked ride goes past major tourist attractions like Fisherman's Wharf, the Embarcadero, and the Haight, giving visitors a good feel for what the locals look like… completely naked. Despite the city's controversial anti-nudity ordinance, however, there haven't been any arrests.
Loon Lake, WA
If you've ever felt like running naked in the forest but with, like, a couple hundred other people -- this is your race. In fact, this 3.1-mile run through the evergreens of the Kaniksu Ranch Family Nudist Park might lay claim to being the oldest clothing-optional race in America; this past year marked its 31st running. Participants range in age from 5 to 70 (kids must be accompanied by a parent), and the weekend-long festivities include a Friday-night dance party.

Portland, OR
Even if the World Naked Bike Ride tour didn't make a stop in Portland, would anybody really be surprised that there was a clothing-optional race in the Rose City? Of course not, and since Portland Civic law states that public nudity is only legal in the form of a protest, this ride is technically considered a public demonstration. So, go ahead and start planning your clever "Stop Flushing Your Goldfish" protest body art now. This ride is held at night, and the route is kept secret until the last minute in order to keep gawkers to a minimum.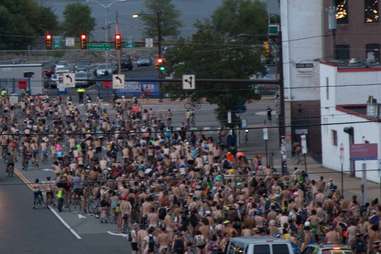 Philadelphia, PA
This annual ride, which just wrapped up its seventh year, isn't so much an excuse to get naked and pedal through the city of brotherly love as it is an art show of body paint. Artists gather to cover riders in everything from tiger faces to superheroes. Riders take an ever-changing route, and this year even crashed the wedding pictures of one (un?) lucky couple.

San Francisco, CA
The annual Bay to Breakers run in San Francisco, a 7.46-mile jaunt from the Embarcadero to the Great Highway, is perhaps the most famous "naked" race in the nation, despite the fact that the race itself isn't naked, per se (most participants dress in funny costumes). There is one subset of runners, however, who do the run au naturel and refer to themselves as the "Bare to Breakers." If you've got, like, eight hours to kill and want to find out how to do it, you can read their tutorial here.
Sign up here for our daily Thrillist email, and get your fix of the best in food/drink/fun.
Matt Meltzer is a staff writer at Thrillist. Follow him: @mmeltrez.