Lifestyle
Sponsored by
Declare Your Love of Burgers With New McDonald's Quarter Pounder Merch
Sponsored by
There are clubs, and then there's the McDonald's® Quarter Pounder with Cheese® Fan Club. This February, the restaurant is rolling out a line of limited-edition fan club merchandise all inspired by the iconic burger, which has been a crowd-pleaser since the Golden Arches® put it on the menu in 1971. Whether you're into comfy duds or collectable pins, proudly rocking these items will surely solidify your Quarter Pounder fandom (warning: they might also make you a little hungry). The first products launch on the McDonald's merch site on February 19 and continue rolling out throughout that week, and quantities are limited -- so consider this your heads-up to set reminder alarms on your phone. No, they don't come with a sizzling Quarter Pounder on the side, but we do suggest hitting up the drive-thru after you click "purchase" for maximum effect. 
Courtesy of McDonald's
For the organization-obsessed
Plenty of people have an affinity for planning, organization, and delicious burgers. If you're saying to yourself, "yeah, that's me," look no further than this calendar specifically dedicated to the Quarter Pounder with Cheese. In it, the typical monthly pages of nature or fluffy animals are replaced with equally spectacular imagery: the Quarter Pounder, in all seasons. Let's face it: April showers and May flowers look way more interesting when a sizzling Quarter Pounder is front and center.
Price: $25, on sale February 19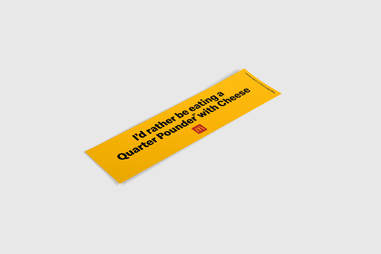 Courtesy of McDonald's
For proud people without an honor student
We've all judged someone for a questionable sticker plastered on a car or a laptop. But what if there was a bumper sticker that had the potential to spark world peace? The "I'd rather be eating a Quarter Pounder with Cheese" sticker shares a sentiment we can all universally rally behind. OK, it might not win a Nobel Peace Prize, but it will generate plenty of happy honks and compliments.
Price: $8, on sale February 20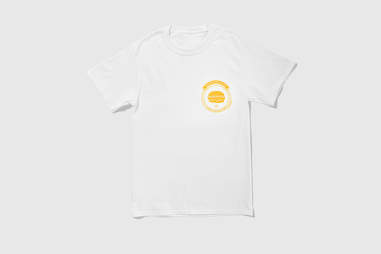 Courtesy of McDonald's
For the fan who's all about chilling
If you're into comfort and canceling plans, the official Quarter Pounder Fan Club T-shirt is the perfect present to yourself. Available in unisex sizes S-XL, this 100% cotton white tee features a yellow Quarter Pounder crest on the left chest that is subtle enough for everyday wear, yet serious enough (it spells out "hot and deliciously juicy" in Latin!) to telegraph your true fandom. Don't be surprised if you catch your roommates or partner trying to steal this for themselves.
Price: $25, on sale February 21
Courtesy of McDonald's
For the avid pin collector
If you don't have a limited edition Quarter Pounder Fan Club pin displayed on your backpack or jacket, are you really a true McDonald's-lover? This white and McDonald's-yellow pin, proudly picturing the burger in all its melty cheese glory, will surely earn you a spot in the club. Whether you're a Quarter Pounder devotee or just on a mission to collect sweet pins, this gem will make any wardrobe item that much cooler. 
Price: $10, on sale February 22
To keep up with official Quarter Pounder Fan Club news and activities, make sure to follow McDonald's on Instagram. Welcome to the most delicious club on the planet.
McDonald's Quarter Pounder weight before cooking is 4oz. Fresh Beef available at most restaurants in contiguous US. Not available in Alaska, Hawaii, and US Territories. The following are the trademarks of McDonald's Corp. and its affiliates: McDonald's, Quarter Pounder, QPC, the Golden Arches logo.