Lifestyle
Sponsored by

5 Tips for Throwing the Best Friendsgiving Yet
Sponsored by

Friendsgiving is such a great concept, it's a wonder it wasn't invented 'til the 21st century (in 2007, to be exact, if you go by Merriam-Webster's first citation of the word in print). A chance to not travel, not contend with any, uh, "family dynamics," and celebrate instead with your best friends? Count us in. 
It's also easy to make Friendsgiving great without a ton of prep or planning. We're here to help you throw the best Friendsgiving yet -- while doing only half the work you'd expect (which will be a big reason it's the best). We've got advice for pulling together everything from the tastiest finger foods to the most fun party games to the best autumn-accented drinks, courtesy of ace mixologist Lulu Martinez and Tequila Don Julio. Here are five steps to making one of the best days of the year even better.
Tip 1: Ditch the seats
The main goal of Friendsgiving is to have fun, plain and simple. It doesn't have to be formal -- in fact, it shouldn't be. So scrap the idea of a formally set table (which, let's be honest, you probably don't have room or enough dishes for anyway), in favor of small, appetizer-sized plates. Focus on serving Thanksgiving finger foods, so guests aren't struggling with silverware wherever they decide to post up in the living room. As for what finger foods to stock up on, keep reading.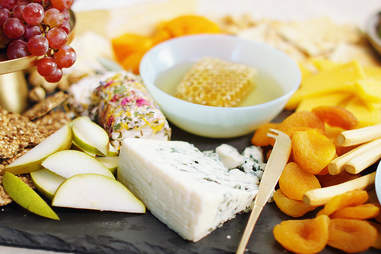 Thrillist
Tip 2: Assemble an autumn grazing board
A well thought-out snack board is the perfect addition to a low-key party, and it can be easy to put together. Here are some suggestions (and you should definitely assign items to your friends to bring with them): For cheeses, go with aged gouda, goat cheese, Brie, and bleu cheese; for meat, pick up salami and prosciutto. To fill out your board, add apples, pears, figs, and persimmon. You'll also want some nuts like almonds and pistachios, alongside a variety of crackers, and some whole grain mustard. If you're feeling fancy, grab some edible flowers, and honeycomb to go all in on fall flavors.
Thrillist
Tip 3: Put the flavors of fall in a cup 
Here's a batch cocktail recipe that's super easy to make, loaded with fall flavors, and, most importantly, delicious: It's the Autumn Tequila Punch, featuring Tequila Don Julio Reposado. Combine unfiltered apple cider, pomegranate juice, maple syrup, cinnamon sticks, and lemon wheels with Tequila Don Julio Reposdao, and -- boom -- you're done. "Punch is great for a grazing board, specifically if you have meat -- any kind of proteins, like salty proteins, are going to go really well with a fruit-forward spirit," says mixologist Lulu Martinez. "The juicy, citrusy, light, and refreshing accents are perfect. And then you've also got the Tequila Don Julio Reposado that lends a nice depth -- and brings everything full-circle." Another huge plus with this group-serve cocktail is that guests can refresh their own drinks throughout the night, leaving you free to enjoy the party.
Autumn Tequila Punch By Lulu Martinez

Yield: Serves 12
INGREDIENTS:
2 ¼ cups Tequila Don Julio Reposado
¾ cup apple cider, unfiltered
¾ cup pomegranate juice
¼ cup maple syrup
3 cinnamon sticks
4 lemon wheels
Garnish: 10 lemon wheels, 10 apple wheels
DIRECTIONS:
In a punch bowl, combine apple cider, pomegranate juice, maple syrup, and Tequila Don Julio Reposado. Whisk for 20 seconds to incorporate. 
Add 3 cinnamon sticks and 4 lemon wheels to the bowl and set aside while you prepare your garnishes by slicing 10 lemon and 10 apple wheels. Pro Tip: Squeeze a little lemon juice over the apple wheels to prevent browning.
Just before guests arrive, add 3-4 cups of ice to the bowl and garnish with 3 apple wheels
Thrillist
Tip 4: Let the games begin
There's frequently a lull in the Friendsgiving rhythm following noshing and drinks, and things can downshift into foggy football watching (or even full-on napping).  But you're more fun than that. You can rally for some post-dinner fun -- and a good way to do that is by playing some games. Put someone in charge of collecting a few fun board games or card games, or ask each guest to bring a game they enjoy (mobile games count, too). You might not have time to play them all, but it gives you a nice selection to choose from (and helps increase the odds you'll find at least one everyone agrees to play). Here are a few suggestions to get the ball rolling: Heads Up, Codenames, or 5 Second Rule.
Tip 5: Remember what you're thankful for
Don't forget the reason for the season: gratitude. After everyone has settled in and had taste of your Autumn Tequila Punch, go around the room and take turns expressing what you're most thankful for this year. With all the craziness of the day-to-day, it's nice to stop, breathe, and take stock of all the great things you have in your life. Research has shown that gratitude has numerous benefits, making people more generous and kind, and strengthening interpersonal relationships. It even makes you happier in the long run. Try it -- you'll be, uh, grateful you did.