Lifestyle
Sponsored By

How to Pull Off a Virtual Happy Hour in Style
Sponsored By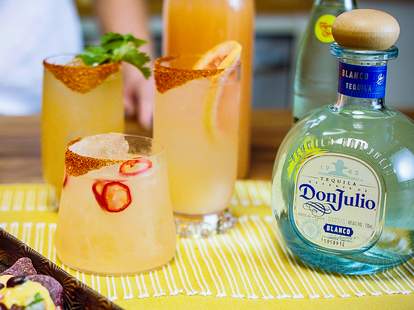 We're in uncharted waters here in the spring of 2020, there's no doubt about it. This "new normal?" Well, there's nothing normal about it, let's be honest. Everyday life has been disrupted and we can't socialize in the way we're accustomed to. But that doesn't mean we can't socialize at all. We just have to get creative. And one of the best ways to do that is by throwing a virtual happy hour, using the magic of the internet and video-conferencing apps. Here, some pro-tips to help you pull off a virtual soiree that's way more fun than it has a right to be.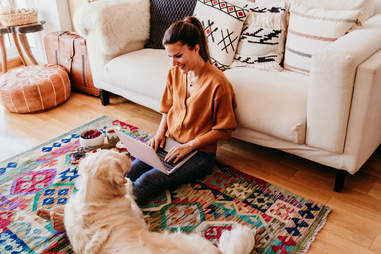 Shutterstock
Tip 1: Prep your tech
You don't want to be holding your phone up to your face for an hour, so set up your laptop or tablet at the right angle so that it frames you comfortably wherever you plan to post up for the "party." This will enable you to relax, and to come and go as you please while refilling your drink, grabbing snacks, etc. Bonus tip: Pay attention to your lighting -- it can make the difference between looking like someone trapped in a basement and someone about to take a glamorous head shot.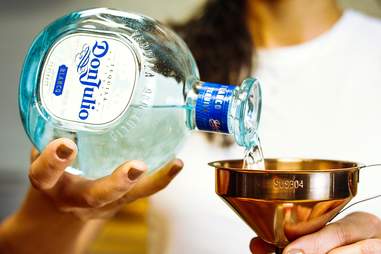 Thrillist
Tip 2: Whip up an easy, delicious cocktail
We asked for a recipe suited to a low-maintenance gathering, and expert mixologist Lulu Martinez delivered a super-easy, crazy delicious Paloma variation. It's got Tequila Don Julio Blanco, grapefruit juice, agave syrup, and sparkling water. "Very little work goes into it," she says. "Anyone can make it at home, and it tastes great every time."
Chili-Rimmed Paloma (with DIY garnish station) By Lulu Martinez
INGREDIENTS:
1½ ounces Tequila Don Julio Blanco
½ ounce fresh grapefruit juice
¼ ounce agave syrup* (1:1 agave nectar: water)
Topo Chico sparkling water, to top
Chili salt, for rims (2 tablespoons chili powder, 2 tablespoons coarse salt)
Optional garnishes: chile peppers, cilantro, lime wedges, grapefruit wedges
DIRECTIONS:
Prepare chili salt rim: Mix chili powder with coarse salt and apply chili salt to each glass rim.
Add Tequila Don Julio, grapefruit juice, and agave syrup* to a shaker tin with ice.
Shake to combine and chill, then strain over fresh ice in a rocks glass.
Squeeze a lime wedge over the drink, then top with sparkling water.
Choose your garnish of choice.
*We prefer agave syrup in this drink, but if you don't have any agave nectar on hand, you can also go with simple syrup (1:1 sugar: water).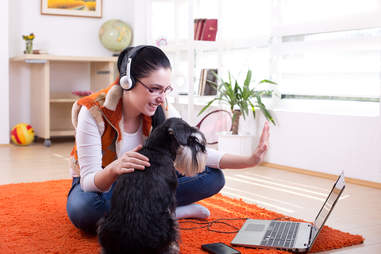 Shutterstock
Tip 3: Pick a theme
This doesn't have to be a big production: it could be as simple as 'bring your pet,' or having everyone deliver their favorite joke, or best tips for shows and movies to watch while cooped up indoors. You could also go with a "hat" theme and have guests don their favorite (or funniest) headwear. Other options: full-on costumes, sci-fi apparel, '90s fashions, favorite sports teams' jerseys. Whatever you do, have fun with it. Your theme will make it feel more like a real party. 
Thrillist
Tip 4: Make a toast
If ever there were an occasion that calls for a toast, this unprecedented phase of history we're all experiencing now is definitely it. Toast your virtual happy hour friends, and savor the chance to be together in spirit. Go around the screen and share what you're drinking/making and kick off the event with a quick toast of gratitude to help everyone stay positive in these challenging times.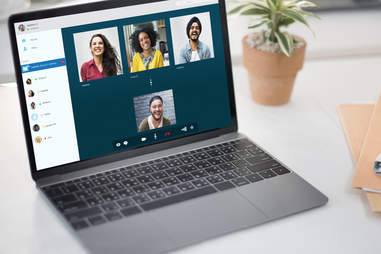 Shutterstock
Tip 5: Keep it intimate
Invite no more than five to seven people so that the gathering doesn't become chaotic and you can all hear and see one another across the tech you're using. This will also leave open the option for more virtual happy hours with more of your friends and loved ones down the line. Trust us, you'll definitely want to keep them going, because virtual happy hours are much more fun than you ever expected them to be.