Everything Else to Do in Brazil Besides the Olympics This Summer
<a href="https://www.facebook.com/171143789612171/photos/a.420405381352676.95031.171143789612171/710283942364817/?type=3&amp;theater" rel="nofollow" target="_blank">Rio Hang Gliding/Facebook</a>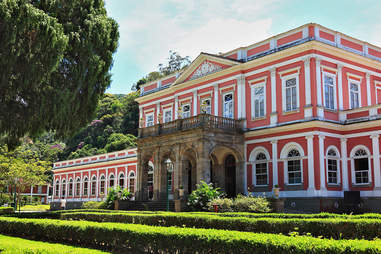 Alamy
The Imperial Museum
Brazil is the only country in the New World from which a European monarch had ever ruled his empire. After Napoleon's troops overran his native Portugal in 1807, Pedro IV (later Pedro I of Brazil) fled to his empire's largest colony. The rest is history, and it's all on display here. In addition to the crown jewels and various oil-portraits of the stately and aristocratic ilk, the museum is also home to one of Brazil's largest collections of contemporary art and enough Instagram bait to earn at least three new followers.
<a href="https://www.flickr.com/photos/rmveras/3529914746/in/" rel="nofollow" target="_blank">Rafael Veras/Flickr</a>
Hopi Hari Park
Brazil's answer to Six Flags, Hopi Hari is a theme park that combines Brazilian history with something way more fun than Brazilian history: roller coasters. Everything is set in the fictitious country of Hopi Hari,  tickets are cutely called "passports," and the history part blends with rides and junk food, like Colonial Williamsburg but actually fun and 93% less colonial. (The 7% is the ice cold beer German immigrants popularized in Brazil more than a century ago and that you can enjoy in the park.)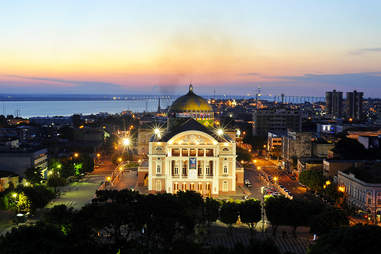 Alamy
The Amazon Theater
A grand, Belle Epoque opera house in the remote rainforest, the Amazon Theater looks and feels like something out of a Werner Herzog film -- and it is in fact featured at the beginning of Fitzcarraldo. The beautiful, immense building defies the remoteness that surrounds it with old world stoicism. It took 12 years to finish when the rubber boom was making fortunes for urban and rural Brazilians alike, and continues to host its own philharmonic and opera company, and not the ghost of lunatic actor Klaus Kinski (thankfully).
Advertisement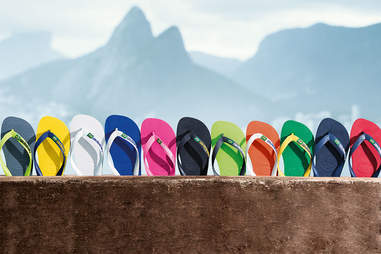 Havaianas embodies the fun, vibrant, and spontaneous way of Brazilian life. As the original flip-flops created in 1962, Havaianas have been bringing the Brazilian spirit all around the world with high quality rubber and bright, joyful designs. They're as Brazilian as caipirinhas, beautiful beaches, and the bossa nova. Not since the tire has rubber done so much to get people moving.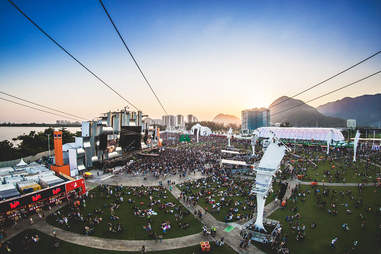 <a href="https://www.facebook.com/RockInRio/photos/a.143723405659277.19008.142258389139112/1005730339458575/?type=3&amp;theater" rel="nofollow" target="_blank">Rock in Rio/Facebook</a>
Rock Fest Rio
As the Olympic mayhem winds down, the hardest rockers in South America will invade the still-sensitive city and rattle its nerves with a show to rival the Opening Ceremonies. A festival born more than 30 years ago out of a cultural movement not unlike '60's America, Rock Rio has hosted Queen, AC/DC, James Taylor, George Benson, Rod Stewart, Yes, Ozzy Osbourne, and Iron Maiden, as well as myriad Brazilian acts that rocked just as hard -- but in Portuguese, obviously. This year will feature Metallica, Motley Crüe, Queen with Adam Lambert, Elton John, and more.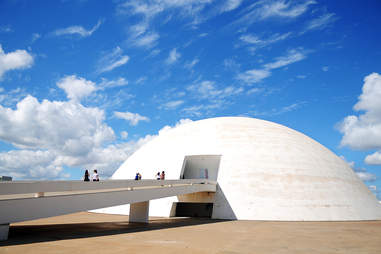 <a href="https://www.flickr.com/photos/agenciabrasilia/17873422374/in/" rel="nofollow" target="_blank">Pedro Ventura/Agência Brasília/Flickr</a>
The Architecture of Brasilia
Purpose-built in 1960, Brasilia was meant to be a utopian paradise, Walt Disney's Tomorrowland melded with the utopian ideals of a postwar world. Brazil's current capital, the city is home to some of the most unique architecture in the world. The entire city is listed as a UNESCO world heritage site, which speaks volumes to the scope of its vision and the beauty of its execution. The Cathedral might look like an airport terminal from the 1950s, but it's the real deal. The national theater is a geographic masterpiece with its trapezoidal stone and glass facade rising up from a pristine lawn. Walking through Brasilia is very much like walking through a Frank Lloyd Wright fever dream, but in a good way.
<a href="https://www.flickr.com/photos/alination/18406350981/in/" rel="nofollow" target="_blank">Aline Arruda/Flickr</a>
Inhotim
Inhotim is a museum the way Bonnaroo is a concert. Spread out over a series of complexes, Inhotim was founded by a former mining magnate in Brumadinho in the Brazilian state of Minas Gerais, far away from the traditional urban museum scene. A sprawling botanical garden featuring a rotating collection of the finest contemporary art in the country placed throughout the grounds in lieu of traditional museum exhibits, Inhotim is a public institute that's just as impressive as MoMA without any of the pretentiousness. Or the walls.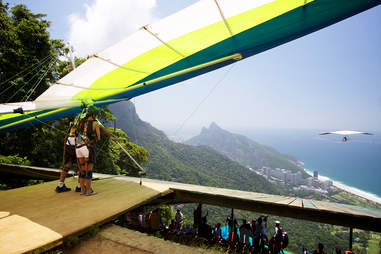 <a href="https://www.flickr.com/photos/mwichary/5265828999/in/" rel="nofollow" target="_blank">Marcin Wichary/Flickr</a>
The Rio Hang Gliding Experience
World champion hang glider Konrad Heilmann has settled in Rio and now makes a living taking people on tandem flights in full view of Sugarloaf Mountain and the famous statue of Christ the Redeemer -- which is handy for spiritual gliders looking to overcome their fear of heights. Probably.