Lifestyle
Sponsored By
How to Throw an Instagram-Worthy Office Party This Holiday Season
Sponsored By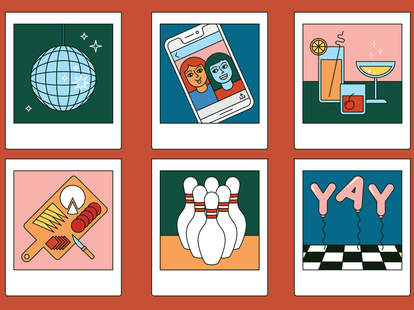 It's a no-brainer that a positive, social work environment has the power to boost both morale and productivity. That's why planning an office holiday party to celebrate everyone's hard work in 2019 will go very far -- especially when you put a lot of love into the event. Creating a get-together that will leave your coworkers documenting every detail on Instagram is literal #goals, too. Not only does it ensure a memorable event for employees, but all their social media posts may just inspire their online friends to start checking out your company's job listings. 
"Everyone, regardless if they have a couple of hundred followers on Instagram or if they have thousands of followers on Instagram is just influential in their own way these days," says Shanna Danialzadeh, a Los Angeles-based professional events manager. "So when you host an office party that's branded, and there are a bunch of Instagrammable moments, it garners a lot of attention for your brand."
Whether you're on the planning committee or want to volunteer some fresh ideas to someone who is, hosting a highly Instagrammable bash means you and your coworkers get to make lifelong memories -- all immortalized on social media. From making sure the food looks just as good as it tastes to giving guests photo-worthy souvenirs to take home, these seven tips will help you throw a holiday party designed for Instagram that will be the talk of the office. That is, until the 2020 event.
Choose a picturesque venue 
Half the battle of throwing a sweet office party is making sure the physical space wows. That's why party planners need to zero in on a sophisticated venue that's outside the box of what coworkers will expect (and requires little work on your end). Modern bowling alleys like Bowlero feature built-in amenities that look great on social media: giant arcade rooms, laser tag competitions, decorative photo props like real vintage cars, and floor-to-ceiling art prints. Not only do the activities do half of the planning for you, but the chic bar setting encourages POV shots of craft cocktails while a bowl-off with your boss definitely deserves to be documented in a Boomerang video.
Ashley Olinger/Thrillist
Get creative with your email invites
An out-of-the-box email invitation is just begging to be posted, so don't miss the opportunity to kick off the holiday party in your team's inbox. Considering most companies have a graphic design or photo department, it won't be hard to take an evite from basic to Instagram-worthy. "If you have an in-house creative team, pick their brains," Danialzadeh says. "They'll help you. You can give them a concept, a theme, and they'll run with it." If you don't have a creative team to tag-team the email with, utilize sites like Paperless Post or Canva for eye-catching invitation templates. Just don't forget to tease the most exciting elements of the party to generate buzz, like a contest with an alluring prize (ahem, extra vacation days) or what the food menu will be. Utilize GIFs, bold fonts, and integrate your brand's colors within the email to make it stand out. 
Put out instant cameras to make classy take-home mementos
As ironic as it is, an Instagram-inspired party doesn't have to be all digital. Stocking your event with instant film cameras is as much a hit in this decade as it was in the '90s. Everyone from the office will love snapping digital pics of their physical photo mementos and posting them online. Danialzadeh suggests placing the cameras in various areas of your party so crowds don't build up in one spot and so more people have a chance to use them. You can even order branded sticker frames online to dial up your company's commitment to the photo fun. To further encourage guests to take home the physical copy, put out permanent markers, glitter, and stickers at the camera station for everyone to decorate their instant photos. "I've taken the pictures, and I've put them directly on my desk and put the date on them," Danialzadeh says. "It's really just a fun decoration item."
Get cameras clicking with over-the-top eats
When food doubles as art, it begs to be photographed -- think assorted charcuterie boards and colorful donut walls (which you can easily purchase online). At Bowlero, their over-the-top menu includes plenty of items with a built-in "wow" factor. Surprise your guests with the six-pound "Behemoth" burger or the 123-ounce Dunk Tank cocktail -- both meant to be shared with your team and on social media. Get creative with movement, too. Chocolate fountains or a cake that cuts open to reveal rainbow layers or candy are all prime candidates for Boomerang videos. Plus, Danialzadeh says you can add your brand name to just about anything for extra exposure, from cookies to takeout boxes to custom straws. You'll know you did the menu right when people start complaining about how the food looks almost too good to eat. 
Ashley Olinger/Thrillist
Make sure there are festive props on hand
Speaking of photos, anyone can take a plain area and turn it into a photo wall (no expensive photo booth rental required). Danialzadeh suggests creating balloon walls or arches, flower walls, or hanging a few neon signs that bring the ethos of the company to life. "When you take walls and just put up a saying or put up a quote and you kind of brand it with your logo as well, it's going to get people posting," she says. Don't forget props for your employees to hold or wear that match the party theme and that'll make everyone's photos pop. Hats, feather boas, quote cards, and ridiculously oversized sunglasses are begging to be "liked."
Lean into DIY party games
Even if it seems like the entire legal team is busy trying to bowl more strikes than the IT department, not everyone will be occupied all night. That's why DIY games can ease everyone into mingling while they wait their turn to bowl or grab more drinks at the bar. Try creating your own trivia game tied to the theme or season with custom trivia cards. That way, guests can keep track of their points and then post the results on social media. (Because who doesn't want to brag about knowing every character's name in Home Alone?) If you can, go the extra mile to make prizes brag-worthy. If your company has relationships with retail, restaurant, or entertainment brands, encourage your employees to check them out with a gift card. Or, talk to HR about offering an additional vacation day as a prize. Just make sure to give the winner a signed card with what they won so they can share it with everyone on their feed.
End the night with a bang
You solidified the beginning and middle of the party into the Instagram hall of fame, but don't forget about giving everyone something to take home. "Most people like to save the gift bags for last, as guests walk out, however, I think having the gift bag station open throughout the night excites guests as they can use the products throughout the event," Danialzadeh says. When it comes to gift bags, this is one case where size matters. A big tote with small gift cards inside does not show up well in photos. Include giveaway items (in correctly-sized gift bags) that correspond with the theme of the event, but that can be used in your colleagues' day-to-day lives in the office. Think embossed journals, T-shirts, bumper stickers, and laptop cases. Make sure the bag itself is reusable and that it doubles as a gift, too. Then, sit back and enjoy earning the reputation as the best, photo-worthy party planner ever.