9 Ways to Step Up Your Boot (and Bag) Game This Season
Cold weather is here, and you've got to get the appropriate gear for life's briskest situations, from friendsgiving dinners to leaf peeping. Frye is the perfect candidate to help you out, because they've been crafting their kicks with quality since 1863... and you're definitely gonna need quality kicks. We've compiled a guide to which shoes best fit your life, plus what bags to bring along when you make moves to wherever the seasonal road takes you (apple-picking, the office, a mountain cabin, et al).
Perfect for: Divey rock clubs and countless friendsgivings
You rock these so you can zip double-time from your friend's band playing at that (literally) underground bar with the red lighting to Beth's "Friendsgiving"; you buy a choice pumpkin pie and a bottle of whiskey en route and enter looking dapper + pie + rye -- which makes you everyone's hero... including old control freak Beth.
Perfect for: Going on urban quests
This completely classy version of that hanging-by-a-thread pack you used to don in middle school is just like you: way cooler today than back then. That signature Frye leather gives you a pack that not only looks elegant and library-esque with the enriched color texture of well-treated woodwork, but it also, well, works like a backpack! And that means you'll have whatever you need for the day (umbrella, breath mint, vintage copy of Anna Karenina because you're sophisticated) all at arm's reach.
Perfect for: Autumnal hikes (leaves for days)
Just because you're a well-dressed urbanite doesn't mean you've forgotten about the rugged outdoors. Whether you actually plan to go on a big jungle hike, or you just want footwear tough enough to face the urban jungle, these are your trusty foot steeds (they even wax the laces so your knots are more reliable); they, like you, are both smart looking and hardy.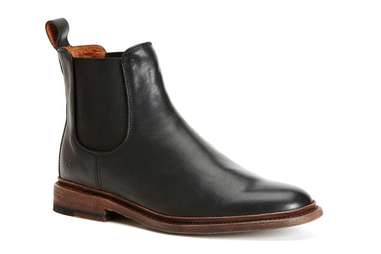 Perfect for: Catching your flight home to Mom
The high-pressure TSA line is the last place you want to spend 20 minutes executing the Straight European Lacing pattern you learned in that online tutorial. In just such situations, slip ons are absolute Godsends. The James Chelsea combines looks and slip-off-ability in one regally handsome leather-lined, package, which ultimately means you'll be at 30,000 feet rocking a rocks drink way quicker (and still with attractive feet).
Perfect for: All the parties
The James Bal Oxford is a formal standard; you can/should wear them to work to look super-fly/super-spry. The leather is treated with wax to keep it as smooth as you need to be for holiday dinner with work-friends, catch-up drinks with college-friends, then solo-drinks to recover from friends.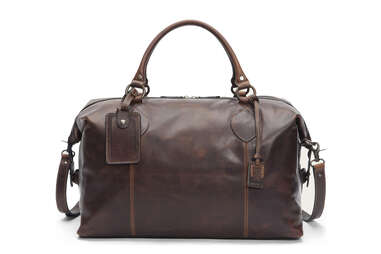 Perfect for: Going home to meet the girlfriend's folks at their "weekend place"
Whether you've got a quick trip to Chicago for business, or you're meeting your girlfriend's parents for the first time, that smelly duffle bag you got for that 5K/public radio donation just isn't going to cut it. For short excursions where making an impression matters, you can rely on this bag, made of pull-up leather. That's just a fancy phrase for when the hide is soaked in oils and waxes, making the material both vigorous and virile-looking.
Riley Pull On
Perfect for: Brunch (or ugh... waiting in line for brunch) even though it's raining
Maybe you live in Seattle, or in London, or even Providence (where you're pelted by that awful, slushy sort-of-snow). Or maybe you're just keen on simplicity -- these boots are sans-laces, so putting them on is as easy as throwing on a t-shirt. In any case, they offer the protection of those neon yellow/pink rubber rain boots without... well, the obnoxious neon thing. Whether you've got to throw something on your feet fast to face a wet/icy country road, or if you walk on streets slick with sleet or drizzle, you're gonna prize these resilient rain-trudgers.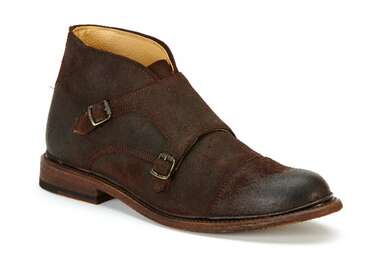 Perfect for: The billiards bar at 3am
In your Jack Monks, with their double-monk straps and antique-style buckles, you look classically refined and feel totally comfortable. Most importantly: you aren't just cozy in your shoes, but can comfortably navigate the present with time-honored garb. In short, you appreciate the old-school of a smokey dive bar that's missing the 6-ball, but prefer being there dressed in decidedly modern gear.
Perfect for: Walking a lot 'cause cars are for chumps
Made of nubuck leather (nubuck meaning the outside of top-grain cow hide that's been buffed into a velvet-like smoothness), these black boots are water-resistant, rubber-soled, and "distressed," which is to sort of rough-up the leather and lend it a worn look without compromising its integrity. These boots are also double-stitched and leather-lined, so you can feel comfortable as well in your strong-as-hell boots. Plus, you can call your feet Fort Kicks (better than Fort Knox). Which is badass.