The Ultimate Refresher for New (and Returning) Cannabis Enthusiasts
All your borderline embarrassing questions, answered.
Paid For By

The US has a complicated relationship with cannabis, to say the least. After a 50-year smear campaign, we're now seeing the widespread American view on marijuana quickly shift as states decriminalize, legalize, and even study the plant's medicinal uses.
As cannabis becomes more accessible, new and returning enthusiasts have tons of questions about how to find, buy, and use it in 2021. From the differences between indicas, sativas, and hybrids, to what really is an eighth, we're answering all of the biggest (read: borderline embarrassing) questions newbies and rusty users have in this new, legal world.
Is it legal to smoke where I live?
Under federal law, it is illegal to possess cannabis that contains more than 0.3 percent THC, but the legalities differ state by state. As of this year, 36 states and four US territories allow medical use, while 18 states, two territories, and DC permit non-medical, recreational use. So don't forget to confirm your state's rules before lighting up.
What's the difference between CBD and THC?
Face oils, bed pillows, toothpaste — these days, it feels like CBD is being infused into every product on the market. At a first glance, the science behind CBD seems to promise similar effects as its cousin cannabinoid, THC, but its chemical makeup tells a different story. Yes, CBD and THC are both derived from the cannabis sativa plant, however, CBD comes from legal hemp that contains less than 0.3% THC. When taken in high doses, CBD can create a relaxing, tingling sensation, but should not have as intense of a mind effect as THC, for most users.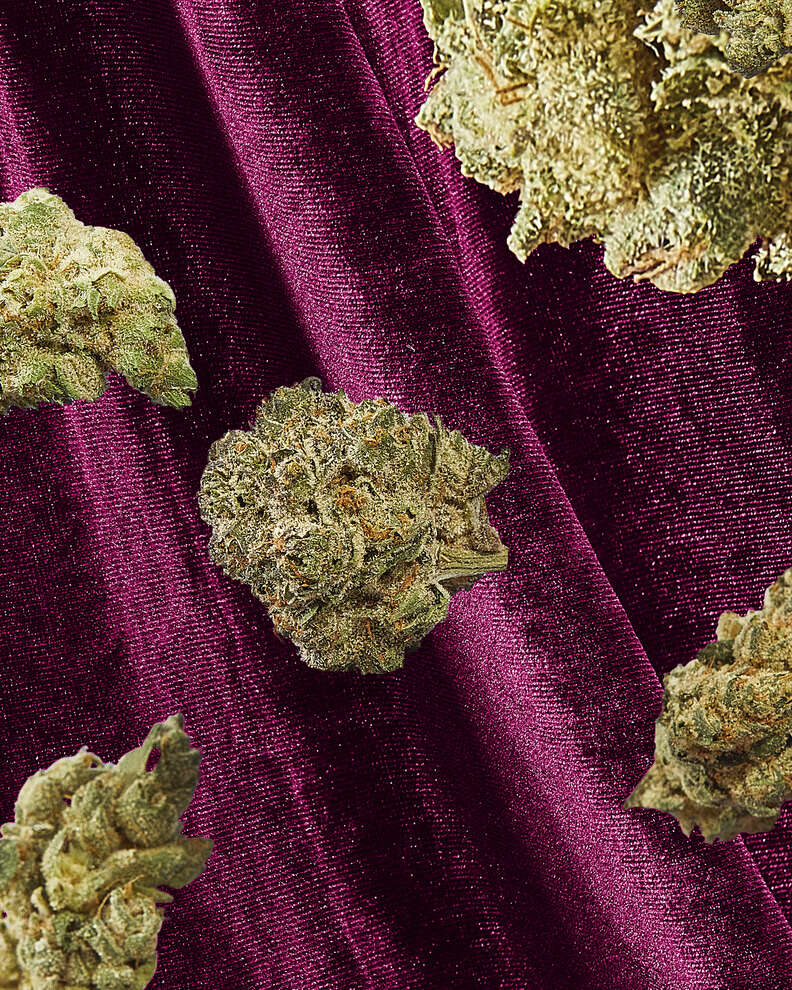 What is a nug?
A nugget (not to be confused with the chicken variety) is a self-contained piece of cannabis flower. That means it can hold its own shape once harvested from the plant. The look, feel, and smell of the nug all depends on how it was grown. Follow this general criteria: the more fragrant and sticky the nug is, the danker.
How much is an eighth?
It's the most common term that's thrown around when discussing cannabis weights, but what actually is an eighth? In short, it's one-eighth of an ounce, which is 3.5 grams. Visually, an eighth is usually enough to fill three packed joints, and is typically the amount of weed you'll see displayed in those jars of flowers on dispensary shelves. Now that you have the numbers down, keep this info in your back pocket so you don't get shorted.
How can I buy cannabis legally?
While many states have legalized recreational use of marijuana, some don't have dispensary systems set up just yet. If you live in a medical-use state, you'll need to get a marijuana card by talking to a registered practitioner, like your primary care physician. Once you receive the practitioner's stamp of approval, most states will allow you to register for the card online. For those lucky enough to live in recreational-use states, all you need to do is show your ID at the dispensary door. Don't forget to check out Liberty's online inventory ahead of your arrival.
What's the best way for beginners to smoke weed?
Cannabis consumption products have come a long way since homemade apple bowls. With so many options out there — pens, one hitters, bubblers — it's hard to narrow down which tools and methods align with your needs. For beginners, we recommend picking up a vaporizer and some cartridges, like this one from Strane. A vape is easy to use; there's no grinding and packing or the need to carry around a complicated cannabis setup. The best part? It's super discreet, so you can partake worry-free.
How do I choose the right strain?
When it comes to strains, there are hundreds of wacky and wild names — Sour Diesel, Chaos Kush, Chernobyl. It's overwhelming and, let's be honest, intimidating AF. Once you start sifting through them, you'll find that they all fall under three main categories: indicas, sativas, and hybrids. As a rule of thumb, indicas, also referred to as "in-da-couch," are meant to offer a chill, full-body effect, while sativas are better known as a daytime strain that can create an energizing, creative mind-high. Looking for the best of both worlds? Hybrids are the way to go. For example, you can get a strong body buzz without being too tired, or feel social and cheerful while still being relaxed.
Does weed go bad?
The key to keeping your bud dank and sticky is to use proper storage techniques. Before we dive any deeper, let us clear the air: those plastic baggies are not intended for long-term use. Instead, opt for an airtight glass jar — something as simple as a mason jar with a screw top, or even a plastic food container will work. If you're feeling fancy, invest in a titanium container specifically made for marijuana storage. Regardless of your container pick, as long as it's the appropriate size, airtight, and kept in a cool, dry, and dark place, your bud will stay potent for months on end.
What kind of gear should I buy?
Your cannabis setup will depend on your preferred method of consumption — vaporizers, bongs, or one-hitters. The most popular delivery method for newbies is typically a joint, pen, or bowl. If you're going for the traditional route — a joint — you'll need to acquire quite a few accessories for your stash, including weed, a grinder, papers, filters, a rolling tray, and a poking stick. For the convenience factor, try a ready-to-smoke pre-roll. Strane's six-pack pre-rolls contain a spectrum of strains, so you can tailor your choice to your specific vibe. They're perfect for sharing among friends or a solo smoke sesh, plus they make great hosting gifts.
How can I avoid getting too high?
The expression "puff, puff, pass," is the golden rule of smoking, and for good reason: you take two hits and feel eased into a high. Of course, your high all depends on the cannabis consumption method and the product's potency. To avoid greening out, or that too-intense feeling, you need to find the right dose. When smoking marijuana, it's pretty easy to determine how high you are, since you can feel it almost instantly, so start slow, use responsibly, and make sure you're not overconsuming. Enjoying edibles is another story though, as the effects can take up to an hour to make an appearance. If you're an inexperienced user, we suggest sticking to joints and vapes, and leaving the kief, concentrates, and edibles for later down the line.
ART CREDITS
Photographer - Matthew Kelly
Associate Creative Director - Colleen Lennon
Prop Stylist - Catherine Pearson
Producer - Cassie Doyle
Associate Producer - Hannah Lee
The FDA has not approved marijuana to treat, cure, or prevent any disease. There are health risks associated with the consumption of marijuana. Marijuana has intoxicating effects that may cause impairment of concentration, coordination, and judgment and may be habit-forming and addictive. It is illegal to drive a motor vehicle while under the influence of marijuana. Do not operate machinery under its influence. Keep out of reach of children. Women who are pregnant or breastfeeding should not use marijuana due to potential harm. Please consume responsibly. AR, MI, MD: Medical marijuana is for use only by a qualifying patient. AK, ME, MI, NV, OR, WA: For use only by adults 21 years of age and older. MI: National Poison Control Center 1-800-222-1222.