How Norwegians Stay Happy During Long, Brutal Winters
Where I come from in Canada, -8 degrees Fahrenheit is a normal winter day. I've grown up scraping windshields, falling on sidewalks, and being too cool for idiot strings (only to get frostbite). But never once have I dealt with wintertime depression.
That's why I've always thought of Norwegians as kindred spirits. The sun doesn't rise for months in northern parts, yet the rate of winter depression is incredibly low. It all made sense after hearing about "koselig." Pronounced "koos-uh-lee," the literal translation is "cozy," but it's really an all-encompassing philosophy that many Norwegians live by to help get them through the winter.
"Koselig" can describe a hug ("Kan jeg gi deg en kos?" or "Can I give you a "hug"?), a warm greeting ("Koselig å se deg igjen!" or "It was nice to see you again!"), and even sex ("Vi har nettopp kosa oss" or "We just had a cozy time"... wink wink). But the word is most commonly used during the winter, to talk about anything and everything that evokes warm and fuzzy feelings.
So I tracked down a few Norwegians and a psychological researcher to find out the secret to staying koselig and fending off wintertime blues.
Don't complain about the weather
Grumbling may be a way of sharing our frosty misery, but koselig it is not. In fact, it could even make winter more unbearable, says Fulbright researcher Kari Leibowitz.
She recently spent a year studying in the north Norwegian city of Tromsø, and her work so far seems to indicate that a positive mindset -- including in how we talk to each other about winter -- is important to surviving the season.
"We tend to make small talk in the US by complaining about the weather, but in Tromsø people don't look at it that way," said Leibowitz. "They're excited about winter recreation, camping and so on. People do seem to be leading into it differently."

Indulge in winter fashion
A friend who grew up north of Oslo told me that Norwegians are all about "finding pleasure in the simplest of things." That's why she says a good example of koselig is having lots of warm and comfy winter garb that you can get excited about wearing.
"It's like, 'It's so wet outside but thank god I have these new boots'," she explained. "Or, 'It's super cold and chilly, but hey, I get to wear this scarf or these nice, thick wool socks.'"
So there you have it. Splurging on knitwear is not only necessary; it could potentially even be healthy.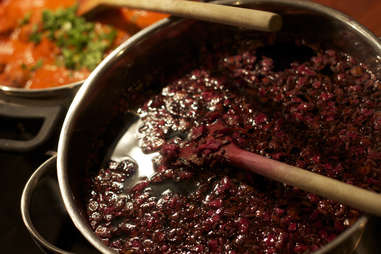 Throw dinner parties
As Norwegians will tell you, there's no better way to spend a chilly evening than meeting in somebody's abode for a potluck. Gløgg (mulled wine) and coffee tend to be on hand as fuel for good conversation, but apparently hot cocoa with cream and waffles are also foundations of the koselig food group.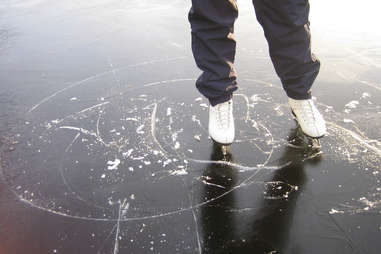 Get outside
You've seen the The Shining. Cabin fever's no walk in the forest (sorry, just had to). Norwegians appreciate winter as something to be enjoyed, not endured, and the best way to do that is bundling up and going al fresco. While most of people aren't spoiled enough to have the aurora borealis on their front lawns, there are many other ways of relishing the season, like skiing, skating, or even just heading out for a crisp walk.
As one Norwegian told me, "Norwegians love getting outside. Some will even say they love outdoor toilets. 'Yeah, that's cozy because it's old school and in nature.'"
Now that's just hardcore.
Decorate your apartment
Candlelight is the essence of koselig, which is why you'll find a warm glow radiating nearly everywhere with four walls in Norway during winter, from home base to office space. Local bars and restaurants create atmosphere by giving wool blankets, or sheepskin and reindeer pelts to guests. Seriously, there's no better way to nurse a pint.
So why not deck out your pad as a koselig oasis with lots of candles, throws, and even a Snuggie (if you're into that kind of thing)? You don't even need a fireplace to achieve that classic "hearth" feel. By the way, Pinterest has lots of great designs for fake fireplace mantles, because Pinterest is a place for incomprehensible insanities like that.

Travel somewhere cold
No one's going to blame you for taking that mid-January Mexican vacation, but for your humble consideration: try out a cold-weather trip. There are plenty of destinations that get more charming and rustic after snowfall, and living like a local there could also help change your perspective.
"I think there are lots of places in the US that do have these advantages," said Leibowitz. "If you live in rural Vermont or Colorado, for example, there are people that seem to resonate with this idea of wintertime mindset."
So maybe koselig doesn't have to stay confined to Norwegian territory after all.
Sign up here for our daily Thrillist email, and get your fix of the best in food/drink/fun.

Barbara Woolsey is a Berlin-based writer who's staying koselig this winter by making fireplace s'mores (with sometimes disastrous results). Follow her world travels on Facebook and Twitter.