America's Most Popular Baby Girl Names, Ranked for Srattiness
SHUTTERSTOCK/JENNIFER BUI (EDITED)
Nostalgic for that four-year vacation called 'college'? Us too, which is why we're bringing back College Week. Double-sink all of this week's college goodness, all week, right here.
Because what you name your daughter totally dictates whether or not she will be in a sorority, I went ahead and ranked 2014's 25 most common names for American girls (according to BabyCenter.com) in order of "srattiness." This is the sorority equivalent to "frattiness" and a term I did not know until I sat down to write this article two days ago. I've included their original positions SO YOU KNOW, but my order is definitely, definitely more important.

Ava
Srattiness rank: 25
Actual rank: 4
The daughter Reese Witherspoon -- star of the American comedy film Legally Blonde -- has with megababe Ryan Phillippe is named Ava, and as far as I know she is not in a sorority.
Harper
Srattiness rank: 24
Actual rank: 19
"I think there's just one kind of folks. Folks." - A Harper

Aria
Srattiness rank: 23
Actual rank: 24
This is a play on the name "Arya," from American fantasy drama television series Game of Thrones. You know who loves strong female protagonists trained in the Braavosi style of swordfighting? Sorority girls.
Layla
Srattiness rank: 22
Actual rank: 18
Layla went through rush but didn't pledge and then spent the rest of freshman year denying she ever even considered Greek life to the TA she's sleeping with.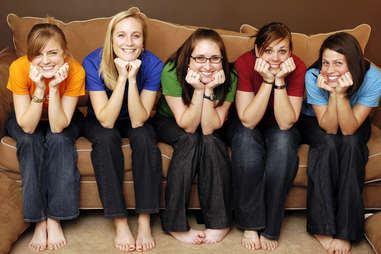 Mia
Srattiness rank: 21
Actual rank: 6
This is not a sratty name but M.I.A.'s Paper Planes was super popular when I was in my sorority heyday and the ladies loved singing along to the "bang, bang" part. Yeah, I was in college eight years ago, WHAT OF IT??

Arianna
Srattiness rank: 20
Actual rank: 22
I grew up with a girl named Arianna and she was literally of Greek ancestry. This means mostly nothing in the collegiate Greek system, though.

Isabella
Srattiness rank: 19
Actual rank: 5
She'll drop halfway through freshman year when she realizes how much this shit costs.

Abigail
Srattiness rank: 18
Actual rank: 16
"Abby" would fit on the rush name tag way better.

Amelia
Srattiness rank: 17
Actual rank: 21
She'd be an okay little.

Zoe
Srattiness rank: 16
Actual rank: 7
Zoe is pretty neutral. There's a chance there is an equal number of Zoe's in sororities as there are Zoe's not in sororities. But that's just based on hardcore statistical evidence though so don't take my word for it.

Ella
Srattiness rank: 15
Actual rank: 20
Remember when we were talking about Reese Witherspoon and her seminal classic Legally Blonde, a movie that follows a darling sorority girl as she tries to get back her ex-boyfriend by earning a law degree and in the process realizes she doesn't need a man now that she's a successful career woman on her own accord and then she bangs dreamboat Luke Wilson? Remember?? Well, that character's name is not Ella, but had it been, this name would be a lot farther down this list.

Sophia
Srattiness rank: 14
Actual rank: 1
More babies were named Sophie last year in America than any other name, which, according to math, means there's a high probability some will end up sorority, though certainly I cannot say all will.

Aubrey
Srattiness rank: 13
Actual rank: 14
When you're totally obsessed with getting your Halloween body ready and unknowingly supporting institutionalized gender roles. #TSM

Avery
Srattiness rank: 12
Actual rank: 15
"It's something unpredictable, but in the end it's right. I hope you had the time of your life," are lyrics from a song Avery likes to Puffy Paint on picture frames.
Kaylee
Srattiness rank: 11
Actual rank: 17
Once hooked up with her cousin, which ordinarily is cause for a bid refusal but her mom was a sister so we have no choice here but to let her join.

Riley
Srattiness rank: 10
Actual rank: 23
Kind of rhymes with "rally," which is an activity sorority girls engage in with some regularity.

Madelyn
Srattiness rank: 9
Actual rank: 10
I've never met a Madelyn of this spelling, but I can only imagine that in 18-19 years some will or won't be in sororities.

Olivia
Srattiness rank: 8
Actual rank: 3
An Olivia I know once drank eleven [REDACTED BEER] one [REDACTED MEXICAN THEMED HOLIDAY] and then vomited all over her shoes while waiting in line for the [REDACTED SEMI-PRIVATE ROOM IN MOST HOMES]. Very srat.

Emma
Srattiness rank: 7
Actual rank: 2
Emma's really excited to live in the house so when her delivery order comes with multiple forks and knives because the restaurant thinks she's ordering for five people and not just one she'll be able to play the whole thing off better lolololololol. Sigh.

Madison
Srattiness rank: 6
Actual rank: 11
I imagine she gets pretty fucked up, but like, in a fun way. Nothing like Olivia -- Olivia can't drink for shit.

Charlotte
Srattiness rank: 5
Actual rank: 13
Honestly, she's like, such an effing bitch but has really good clothes. It's kind of annoying.

Lily
Srattiness rank: 4
Actual rank: 8
Sounds like she's dating a senior in SAE. Could be good for recruitment!

Chloe
Srattiness rank: 3
Actual rank: 12
Last weekend I was in Montauk day drinking at a bar and I watched this babe hand her Malibu bucket to her boyfriend, hike up her maxi, and squat and piss off the second story deck. I don't know for sure if her name was Chloe, but it could've been!

Hailey
Srattiness rank: 2
Actual rank: 25
Hailee, Haley, Halley, Hayley, Haylie, Hayleigh, Haleigh, Hailey, Hallie -- they're all welcome. Let's not be exclusionary, you guys.

Emily
Srattiness rank: 1
Actual rank: 9
Emily R. likes bubble baths, puppies, the CW's Reign, Lilly Pulitzer, glitter blowing, leaning in, and blacking out almost as much as Emily K! Sisters for life.
Sign up here for our daily Thrillist email, and get your fix of the best in food/drink/fun.
Carrie Dennis is an associate editor for Thrillist. Follow her on Twitter: @CarrrieDennnis.