America's Most Epic Tubing Adventures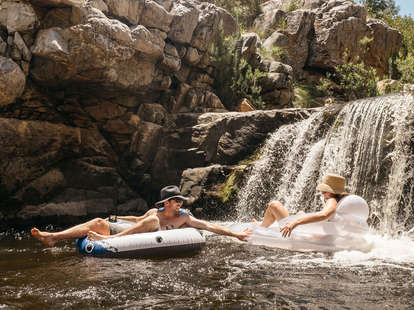 When the summer heat begins to make you long for winter coats and beanies, it's time to head to the local watering hole for a lazy day floating downstream. River tubing -- or just tubing, if you really want to sound cool -- is a refreshing summer experience for everyone, everywhere. No, it's not a VIP trip to the Maldives or some other chic Pacific Island, but it is easy, often thrilling, and always a solid excuse to sip on some adult beverages. So, yeah, we're into it. That's why we've rounded up the best places to tube around the country. No matter where you live and what your skill level is, there's a river for you. (Six-person unicorn float not included.)
FOR BEGINNERS
Russian River
Guerneville, California
As far as smooth tubing goes, the Russian River is by far one of the most relaxed rivers on the West Coast. Average stream speed in the summer: a half-mile per hour, making it the perfect spot for an easy introduction to tubing and sipping. In addition to floating through the Redwood Forest, you can set up a private campsite along the river (if you're feeling earthy), or enjoy a candlelit dinner at one of the countless restaurants in the area (if you're feeling fancy).
Stonycreek River
Stonycreek, Pennsylvania
Situated between Baltimore, Philadelphia, and Pittsburgh, Stonycreek River is the ideal hidden gem for when you need to get away from the cramped cities for a long weekend. Twenty dollars covers your parking, the shuttle from the river, and your pick from a large selection of tubes to fit every mood and style. This is a great pace to enjoy nature and tube for miles down the steel heart of the country.
Frio River
Frio River, Texas
If you're a true Texan, you're either watching, playing, or talking about football -- which means you may not have much tubing practice. Thankfully, the Frio River is the best place to get your feet wet for your first time. You can skip out on the overcrowded waters of Guadalupe and actually enjoy your time tubing. And if you and your friends want to toast to a successful floating experience, make sure you BYOB because this river is surrounded by "dry" areas.
Saco River
Saco River, New Hampshire
If you're looking to avoid the preppy college kids and hair-ripping traffic of Cape Cod -- and would rather soak up the sun with sand between your toes -- the Saco River in New Hampshire is the place to be. The one-mile float takes about 2.5 hours and the water is only 3ft deep, so it's no biggie if you fall in. There are plenty of perks along the river, too: sandy beaches, giant rope swings, and a campsite to make a summer s'more.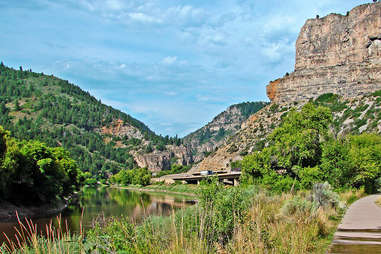 FOR THE PICS
Glenwood Springs
Glenwood Springs, Colorado
If the legalization of certain recreational materials in the past few years isn't proof enough that Coloradans are experts in relaxation, just check out Glenwood Springs. Tucked between the Rocky Mountains, this is surely the most scenic river in the state. Glenwood Springs offers the best views of Colorado's naturally colorful landscape and wildlife, coupled with underground caves and canyon swings right over the river.
Coldwater Creek
Milton, Florida
Florida's panhandle doesn't always get the viral credit it deserves. But Coldwater Creek is a backwater gem too good to leave off this list. Coldwater Creek makes it easy to plot your next adventure as you casually float past beautiful and scenic views of Florida's other half. With plenty of sandbars and a current that varies between too fast and just fast enough, Coldwater Creek gives northern Floridians a reason to bust out their cameras and floaties.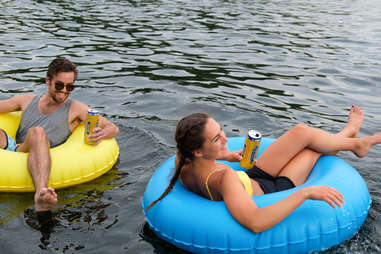 Face it: No tubing adventure is complete without a cooler stocked with Twisted Tea Hard Iced Tea. Beginners can kick back with a can while snapping some pics, while experienced tubers can toast to yet another epic ride downstream. But no matter your skill level, there's one thing that'll bring the whole crew together -- and that's Twisted Tea.
Lihue Plantation Canals
Lihue, Hawaii
Let's be real: Hawaii has too many great and very photo-worthy tubing spots to count. But the Lihue Plantation canals rise above the rest, with emerald green water, beautiful man-made tunnels, and lively scenery. At the end, you can enjoy a picnic after dipping in the natural swimming pool.
French Broad River
Asheville, North Carolina
Humble brag: The French Broad River is the third oldest river in the world. How they determine a river's age... we don't really know. But we do know that the French Broad River is the perfect tubing destination for lovebirds looking to add some outdoor adventure to their romance. With a ton of breweries, food trucks, and campsites to stop and enjoy along the way, you can take advantage of a warm sunny day on the French Broad on and outside of the river.
FOR PRO-FLOATERS
Yakima River
Ellensburg, Washington
A little cold water never hurt nobody -- especially if it involves some of the best tubing experiences on the West Coast. The Yakima River is the ultimate tubing destination for explorers seeking spectacular views along the four-hour float. The Yakima bends can put lazy floaters on the rocks if you don't stay left -- so please, stay left. And if you aren't feeling up for human companions, the launch site offers doggie tubes for your four-legged bestie.
Farmington River
New Hartford, Connecticut
For just $20, tubing the Farmington River is easily the best way to cool down during a traditionally hot and humid Connecticut summer. From the specially designed tubes to crystal-clear waters, this white-water thrill is the prime location to add a little floatation excitement to your summer. But hold on tight; the stream sneakily speeds up the further down you go.
Salt River
Salt River, Arizona
The only tubing river with its own theme song (we're serious), Arizona's Salt River is a great watering hole to cool off from the dry desert heat. With float trips ranging from one to four hours, Salt River can get as involved or laid-back as you want it. To take your trip to the next level, join in on one of the themed costume days; there's nothing like tubing in a hula skirt or celebrating Halloween a few months early.
Chattahoochee River
Atlanta, Georgia
With college towns surrounding each side, the Chattahoochee River can get a bit crazy -- but that doesn't mean it's not a great time. Be careful, though: The Chattahoochee is a fast river, and motor boats are allowed, too, so life vests are required for even the most experienced tubers.