Paid Content For
Everything You Need to Know to Find the Best Apartment
Follow these useful tips before signing your next lease.
Paid Content For
Ryan DeBerardinis/Shutterstock
Ryan DeBerardinis/Shutterstock
Finding a new place to live is a famously easy and carefree process, right? Right?!? Yeah, that's what we thought. Everyone has their horror stories: sketchy landlords, disappearing listings, a "no dogs" policy that popped up after the pup moved in—there are endless ways for it to go wrong. But that doesn't mean it's impossible, you'll just need to keep your wits about you.
Renting an apartment is a major financial commitment, so there are necessarily a lot of steps that go into it. But just remember to breathe—and be prepared to do your homework—and you'll find a place that's perfect for you. Here are the biggest things to remember when hunting for your new home.
Put out feelers
The most important first step is to notify everyone that you're looking for an apartment. And we do mean everyone. Friends, social media networks, colleagues, people in your neighborhood (or neighborhood-to-be), doormen at buildings you'd like to live in, etc. The more people who know that you're looking for a new place, the more likely that you'll get a hot tip when something becomes available. With any luck, you might hear about a vacancy opening up before it's on the market and you'll have first dibs.
Shop around for brokers
In a city like New York especially, brokers control many of the rental listings. Most people tend to just go with the first broker they find and, for many of them, that works well. However, if you're unsatisfied with the housing options you're seeing, it can help to shop around. Meeting with a couple of brokers and choosing the one who understands you best can significantly shorten the time spent looking at apartments. Consider whether they're finding options in your price range, if they suit your communication style, and whether they're showing you no-fee listings as well. Another option can be online brokers—services like TripleMint and Loftey pair you with an agent that fits your needs.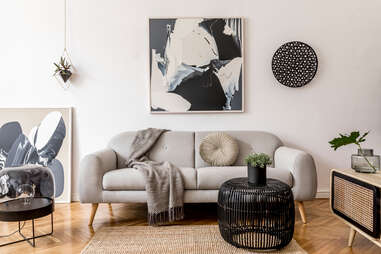 Or, cut out the middleman
Some landlords will only work through brokers, but others are open to dealing directly with potential tenants, which will save you serious coin on fees. Plus, talking directly with landlords can be an option to access apartments that haven't been listed yet. (Websites like PropertyShark can help you look up landlords and owners of buildings.) Checking Craigslist is still a worthwhile step: People will occasionally post about rentals-by-owner, or a tenant will offer up their place for a lease takeover. (Also, check sites like Lease Break, which specializes in sublets.) Depending on your city's rent control laws, taking over a lease instead of signing a new one could potentially save you money. Keep in mind that individual landlords (especially those that live in-building) tend to be cheaper to rent from than big management companies since they're often more interested in covering their mortgage than maximizing a commercial investment.
Know yourself
Before you even step foot in a potential apartment, you'll need to do some soul-searching of sorts. That means figuring out exactly what you need in a place. Is a rooftop important? And be honest: Will you use said rooftop if you're renting out the first floor? How about an in-building gym? (Another "be honest" moment.) Don't check out 30 places until you know your priorities—and don't get suckered into paying for perks you won't need (or use).
Vet potential roommates
It's not enough just to know yourself, though. If you're planning to live with roommates, figure out who they are before you begin your apartment search. If it's not a friend, that also means vetting prospects to know whether you'd do well living together—don't be afraid to ask for a couple of references to make sure you're not totally mismatched. Talk about daily schedules, noise and mess levels, and communication skills. It may seem nitpicky, but not doing this stuff could leave you with an unbearable living situation later on. Oh, and above all else: Make sure they can pay rent.
Prep your financials
Making sure your future roommate's financials check out is especially true if they're not going to be on the lease since you will effectively be their landlord. If you're signing a lease, prepping your paperwork before the apartment-hunting process even starts is huge. Get guarantors (if needed) on board, print out your proof of income and recent bank statements, and request that employment verification letter—the application approval process can often be a race to see who'll file everything first. The worst possible outcome? Finding your dream apartment and then losing it to someone else with their papers in order.
Watch out for shady broker moves
Unfortunately, unscrupulous rental brokers are out there. Every step in the housing hunt is an opportunity to be scammed, and brokers are no different. Be wary of those who do the classic upsell, or show you too-good-to-be-true apartments that mysteriously disappear once you try to close the deal. If you're signing a broker agreement, read the fine print: They can hide fees in there that you might not agree with.
While you're at it, read the lease
Plenty of sketchy stuff can be hidden in lease agreements, so, seriously, read every line. Are they offering you a free month of rent? Then understanding "net effective rent" is crucial here—as the advertised price likely won't be what you're paying month to month. (And that concession only covers the initial lease term.) Are you allowed to paint the apartment, and, if so, will you be required to paint it back? Check for any amenities fees, pet fees, or hidden rules that may not have been discussed before.
Know when to negotiate
Negotiating rent can seem like a bold strategy, but it rarely hurts to try. The best time to discuss potential concessions is after you're approved, but before you sign the lease. This is when landlords are most eager to sign, especially for a well-qualified tenant. One trick? Offer to extend your lease to end in the summer, as landlords know that's when it'll be easiest to turn the apartment over to the next tenant. Or, if you're willing to dip into your savings (and remember to pay yourself back), propose prepaying a few months in exchange for a lower monthly rate. Don't just focus on dollar signs, either—things like the length of the lease term or access to amenities are also fair game for negotiation.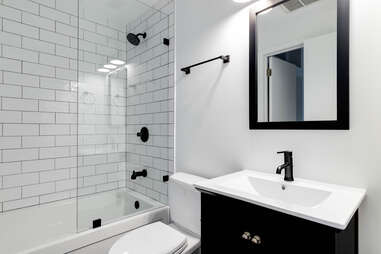 Test everything
Check the water pressure in the shower. Lean out the window and listen for street noise. Stand in the stairwell and listen for noisy neighbors. Measure the doors to make sure your couch will fit. Scan the ceilings for any water spots. Talk to doormen and neighbors about the building and anything else to watch out for. The more digging you do, the less you'll be surprised once you're committed to the lease.
Bonus: Get multiple moving estimates
A lot of these same rules apply to moving into your new place. So be sure to get estimates from several moving companies (and watch out for hidden fees, like charging you for an extra hour to get to your place). Read plenty of reviews and know exactly what the agreement covers (and doesn't) before you sign up with a sketchy, second-rate mover just because they quote you the lowest price.