14 Awesome DIYs to Trick Out Your Backyard This Summer
Your backyard is your own, personal oasis, and you should make it as outrageously awesome as your imagination allows. Always wanted your own tiki bar? How about a personal roller coaster? Or a giant outdoor xylophone, because you love music as much as you dislike your neighbors? We've rounded up a slew of the best backyard DIYs, so you can do more than just hang out in a camping chair on the lawn this summer.

Why would you walk through your backyard when you could zip through it, imagining that you're Robinson Crusoe flying over the rainforest?
What you'll need:
1. A nice, big piece of property with trees
2. A daredevilish sense of adventure
3. A Safari Pith Helmet
Because walking from the table to the cooler just takes too damn long.
What you'll need:
1. Wood and planter boxes
2. Friends who like to drink beer
3. Decent table manners

Has your neighbor been waking up at 6:30am to mow the lawn? It's payback time.
What you'll need:
1. Wood planks and galvanized staples
2. Chill neighbors
3. Sheet music for ABBA's Mamma Mia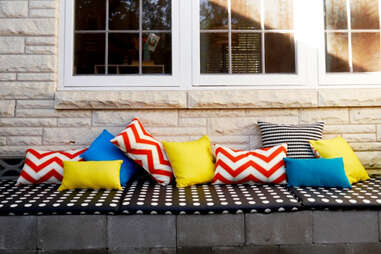 You could just pick up an outdoor bench from Ikea, but where's the fun in that when you have six dozen cinder blocks laying around?
What you'll need:
1. 75(!) cinder blocks
2. A slightly ridiculous do-it-yourself attitude
3. Upper body strength
Ah, the tiki bar. Is there anything more gratifying than sipping a cool beverage under a roof made from dried grasses, listening to the sounds of a ukulele?
What you'll need:
1. Grass Hula skirts
2. Lots of mini umbrellas for whatever you're drinking, even if it's out of a can
3. Island Time

This will definitely give that one guy a reason to spend a majority of the barbecue out "getting ice" at the deli, rather than actually at the party.
What you'll need:
1. An old -- preferably clean -- fridge
2. Lots of goods that should be kept on ice
3. Lots of friends with big appetites
Because if your tomato plants aren't going to line up exactly, why plant them at all?
What you'll need:
1. Wine corks
2. A place to store all your foodstuffs in case of famine
3. An almost unhealthy obsession with perfectly straight lines
Come August, you might be in serious need of variety when it comes to your outdoor culinary options.
What you'll need:
1. Terra cotta pots
2. An Italian grandmother with a cherished tomato pie recipe
3. Extra cheese
Bow down, peasants. I bet your drawbridge is cranked by hand.
What you'll need:
1. Heavy duty drawer glides
2. A working knowledge of civil engineering
3. Extra batteries
If you're the guy who always plays the word "ZA" with the triple letter score, then you better take this game outside.
What you'll need:
1. 225 pavers
2. I mean, that's a lot of pavers.
3. An excellent vocabulary

You would think that this activity would actually require a body of water. These guys prove that, surprisingly, it does not.
What you'll need:
1. A riding lawn mower
2. A knack for invention
3. Good balance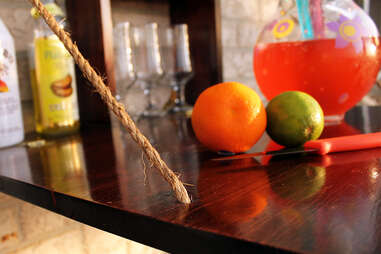 Day drinking should be made as accessible as possible, no matter how small your space.
What you'll need:
1. "Rustic" rope
2. Lessons from any of these guys
3. Jimmy Buffett's Margaritaville album
Now there is truly no need to wait in hour-long lines to ride a 60-second coaster.
What you'll need:
1. PVC pipe, lots and lots of PVC pipe.
2. High school physics
3. Perhaps a seatbelt