8 Essential Items to Up Your Next Tailgate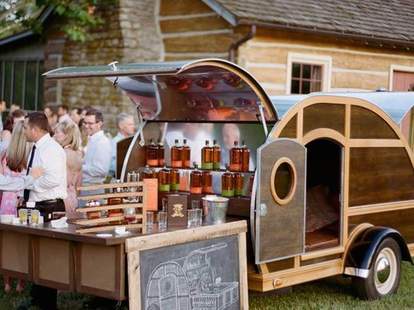 Heading to the parking lot with anything less than the best gadgets, gear, and comfy furniture is a recipe for a bad time. A recipe for a baller, super chill, totally radical (and other '90s superlatives) time? This list of killer stuff.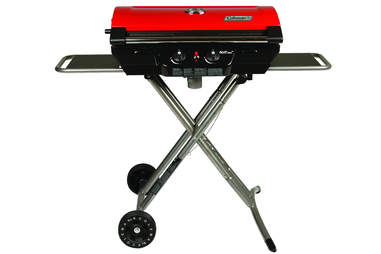 Courtesy of Coleman
It features a generous 321 square inches of grilling space (up to 18 burgers at a time). The beast fires 20,000 BTUs and can be powered by common propane tanks or smaller cylinders; a scissor-leg design allows it to be stored vertically, saving precious storage space for your boxes of Wayne Chrebet Fatheads.
Courtesy of Moore & Giles
Nothing will sooth the anger of losing another heartbreaker like a leather-bound, brass & canvas fold-up chair that's as comfortable as it is intimidating to lot wanderers looking for free brats.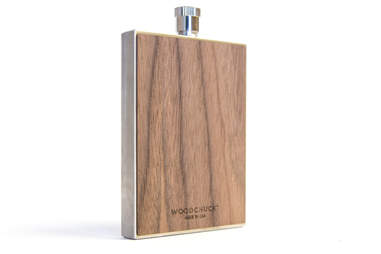 Courtesy of Woodchuck USA
Literally every part of your body is likely covered in team-branded logos, slogans, and decorative patches -- free up a little personal space with a classy flask that's handmade in the USA (unlike a lot of that team gear).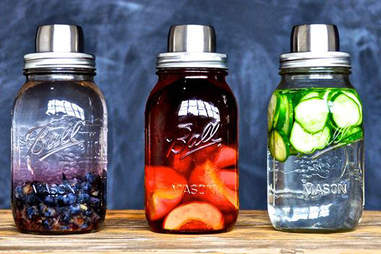 <a href="https://www.facebook.com/masonshaker" rel="nofollow" target="_blank">The Mason Shaker/Facebook</a>
It's time to graduate from light beers to this home bar in a jar. Though they're made in Brooklyn, so depending on your team allegiance (anywhere in the North East that isn't New York, basically) you may want to keep it on the low.
Courtesy of Dish KING
Massive flatscreen TV powered up? Good, now we need to get you hooked up with some games. In order to dial in your ESPNs, Big Ten Network, Lifetime, and the like, you'll need a satellite antenna. DISH's new automatic unit is portable, weighing just eight pounds, and locks in a signal within fifteen minutes of you turning it on -- even in the most remote parking spot you can find.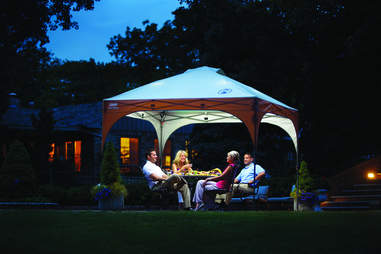 Courtesy of Coleman
This 10 x 10-ft canopy provides 100 square feet of shade and sets up easily (the frame's poles telescope and lock, so the short, overly-friendly neighbor kid can help, too). Once the fourth quarter's over and the post-party has begun, built-in LED lights will shine 400 lumens of truth onto the scene so you can more clearly identify which leftovers are worth scavenging.
Courtesy of Coolest Cooler
You could bring USB chargers, a BlueTooth speaker, a blender, a cutting board, and bottle openers… or you could just bring the Coolest Cooler, which has all that stuff and more packed into its sleek frame.
Courtesy of Bulleit
Welcome to the ultimate tailgate trailer. We're talking wood finishings made from Bulleit Bourbon casks, a flat-screen, killer speakers, and a full bar that slides out. That's more wins than your favorite team is going to get all year.