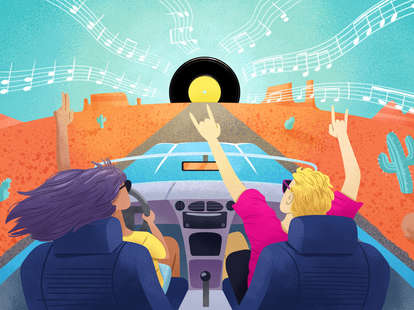 Jason Hoffman/Thrillist
Jason Hoffman/Thrillist
If you're ever wondering about America or where you fit in it, then it's time for a road trip. Liberty is a full tank of gas and an open highway; your pursuit of happiness will include piles of snacks. And, per tradition, you will also jam out to a road-trip mix of proper driving songs. There's a reason, after all, we call them "tracks."
If you want to go all new-school on this soundtrack, you can listen to it on Spotify. Or you can go early-2000s retro: burn it to disc and scribble "Forever Road Mixtape" on it in Sharpie. These 50 sweet songs bring a swirl of styles, sounds, tempos, and genres, unscientifically devised for maximum sing-alongs, high-fives, window-wings, and introspective epiphanies. Over three hours of awesome music, you'll cover some serious ground, physically and otherwise.
"SIT YOURSELF DOWN IN YOUR CAR AND TAKE A RIDE"
Jim Morrison said that all Doors songs are about love, death, and travel. "LA Woman" ventures into all three, symbolically and literally, as it pulls off the freeway into the mysterious City of Night. Simply put, this is the best driving song ever recorded.
A song about chair dancing that's impossible to sit still to.
"It's true that I stole your lighter / And it's also true that I lost the map." A road trip is nothing if not a crucible for any relationship, and if you've ever endured a long car ride amid a fizzling romance, you can relate to this perfectly cynical story-song.
Ten points to the first person to spot a Deadhead sticker on a Cadillac.
Thanks, Kris Kristofferson, for penning one of the first-ever songs about road tripping. And thanks Janis Joplin for putting your own desperate, prematurely weary spin on this eternal classic.
U2's most epic composition sounds like an open highway looks.
With a single 1999 commercial -- one of the first to premiere on the Internet rather than TV -- Volkswagen sealed this achingly pretty song in the mind of a generation that will forever associate Nick Drake with meaningful night driving in a carload of friends.
Kurt Vile and the Violators are millennial indie-rock's version of a '90s jam band, and this six-minute meander unspools with smoldering drama. The song is about introspection -- Vile very well might be behind the wheel as he ponders the fate of his long-ago friend Alex -- but the solo that comes at 2:30 explodes into the stratosphere.
"OF TRAVEL I'VE HAD MY SHARE, MAN"
Poet, children's author and Playboy cartoonist Shel Silverstein penned this song and later gave it to his pal Johnny Cash, who made it famous. But Silverstein's voice -- part gravel, part rubber, part cowboy, part New York Jew -- revels in the song's inherent ridiculousness. And if you want a genuine shock, find his sequel, "Father of a Boy Named Sue."
Though Cash's commanding baritone sells this tall tale of a tune that ricochets across the surprisingly rhymable American landscape, it was actually written by an Australian singer and originally oriented around the geography Down Under.
In America we have deer. In Australia, kangaroos are apparently the most notorious dusk-time driving hazard.
Remember that time you and your high school friends drove to that house party in the suburbs and Smashing Pumpkins was playing in the living room and everyone got too drunk and jumped in the pool?
Nobody was cooler than JJ Cale. If this slick disco-folk jam doesn't inspire quick escape to the great beyond, you should probably examine your priorities.
"IF WE'RE FOOLS IN LIFE, A HAPPY FOOL I'D RATHER BE"
Apologies to John Denver, but Toots did it better. West Jamaica!
Sometimes you get in the car with someone and have no idea where you're going but you're on your way together and that's all that matters.
"Sunday driving / Not arriving"
Like driving your car in reverse to take off excess mileage. Time to rethink your itinerary.
One day you might find yourself driving a Ford LTD through the mean streets of LA, running over empty cardboard boxes and pursuing mustachioed criminals of dubious pedigree. Or you might not.
"My car goes / Chicago / Every weekend to pick up some cargo." An eminently sing-along-able folk tale about petty crime, petty arguments and drastic consequences from these streetwise Upstaters.
That mournful saxophone is the sound of your lonesome heart as you hurtle through the night into the distant unknown.
Hard to name a TP song that isn't right for the road, but this one is the most literal.
When feeling bad feels good, time to get in the car and drive. The Dead certainly had more famous travel songs but none as groovy as this one.
Like the Dead, the Allmans had a lot of songs about the road. Including this one, irresistible on the blacktop whether you're an actual fugitive or not.
"THE ROAD GOES ON FOREVER"
An anthem of moving the fuck on.
Wherever you go, there you are. Might as well party! Shade Sheist came and went with this, his one and only hit, but joined by Nate Dogg and Kurupt he clocked an all-time summer jam.
Made famous by a slew of German bands in the 1970s, this kind of music is called motorik for a reason.
Props to James Murphy for taking the motorik template, adding some Steve Reich-ian phased piano and delivering this piece of post-modern schmaltz, as sentimental as it is propulsive.
Only Dizzie Gillespie can get away with bastardizing a gospel hymn with a brand name. He's having fun here and it's infectious.
From the same gospel source material as Dizzie, George Clinton recorded the anthem that launched a thousand samples.
Not only did scene-stealing Jerry Reed outshine Burt Reynolds in Smokey and the Bandit, he also wrote the dang theme song!
"GOTTA FIND A NEW PLACE WHERE THE KIDS ARE HIP"
ELO might be the poor man's Beatles, but this song ventures closer to funk than anything the Fab Four ever did. The sound of a jungleful of wild animals jamming in unison.
Don't slow down -- those sirens are only in the song.
One of the richest and most rewarding chord progressions ever recorded feels exactly like upward motion. Climb it!
Robyn is the queen of self-empowerment. This song is one of her most motivational.
Listen loosely and it sounds like they're singing "wear your helmet," which is what your mom would say before you split town on your motorcycle.
Escapism as psychic therapy. This song by Portland, Oregon troubadour Jackson Boone was made for summer road-tripping.
The best song on Kanye's best album. Here's a toast to the assholes!
The early '60s were rich with songs about love 'em and leave 'em deadbeats.
Also, songs about cars.
"Baby, have you got enough gas?"
September, 1998: James Brown storms an insurance agency in Augusta, Georgia with a shotgun, claiming he's being followed by invisible enemies. When the police arrive, Brown splits the scene and leads them on a high-speed car chase through two states before being pulled over and arrested in South Carolina. This song -- released the following year by the UK band who was one of the first to pair electric guitars and turntable scratching (imagine the minds --> blown at the time!) -- is about that episode.
Feel free to roll down the window and stick out your arm to make a wing (one at a time, please).
"WE'LL MEET AGAIN SOMEDAY ON THE AVENUE"
"Turn it up! / Turn it up! / Little bit higher! / Radio"
When Wilco ascended to the throne of high-minded dad rock, Jeff Tweedy was kind of a jerk. Nobody likes riding on the passenger side, Jeff.
A song less relevant in the age of GPS, but just as wicked cool.
Wheels on the road: a symbol of time's unrelenting march. Meditative as the world flows by your car window like an endless river.
No song better encapsulates the ephemeral joy and longing of road travel.
Actually, this one might.
Recorded by pre-Grammy-fame Sia, "Breathe Me" soundtracked the closing scene of Six Feet Under, one of HBO's early prestige series, circa 2005. In it a young woman gets in her Prius and drives away from her family home to begin the rest of her life. As she travels, time outside the car speeds up, and we see her family members die off one by one as she's left weeping behind the wheel, captive to her own fate and the inescapable onset of the future. It's one of the most moving and memorable sequences in television history.
Words to drive by, written by Woody Guthrie and sung by Sharon Jones. God bless you, America!
Sign up here for our daily Thrillist email and subscribe here for our YouTube channel to get your fix of the best in food/drink/fun.
Jonathan Zwickel lives and writes in Seattle. He's senior editor at City Arts magazine and contributes to Pitchfork, Stereogum, The Believer, and SPIN and is the author of Beastie Boys: A Musical Biography, published in 2012 by Greenwood Press. Holler@zwickelicious.