America's Biggest Frats and Sororities, Ranked by Their Celebrity Alumni
Warner Bros. Pictures
Warner Bros. Pictures
Nostalgic for that four-year vacation called 'college'? Us too, which is why we're bringing back College Week. Double-sink all of this week's college goodness, all week, right here.
It's almost impossible to judge a fraternity or sorority based on the actions of its individual houses. After all, a frat in East Lansing might be full of upstanding, old lady-helping gentlemen while their brothers out in Boulder are busy burning couches and refusing to retire their annual Cosby Sweater Party.
But one thing that does level the national playing field is the celebrity status of their members. As such, we took it upon ourselves to rank the 19 biggest Greek organizations in America -- the ones with the most chapters -- based solely on their famous brothers and sisters. Cosby didn't make the cut. But John Tesh did.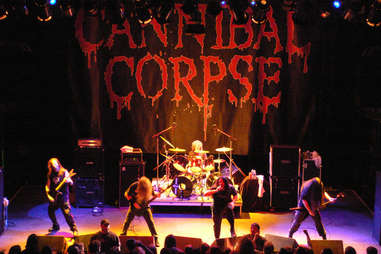 19. Pi Kappa Phi X
Notable members: Cannibal Corpse singer George Fisher, O-Town founder Trevor Penick, opera singer Nick Palance, and, um, Tommy Lasorda
Theory: Tommy Lasorda joined this frat so that he didn't have any competition during the fall formal.

18. Zeta Tau Alpha
Notable members: Erin Andrews, Survivor: Amazon champ Jenna Morasca, Tony Award-winner Betty Buckley
When your second-most notable celebrity member is a woman who won a Tony Award for playing Grizabella in Cats, you're not exactly living in the spotlight. Just like Grizabella, the Glamor Cat!

17. Alpha Gamma Delta
Notable members: 1997 Miss America Barbara Jo Walker, 10 Things I Hate About You scribe Karen McCullah Lutz, Heroes actress Ashley Crow
Given the lineup of "famous" people from AGD, we'll just assume the focus here was on academics, which it should be. Because your mother and I aren't paying $20K a year for you to go wild, missy.
16. Lambda Chi Alpha
Notable members: Will Forte, Powers Boothe, the dude who wrote Braveheart, Kenny Chesney, John Tesh
Nope. You let Tesh in. Good day, sirs.

15. Delta Gamma
Notable members: Julia Louis-Dreyfus, Patricia Heaton, Eva Marie Saint, Ann Coulter
Nope. You let Coulter in. Good day, ladies.

14. Alpha Omicron Pi
Notable members: Miss USA 2013 runner up Margaret McCord, Miss Alabama Ashley Davis, Miss Colorado Katie Layman, Miss North Carolina Katherine Southard
We imagine a lot of talk in the house about world peace and invisible tape and carpal tunnel pain from waving.
13. Gamma Phi Beta
Notable members: Kristin Chenoweth, Susan Howard, Cloris Leachman, Hope Summers
Rumor has it, somebody slipped Kristin Chenoweth a balloon full of helium at a party and her voice just kind of stayed that way.

12. Delta Chi
Notable members: Benjamin Harrison, Kevin Costner, Ashton Kutcher
Kutcher apparently started punking people because he was surrounded by a bunch of milquetoast dweebs.
11. Sigma Phi Epsilon
Notable members: John Goodman, Andy Richter, Orel Hershiser, Dr. Seuss, John "Sloth" Matuszak
Heeeeeeeeeey yooooooooooou guuuuuuuuuuys… increase your recruitment efforts!

10. Chi Omega
Notable members: Lucy Liu, Harper Lee, Angela Kinsey, Sela Ward, Miss Universe 1967 Sylvia Hitchcock
We're sure Kinsey was a deadpan riot, and Harper Lee just kind of kept to herself. But Lucy Liu, well, she couldn't even get along with Bill Murray. Considering Bill Murray is what every frat dude aspires to be, we're assuming she was a riot.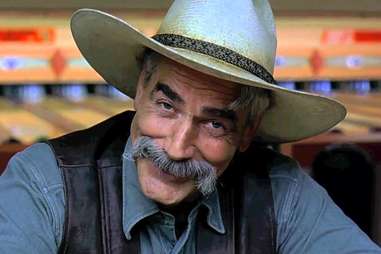 9. Sigma Alpha Epsilon
Notable members: Lloyd and Beau Bridges, Nick Lachey, David Spade, Fred Savage, President William McKinley, Sam Elliott
It's likely that The Dude kicked it at SAE, since his brother was a brother, and that's even cooler when you think of Sam Elliott sipping sarsaparilla on the couch. Otherwise, well, their most important member is a president who just had a mountain un-named after him.

8. Pi Kappa Alpha
Notable members: Jeremy Piven, Tim McGraw, Ted Koppel, Jon Stewart, Steve Prefontaine, Jim Parsons
Within the walls of Pi Kappa Alpha, Jon Stewart honed his wit. Prefontaine trained. Jeremy Piven probably managed to look 45 even when he was 18.
7. Alpha Epsilon Pi
Notable members: Gene Wilder, Art Garfunkel, Paul Simon, Adam Richman, James L. Brooks, Wolf Blitzer
Why this particular piece of collegiate connective tissue never spawned an elegant acoustic rendition of "Pure Imagination" is beyond me.

6. Tau Kappa Epsilon
Notable members: George Wendt, Aaron Rodgers, Terry Bradshaw, Mike Huckabee, Ronald Reagan, Willie Nelson
Honestly, we're just amazed that a president all about "just say no" and a dude whose pigtails could be smoked called each other brothers.
5. Delta Zeta
Notable members: Joy Behar, Edith Head, Tina Fey, Marcia "Mrs. Krabappel" Wallace, Florence "Mrs. Brady" Henderson
I just can't stop imagining 20-year-old Florence Henderson coming home to find Marcia Wallace hadn't done the dishes, and being all like "Marcia Marcia Marcia!" Right? Right?
(Editor's Note: We're confident that every member of Delta Zeta is funnier than our writer.)

4. Alpha Phi Alpha
Notable members: Duke Ellington, Lionel Richie, Thurgood Marshall, Keenen Ivory Wayans, Jesse Owens, Donald Driver, Martin Luther King, Jr.
Basically, everybody here is better than you at everything. Except Keenen Ivory Wayans.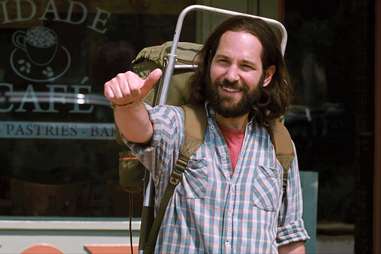 3. Sigma Nu
Notable members: Pat Riley, James Carville, Eli Manning, Paul Rudd, Harrison Ford, James Dean, Bob Barker, Michael Biehn
Look, we're willing to overlook the presence of the dude from Counting Crows on this one. And those Eli Manning DirecTV commercials. Because these legends range from the Ragin' Cajun to Indiana Jones, Kyle Reese, Brian Fantana, and that dude from the Taylor Swift song.

2. Sigma Chi
Notable members: Drew Brees, Ty Burrell, Brian Dennehy, Brad Pitt, John Wayne, Rip Torn, Tony Hale, David Letterman, Andy Rooney
Seriously, can you imagine the kind of party these cats could have thrown together if they were all in the same house?? Pitt and Buster Bluth would be having a shotgunning contest while Drew Brees and John Wayne arm wrestle and Rip Torn douses everyone with acid and chases them around. Then, the next day, Andy Rooney comes out and wakes everybody up at 8am and complains about how the house is a wreck. Who let him pledge, anyway?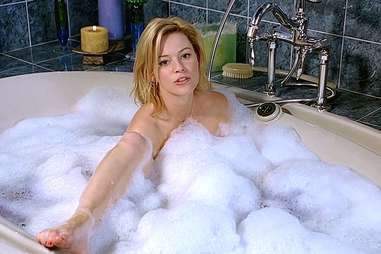 1. Delta Delta Delta
Notable members: Elizabeth Banks, Leeza Gibbons, Hoda Kotb, the lady who made the Cathy comic strip, Beth Ostrosky, Farrah Fawcett
In addition to being immortalized via SNL, Delta Delta Delta is stacked with everybody from Elizabeth Banks to supermodels, more than 25 national beauty pageant winners, and likely a sea of empty pre-noon wine bottles courtesy of Hoda Kotb. With those powers combined, we're willing to endure countless coffee freakouts by Cathy and humbly request an invitation to any and all parties going forward.
Sign up here for our daily Thrillist email, and get your fix of the best in food/drink/fun.
Andy Kryza is a senior editor at Thrillist whose only experience with going Greek in college involved gyros at Lou & Harry's. Follow him to a paddlin' @apkryza.