It's October at last, and we know this because the strip malls teem with Spirit Halloween stores, the temperature occasionally dips below 80, and haunted houses begin opening their creaky, bloodsoaked doors. But which haunted house is right for you? Are you looking to go the traditional route, or are you up for something a bit more spectacular? Well, whichever way you lean on the scare spectrum, our round-up of terrifying warehouses and creepy cottages has you covered in metro Detroit and beyond (including one that's actually, technically, in Canada).
Detroit
Cost: $105 for the general event, $260 for the full gala
Dates: Masquerade Galas, October 12 and 19; Theatre Bizarre general event, October 13 and 20
Detroit's most hotly anticipated Halloween party (and one of its most expensive) takes place in Detroit's ultimate haunted house: the Masonic Temple. For months in advance of the late-October event, hundreds of volunteers work to create a beautiful spectacle for the beautifully costumed guests whose looks are subject to a firm set of rules. Here, "no character costumes" bears the weight of "no wire hangers, ever!", and partygoers often rival performers for their elaborate garb.
This year, the entertainment includes a vast assortment of burlesque performers, including Roxi DLite, Angie Pontani, Ray Gunn, Magenta DeMure, and Lou Lou la Duchesse de Rière. The Gala includes an open bar, valet parking, strolling dinner, the Ghost Train ride, and an ice cream parlor. The main event experience has a cash bar and food-for-purchase, with eight stories of "endless curiosities, shows, roaming performers, and unexpected delights around every corner." There's also the Dirty Devil's Peepshow and 20 different musical acts in the main ballroom.
While the gala is a huge splurge at $260, it's truly a Detroit original, and should be experienced at least once, either in this life, or the (very spooky) next one. If you want the spectacle but can live without the open bar, ice cream, and lavish strolling dinner, the main event Saturdays are a bit more reasonable at $105 -- there were discounted tickets for $85 in September, but the price is now $105, $10 more than last year.
Pontiac
Cost: Tickets range from $19 (for weekday visits) to $28 (for prime weekend dates)
Dates: October 4-7, 11-14, 17-31 & November 3-4; open 7:30-10:30pm weekdays, 6pm-1am Friday and Saturday, and 6-11pm Sunday
Erebus began in 2000, and was founded by brothers Ed and Jim Terebus. Haunted attraction die-hards since 1981, the brothers mortgaged and sold homes to purchase the attraction's base: a 100,000-square-foot, four-story commercial building in downtown Pontiac. Once recognized by the Guinness Book of World Records as the world's longest walk-through haunted attraction -- a distinction the space relinquished to another haunted attraction back in 2009 -- Erebus features top-of-the-line sets and costumes, and a cast of eager, talented ghouls and monsters. The attraction's website features a laundry list of "Do not enter if..." warnings, so you should probably only hit this one if you're in tip-top shape -- or if you're just really, really into haunted houses.
1441 McDougal Avenue, Windsor
Cost: $15, or $30 to skip the line
Dates: Hours: 6-10pm on Thursdays and Sundays, and 6-11pm on Fridays (select dates open till midnight), with Monday, Tuesday, and Wednesday shows on October 29-31
If you like your scares steampunk-style, you'll love the aesthetics of ScareHouse Windsor -- provided you're OK with taking a quick trip into Canada. Yes, it's technically not "in Michigan," but when Journey sings about "South Detroit," we all know they're referring to Windsor (which is 100% south of us due to river geography at the border). The promoters promise to scare "the hell out of you," though their website focuses on things they will not do: give you a refund ("we will laugh in your face if you ask"), or provide toilets ("let it go in your pants"). There's gore galore at ScareHouse, including a bathtub so bloody no amount of Comet will ever save it.
Windsor's Canadian scares come jam-packed into a 20,000-square-foot warehouse. While there are no toilets or refunds, you won't have to worry about your ride as "there is almost too much parking."
New Haven
Cost: $15-65
Dates: Every weekend through Halloween, 8pm to midnight
Combining the theme zone model of Disney World with all the monsters, zombies, and chainsaws George Romero could ever have hoped for, Scarefest Screampark packs a whole universe of terror into its secluded woodland setting. The park is divided by attractions, which include the Fear Zone Terror maze, the Hayride of Doom, the Castle of the Dead, and the Carnival of the Dead: a secluded country fair in the woods where you'll notice "the smell of burnt flesh and popcorn mingling in the autumn air." Yum...
With nightly entertainment including bonfires and zombie paintball, Scarefest allows free access to the grounds, but entering the four attraction sites will cost $15 a piece (or $45 for all four), while a VIP pass offering unlimited attractions and front-of-the-line cutsies costs $65. The park doesn't charge for parking, but does ask for either a $1 donation or a canned food item for local hunger charities.
Millington
Cost: $14 for the haunted sawmill, $10 for JP'S Axe House, $20 for both attractions
Dates: Fridays and Saturdays through Halloween, 7:30pm to midnight
If you've ever dreamed about fleeing a cannibalistic murderer, Bates Saw Mill of Torture can make that nightmare a reality for you. The 20,000-square-foot attraction treats captives -- er, guests -- to a number of different tableaux, all centering on an evil, woods-dwelling flesh eater. Your evening of despair starts with a long, dark walk through a wooded maze where the attraction's many dark and twisted souls jump out at the unwary. Once you pass the maze, the action continues in some of the scariest trailer homes imaginable -- even scarier than Eminem's in 8 Mile.
Jonesville
Cost: $22
Dates: Friday and Saturday night through Halloween, 7:30pm to midnight
Jonesville's DarkSyde Acres front-loads thrills into 70,000 square feet. The 38-acre site makes this one of the largest haunted houses in Michigan. Its seven attractions include a haunted maze, a "Dark Abyss," and something called the RustHole. Perhaps there's a secret closed factory theme? The haunted house offers more than just monsters, murder, and the macabre -- there's a bonfire each night, concessions, and a gift store.
The RustHole is actually a black maze designed to toy with visitors mentally, while the Dark Abyss (Michigan's only haunted pirate ship) has a crew of tormented zombies under the firm command of Captain Carcass and his "bloodthirsty bride to be," Bloody Mary. There's also a "3-D Haunted Clown Adventure" called KlowneTowne, in case It and American Horror Story: Cult didn't quite get the scary clown job done for you.
Bay City
Cost: $15
Dates: Fridays - Sundays through October 28, 8 pm - midnight (Fridays), 7pm - midnight (Saturdays), 7-10pm (Sundays)
Less a haunted house than a haunted ship, The Edson Incident is staged aboard the decommissioned USS Edson in Bay City. The Vietnam-era Navy Destroyer offers five different levels of fear, all based on the idea of a terrifyingly misguided military experiment. The attraction promises a final fight between good and evil, although the punny tagline ("We'll scare the ship out of you.") might just be the scariest part of the whole thing.
The Edson -- a very real Naval vessel commissioned in 1958 -- fired more five-inch shells than any other destroyer of her era, garnering the nickname "Gray Ghost of the Vietnamese Coast." After the Edson's decommission in 1988, the ship entered its second life in museums, finally landing at the Saginaw Valley Naval Ship Museum in 2013. The Edson Incident, in addition to scaring "the ship" out of you, also supports the museum, and is manned by volunteers.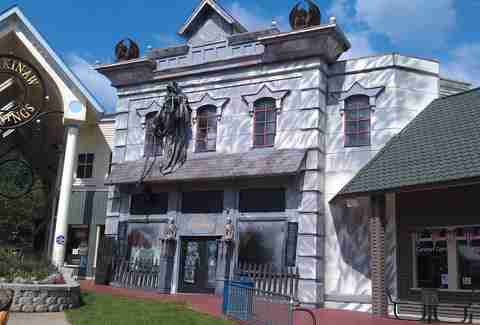 Mackinaw City
Cost: $7 (general admission), but it's always free for military members and Native Americans
Dates: Noon-9pm, daily (until the final scare on Halloween night)
Located way up north, Mackinaw Manor's claim to fame is being Michigan's only fully automated haunted house, using animatronics, special effects, and a state-of-the-art sound system to terrify its visitors. Although it's not as extreme as some of the gorier haunted houses out there, this family-friendly spookshow still has plenty of creepy thrills and chills, and its owners are hands-on, knowledgeable, and always happy to share a story or explain a bit of the tech behind the scares. The haunted mansion also has a seance room, in case you'd like to know what Bram Stoker or Mary Shelley think of the current state of scary.