The Best Suburban Neighborhoods You Should Totally Move To
With more space and located just outside major metro areas, it's the best of both worlds.
Paid Content For
The historic Biltmore Hotel has become the hallmark of Coral Gables, Florida, near Miami.

| Galina Savina/Shutterstock
The historic Biltmore Hotel has become the hallmark of Coral Gables, Florida, near Miami.

| Galina Savina/Shutterstock
Since the dawn of the American suburb, the idea of suburban living has been decidedly unsexy. It conjures up images of endless rows of uniform houses, where manicured lawns and aluminum siding rule, and the food scene is limited to a collection of drive-thrus and chains with 90-minute waits.
In many American suburbs, all of that is still true, especially as younger people and families have slowly returned to city centers. But some suburbs have set themselves apart as cities of their own, boasting bustling downtowns full of art, culture, history, and award-winning restaurants. And as rent prices in big cities keep soaring, the prospect of relocating to a smaller, cheaper town that's still close enough to sports and airports doesn't seem so bad.
In 2022, many suburbs are redefining the suburban lifestyle and, now, it can mean sipping craft cocktails on a rooftop half an hour from Manhattan or relaxing at a homey college baseball game southwest of Miami. It can mean paragliding just outside Denver or racing BMWs in South Carolina. Today, suburbs can be sexy, if you know where to look. If this new era of 'burb life sounds alluring, here are 10 you might want to check out.
Coral Gables, Florida
A few miles west of Miami's neon and LED jungle sits a tropical enclave of Mediterranean Revival architecture and banyan trees called Coral Gables. The City Beautiful, as it's known, was among the first master-planned cities in the country, home to the University of Miami and winding streets named after Spanish cities.
The Gables has its own thriving downtown along Miracle Mile, where nightspots like The Gramercy guard themselves with velvet ropes and still have lines out the door. Just down the street, the Actor's Playhouse at the Miracle Theater hosts some of Florida's best regional plays and musicals. And not far from there, the pedestrian-friendly Giralda Plaza provides a European-style gathering place, with restaurants like Michelin-rated Luca Osteria and Zitz Sum giving it some serious culinary cred.
Despite its sophistication, the Gables still feels homey and relaxing, which is never more evident than when watching University of Miami baseball at Mark Light Stadium on a warm spring evening. Here, families who've lived in the Gables for generations gather to cheer on the Hurricanes and sip fresh fruit milkshakes from Robert is Here, a family-owned tropical fruit stand. After the game, you'll catch lifers trading stories about the old days over beers at Titanic Brewing, or a slice of pizza at Miami's Best.
Golden, Colorado
Any kid who watched a Coors commercial between 1980 and 2010 may remember thinking Golden, Colorado was a made-up place, giving the legendary light lagers a "hometown" whose name matched its color. But Golden is very much real, and it's spectacular—a mountain town of 20,000 that produces more beer per capita than any city in the country. Prolific production aside, the closest mountain city to Denver sits nestled between two table mountains about 20 minutes from downtown, but feels like a dive into the heart of the American West.
The feeling isn't subtle: A giant sign over Golden's main drag announces it is "Where the West Lives." But the coolness comes from more than a sign. It's from the hearty, outdoor ethos, where lunch breaks spent fishing in Clear Creek are a way of life, and paragliding and mountain biking are more popular than going to the gym. Western history is everywhere in Golden, from Dinosaur Ridge where archeologists discovered the first dinosaur bones, to Buffalo Bill's gravesite and museum. And if you want to cool off with some brews after a day in the mountains, Golden offers nine craft breweries in addition to the big tour at Coors.
Dog lovers will also enjoy Golden, not just because of its abundance of open space, but also because it hosts the world's largest Golden Retriever meetup during Goldens in Golden. The city added to the buzz with the opening of the new Eddy Taproom & Hotel on the shores of Clear Creek, allowing guests to tap into the Rockies, so to speak, from the minute they wake up.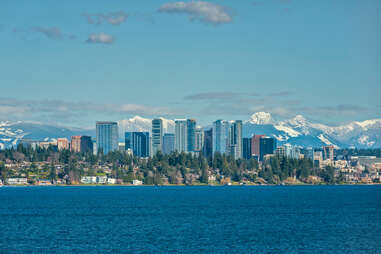 Bellevue, Washington
Bellevue was long reviled by grunge-era Seattleites as the capital of the generic, boxy Eastside, where city-dwellers only went to grab dinner at the Cheesecake Factory and lose their identities. But the home of Microsoft has turned itself into an easier-living version of Seattle, where wine tastings, wilderness, and the sparkling waters of Lake Washington are less than 15 minutes away.
Though the city is known best for its tech companies and newer, family-friendly neighborhoods, Bellevue is also a marvelous place to combine adventure and luxury. Within 20 minutes, you can find yourself hiking along the scenic banks of Rattlesnake Ridge or gazing out into the mountains from the top of Poo Poo Point. In the city, water adventures abound, where you can grab a boat from Cascade Canoe and Kayak and paddle around Lake Washington past the mansions of tech giants.
Bellevue is also a short ride from Woodinville, where every winery worth its sulfites has a tasting room. Within a few minutes from downtown, you can sip special vintages from names like Chateau Ste. Michelle and Columbia Crest, then cap it off with American craft whiskey from J.P. Trodden. For those who prefer mixed drinks, the W Bellevue's Living Room bar has all the creative libations one comes to expect from the country's best-known hospitality brand.
Dining in Bellevue has moved far beyond the chains that once dominated the landscape, with Seattle hits like Asian-fusion Monsoon opening up outposts on the Eastside. Back at the W, you can also sample the local terroir at vegetable-forward Lakehouse, the brainchild of James Beard Award-winner Jason Wilson.
Montclair, New Jersey
New York City suburbs run the gamut from cookie-cutter bedroom communities to historic small towns. Montclair combines the best of them all, in a sort of old-meets-new mashup where low-rise condos and classic Colonial homes draw families and singles alike. Montclair is only about half an hour from Manhattan by train, but the 'burb is so much more than just a place to rest your head at night, boasting its own art museum full of American and Indigenous art, as well as a performing operetta club, though it's looking for a new venue. Much of Montcair's high culture comes from Montclair State University, which brings a robust arts program and a 1,000-seat theater to the community.
What might surprise some about this Central Jersey suburb is the variety of foods that can be found here. And while it's not exactly Manhattan, grabbing Ethiopian food at
Mesob, Thai at Kai Yang, or Italian fare from Fascino is just as rewarding as it is in the city. But in 2022, you can't be cool without a rooftop bar, and Montclair has one of those high atop the MC Hotel. Named Alto, it feels like a patio set atop the area's colorful hills, where light bites, beers, and cocktails pair perfectly with a purple sunset.
There's even a little bit of celebrity cool in Montclair, as it's often used as a movie set and has welcomed the likes of Diane Keaton, Susan Sarandon, and Richard Gere in recent months. It's not uncommon to spot other stars too, as Stephen Colbert and cosmetics magnate Bobbi Brown also call Montclair home.
Greer, South Carolina
Typically, if one wants to race high-speed cars by day and stroll narrow, brick-paved streets by night, they'd assume they were going somewhere along the Emilia Romagna. Or, also, upstate South Carolina, where the Greenville suburb of Greer offers the same thing—with a much shorter flight. Greer is where every BMW X3, 4, 5, 6, and 7 is made, but, more importantly, also offers a test track where you can drive the latest models on slalom races, off-road courses, and wet or dry tracks.
That alone makes Greer a pretty badass destination, but the place gets even cooler when you walk the brick streets of downtown and pass no fewer than 40 buildings on the National Register of Historic Places. One such structure is an old hardware store that houses the Cartwright Food Hall, where you can flow through jerk chicken, empanadas, and sushi before bellying up to the Trade Street Taproom or down the street to the Blue Ridge Brewing Company. For a more leisurely meal, enjoy Mexican food under colorful flags at Los Portales or grab coffee and a crepe at Barista Alley.
To relax outside, post up at Greer City Park, a swath of green space near the city center that presents moonlit concerts all summer. The 12-acre park has become a social hub for the city, where Fourth of July fireworks and rotating cultural festivals bring the community together year-round. Greer combines history and high-speed excitement like few places in America, and more than any place you might call a "suburb."
Lakewood, Ohio
Are you depressed looking at what kind of house half a million dollars buys in your city? Might we suggest taking a peep at Lakewood, Ohio, where a median home price of about $250K nets you some of the most stunning houses from the early 20th century? Known as the City of Beautiful Homes, Lakewood—a classic railcar suburb of Cleveland—doesn't oversell itself with its nickname, as an afternoon stroll through its streets is a House Hunters fantasy, offering space and architecture rarely found in bigger cities at a fraction the price.
Of course, it's one thing to own a beautiful house; it's quite another to live in the place where said house sits. But Lakewood sports a diverse community thanks to a foreign-born population of nearly 10%. You'll meet your international neighbors while enjoying a Lake Erie sunset from the Solstice Steps, a series of concrete stairs built into a hillside in the 31-acre Lakewood Park. When the weather cooperates, Lakewood offers beach days, too, via the lakeshore at Edgewater Park. You might also make new friends grabbing beers at Immigrant Son Brewery or sipping bourbon at Western Reserve, Ohio's first organic distillery.
The food scene also reflects Lakewood's unique cultural makeup. Sure, the city has a James Beard-nominated eatery at Salt+, where Chef Jill Veda earned a nod. But you'll also find fantastic Lebanese food at Aladdin's or traditional Indian eats at India Garden. Lakewood is a nice place to own a house, but with so much else to do, you might want to leave it sometimes, too.
East Aurora, New York
In America's collective imagination, East Aurora exists in a perpetual state of Christmas. In reality, East Aurora exists about 20 miles southeast of Buffalo, but as its streets have been the setting for countless Hallmark movies, a trip there is almost always a voyage into holiday nostalgia.
East Aurora leans into its festive rep, hosting weekly caroling festivals during the holidays where thousands gather in the streets and yuletide cheer flows freely. It's also a place for year-round Christmas shopping, including perusing the variety of knick-knacks at Vidler's 5 & 10 where the inventory of 75,000 items runs the gamut from kitchenware to furry Viking helmets.
Buffalonians know East Aurora as the home of Bar-Bill Tavern, which many locals—including most of the Bills NFL team—will tell you has the best wings in the city. If the wait there is long, as is usually the case, pop over next door to Aurora Brew Works and down some local drafts until your table is ready.
Just off Main Street, you'll find 42 North Brewing, a log cabin production taproom complete with an Airbnb if you want to immerse yourself in the experience. Before Bills games, and especially before caroling nights, it's the social center of the city, so stop in and enjoy a Craftsmen Lager or Daytripper IPA next to a roaring fire pit.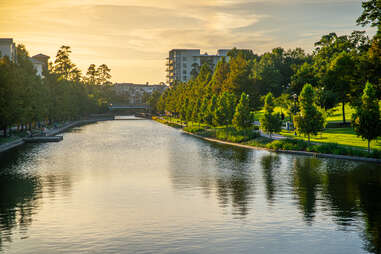 The Woodlands, Texas
The last time anything from Houston won back-to-back titles, Hakeem Olajuwon was dunking all over a hapless rookie named Shaquille O'Neal. But The Woodlands brought the dynasty spirit back to Southeast Texas, notching its second-consecutive designation as the best American city to live in this year. In a state as suburb-heavy as Texas, standing out is tough, but The Woodlands does it with an easy-living mix of natural landscapes, destination restaurants, and inescapable public art.
The city hosts a staggering 140 parks, 220 miles of hiking trails, and 1,800 acres of wilderness at the George Mitchell Nature Preserve. Once you've worked up a sweat, you can reward your efforts at TRIS, which sources its steaks from its own hybrid breed of cattle. Or try Corkscrew BBQ, one of the top barbecue joints in the H-Town area.
The Woodlands also serves as the summer home of the Houston Symphony, which performs during the warmer months in one of the best outdoor amphitheaters in the world at the Cynthia Woods Mitchell Pavilion. Outdoor art abounds elsewhere, too, as you'll find one of the country's largest collections of public works dotting nearly every street. Make sure to stop and take a gander at The Dreamer—a sculpture of a man sleeping under the trees—and the Millenium Sculpture, a 32-foot stainless steel column standing over The Woodlands Waterway.
Alexandria, Virginia
You can almost see the lanterns dangling from the lampposts and hear the clatter of horse-drawn carriages walking through historic Alexandria, a DC suburb that dates back to 1749. The short, brick buildings and narrow streets seem ripped from documentaries on the Revolutionary War. Now, instead of cobblers and haberdashers, you'll find ice cream shops, farm-to-table restaurants, book shops, and yarn stores.
Just as it was in Colonial times, beer is central to everything in Alexandria, and you'll get a sense of that along the Historic Breweries Walking Tour. Step through centuries-old taverns, then move on to Port City Brewing, the city's best-known craft brewery. If you prefer to exercise without alcohol, bike along the Mount Vernon Trail, which meanders next to the Potomac River all the way to Mt. Vernon with views of the DC skyline popping out along the way.
While Alexandria's Colonial past is quite obvious, a stop into the newly reopened Freedom House Museum reveals the area's fascinating African-American history. It tells the story of both the enslaved and freed Black residents who made Alexandria the city it is today. For even more history mixed with some modern art, check out the Torpedo Factory Art Center. As the name might imply, this gallery features over 100 artists in a building that was once a torpedo production facility.
Lake Nona, Florida
Much like the Disney resorts that thrust Orlando into the spotlight as a major American city, Lake Nona is definitely a master-planned community—but the plan is working, and it's undeniably cool. The gleaming new suburb rose up around the USTA National Tennis Center, a futuristic training facility with courts that track your swing. It also houses a 650-acre medical campus, which might not be particularly exciting, but does bring with it a cadre of young professionals who most certainly are.
The centerpiece of the city is the attention-grabbing Wave Hotel, whose lobby has a larger collection of quizzical modern art than most contemporary museums. The art show continues on the hotel's back lawn, where a forest of chrome sculptures beckons guests to explore. It's also home to what might be Orlando's best cocktail bar by way of Living Room, where drinks are served in light bulbs and enjoyed on couches tilting sideways.
Though Central Florida isn't exactly teeming with recreational opportunities, Lake Nona Performance Club is one of the most mind-blowing gyms in America. Here, members can scale a rock climbing wall, play on a golf simulator, take dozens of exercise classes, and otherwise sweat their way through 130,000 square feet of fitness bliss.
Disney has thought enough of Lake Nona to move 2,000 of its Imagineers here in 2026. They'll undoubtedly add to the creative vibe of the city, already teeming with transplanted doctors, athletes, and other professionals.