The 10 Best Trips to Take With Dad This Father's Day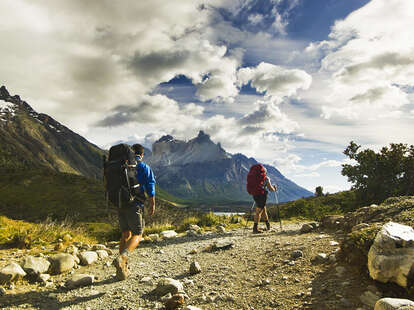 1. Whitewater raft the Salmon River in Idaho
Why it's awesome: While everyone else crowds the Colorado River, you'll be showing Dad the remote wilderness of the Salmon River, otherwise known as The River of No Return for its rugged, 7,000mi descent through the largest untouched wilderness in the lower 48 (and a gorge even deeper than the Grand Canyon).
Why it's even better with Dad: Without a single dam along its 425mi course, the Salmon features massive rapids that'll more than make up for all the times you were too short to enjoy a roller coaster together. Standing waves are broken up by deep green pools for fly fishing, pristine white-sand beaches for camping, and natural hot springs so you can feel good about Dad getting to wash away the stresses of his 9 to 5.
And if your dad would like to take his tastebuds on a journey, complete your perfect day with him over a glass of Josh Cellars -- founded by Napa Valley Vintner Joseph Carr in tribute to his father, Josh.
2. Sail the Straits of Mackinac between Lake Michigan and Lake Huron
Why it's awesome: Yes, it is possible to navigate between the various Great Lakes -- and no, you don't have to go over Niagara Falls to do it. But because sailing all five bodies of water would take all summer, pick one area to focus on, and make it the Straits of Mackinac between Lakes Michigan and Huron. With five historic lighthouses scattered around a body of water 5mi wide, plenty of hidden spots await your wind-powered discovery.
Why it's even better with Dad: Nothing was sweeter than the day the terrible neighbor children got off his lawn and went to college (except the day of your birth, of course). Remind him of the sweet peace and quiet of that day on Mackinac Island, a summer colony marked in its entirety as a National Historical Landmark. Not only is it ridiculously scenic, it can afford you the type of silence that only an island-wide ban on almost all motor vehicles can bring.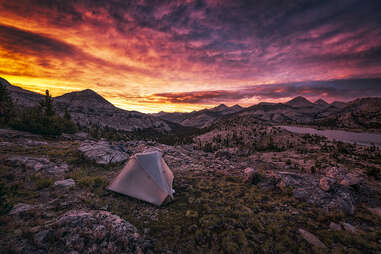 3. Hike the 211-mi John Muir Trail
Why it's awesome: Instead of bumping elbows with thru-hikers on the Appalachian Trail, follow in the footsteps of America's most famous naturalist in the High Sierra Mountains. The John Muir Trail starts in Yosemite Valley, one of the most breathtaking natural spaces on the planet for its ancient sequoias and granite cliff faces. The trail continues through Ansel Adams Wilderness, Sequoia National Park, and King's Canyon National Park before ending at the highest peak in the lower 48, Mount Whitney (14,496ft).
Why it's even better with Dad: Because the total elevation change of the trail is in the neighborhood of 8,000ft, you will probably both be huffing and puffing in equal measure -- enough to make him forget that he hasn't beat you in a game of basketball since you were 15.
4. Go on a heli-fishing expedition in Nimmo Bay, British Columbia
Why it's awesome: The main premise of heli-fishing revolves around a helicopter dropping you at just the right spot to catch the salmon or trout of a lifetime (on fly or reel) with the added bonus of having no one around but Dad, and that's pretty freaking awesome indeed. Make time to dabble in guided kayaking, hiking, and glacier-tour side trips, but if the notoriously unpredictable Pacific Northwest weather socks you in, you can always go halibut fishing on a covered boat -- or just fly fish Big Nimmo Bay right off the beach at your resort.
Why it's even better with Dad: With 50,000sqmi of isolated terrain, this is the trip that will make up for years of bailing on your pop's fishing expeditions.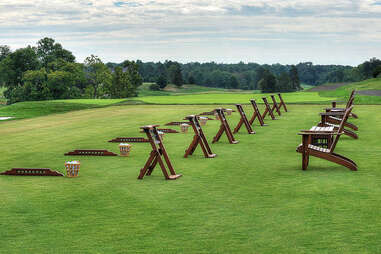 5. Combine world-class golf and top-notch wine in the mountains of Virginia
Why it's awesome: Forget battling the golf-crazed crowds at Pebble Beach or clinking glasses with couples on romantic retreats in Napa Valley -- the mountains surrounding Charlottesville, VA, pack plenty of under-the-radar magic when it comes to golf and wine. Not only does the Full Cry Golf Course at Keswick Hall enhance an old-school 1948 course, but the course itself was renovated by Arnold Palmer in the 1990s.
Why it's even better with Dad: The full-bodied Pinot wines from Autumn Hill Vineyards, Blueridge Winery, Ankida Ridge Vineyards, and Barboursville Vineyards will make for a tasting tour so intense you can hold just how wrong your dad was about wine over his head roughly forever.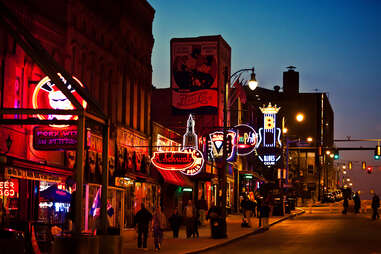 6. Avoid Nashville by digging into the blues around Memphis and bluegrass around Johnson City
Why it's awesome: Nashville might be one of the hottest spots in America right now -- which is all the reason you and Dad need to avoid the crowded Music Row and instead seek out the rootsier side of Tennessee. Dig in to Memphis' illustrious past with a night spent popping in and out of the many bars on Beale Street, a visit to the Stax Museum of American Soul Music, and a detour to fable juke joint Wild Bill's. Then, get lost for a day driving south on Highway 61, the fabled Blues Highway that runs right into the heart of the Mississippi Delta in places like Clarksdale, Rosedale, and Vicksburg. On the other end of Tennessee, Johnson City is home to some of the finest bluegrass traditions in the world.
Why it's awesome with Dad: Appeal to your Dad's sense of loyalty to traditions (like the annual forgetting-of-the-cellophane-upon-the-cheese during the Fourth of July cookout) by taking him to experience bluegrass the way it was meant to be experienced -- with no talking during sets! Head over to long-standing venues like Down Home and Pickin' Porch Home for the real deal.
7. Paddle coastal Florida Panhandle
Why it's awesome: If you want to get a sense of what Native Americans and early explorers contended with prior to the state's development in the late 1800s, take a canoe or kayak trip along the Florida Panhandle. Thanks to an extended continental shelf and the slower, meandering streams that come with having a low gradient slope, this part of the Gulf of Mexico is calmer with limited wave action (AKA perfect for paddling). And the topography is anything but boring: countless blackwater rivers, natural springs, saltwater lagoons, and unspoiled white-sand beaches await, along with state parks, national seashores, and Air Force bases that have all kept development to a minimum.
Why it's even better with Dad: When you and Dad get close to Big Bend Coast, stop in for a night or two in Apalachicola Bay for your chance to cop some new bragging rights to take back to the family reunion by sampling what locals and bivalve connoisseurs claim are the finest oysters in the world. They don't call this stretch of the world the Forgotten Coast for nothing.
8. Do barbecue, beer, and badass music in Austin
Why it's awesome: Sure, the capital of Texas might seem like a tech-obsessed yuppie paradise these days, but we guarantee you Dad will love its prodigious barbecue offerings, innovative breweries, and bounty of Americana tunes. Grab a couple of chairs and spend the morning waiting in line at either Franklin Barbecue or La Barbecue for the best brisket on the planet. After you recover from your meat coma, check out Hops & Grain, Zilker, and Live Oak brewing companies on the East Side, or head north to Pinthouse Pizza and Austin Beer.
Why it's even better with Dad: Liquid courage or not, dad is too daddish to care what he'll look like on the dance floor, so Texas two-stepping at the White Horse or Broken Spoke will be one for the albums. If two left feet run in the family, listening rooms might be more your jam; the One-2-One, Saxon Pub, or Strange Brew will give you all killer with no filler.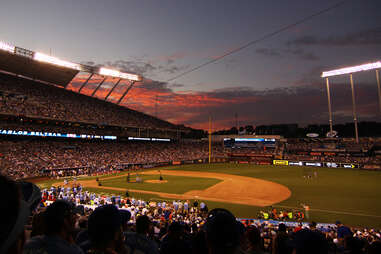 9. Take a summer Major League Baseball stadium tour.
Why it's awesome: You have the option of starting small, maybe by catching a few minor league games around your state, or hitting the classics like Wrigley Field and Fenway Park. But if your schedule allows for going REALLY big, there's a whole industry out there that helps MLB enthusiasts plan summer stadium tours as ambitious as you want them to be. Baseball analytics enthusiasts Ben Blatt and Eric Brewster even wrote a complicated algorithm for visiting all 30 big league stadiums in 30 days if you're feeling the baseball fever.
Why it's even better with Dad: Is there a better way a father and his kids to bond than over peanuts, hot dogs, and America's national pastime?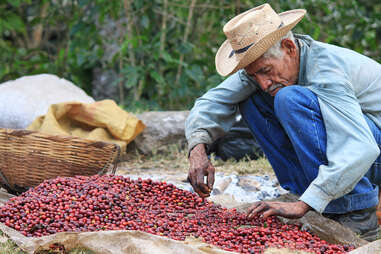 10. Combine surfing, motorcycling, and coffee plantation tours in El Salvador
Why it's awesome: Once you get into the peaceful coffee-growing countryside and under the watchful eye of the many all-inclusive resorts that dot the country's Pacific coast, you're in for one of the most idyllic and uncrowded experiences in Central America. At La Libertad, widely considered one of the world's best waves since it breaks with symmetrical perfection for hundreds of yards, you and Dad can surf to your heart's content and then relax with epic rum drinks and fresh fish for every meal. You can also take guided motorcycle or ATV tours through high-altitude coffee plantations along the famous Flower Route, immersing yourself in the colonial towns of Juayua and Apaneca. In Ataco, watch local artisans weave colorful creations on treadle looms, a centuries-old tradition nearly lost in Latin America.
Why it's even better with Dad: When you return home and people marvel at your bravery visiting a country routinely considered one of the most dangerous in the world, you'll have the satisfaction of knowing that it's the kind of Father's Day present that can't be bought in any store.