6 Things I Learned About Celebrities From Attending a Knicks Game With One
I once wrote a whole story about how I became friendly with Black Thought over Twitter and what happened when I hung out with him in real life. With another trip to New York planned and a free night, I asked if he wanted to go to a Knicks game with me. He said he didn't care much about sports, but that he could probably get tickets from someone he knew. And he did!
Here is everything I learned from the experience of sitting courtside at a Knicks-Celtics game at Madison Square Garden with a member of The Roots who is also on The Tonight Show Starring Jimmy Fallon every night.
Cole Saladino/Thrillist
Celebrities get hassled
As I tried to get a photo with Black Thought outside MSG, an older man recognized him and leapt into action. The fan feverishly went through his phone to play him a song and handed him his business card. Because Thought is a nice guy, he stood with him and listened to the song before I dragged him into the game.
Could that dude have been a member of The Roots right now if I hadn't screwed it up for him? Maybe!
Lee Breslouer/Thrillist
Celebrities get to use a special entrance
That's a solid perk for scoring VIP tickets. But in front of the exclusive entrance to the Delta Sky360 Club, the nice ticket-taker lady tells us that, while it offers free, all-you-can-eat food, you've gotta pay for your booze.
Worse, though, there's no energy here yet. It doesn't feel like we're going to watch a basketball game; it's like we're at a party no one's shown up to yet. The Knicks and my seventh-grade birthday party have a ton in common.
So we have to make our own fun. On the way in, I tell him I'm making an audio recording of everything that happens tonight so I can listen back to what he said later and quote him correctly. Standard journalistic practice -- except... "You're wearing a fucking wire!" he yells, in a sing-song-y way that somehow implies both malice and joy.
I make a joke about how he shouldn't mention the location of the trap house, which is dumb because The Roots don't make trap music. I'm admittedly a little nervous at this point, as this was going to be the first NBA game I ever attended with a rapper who would soon win a Grammy for the cast album of Hamilton.
We walk to our seats.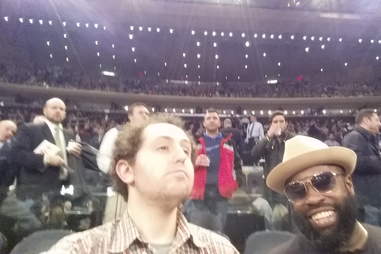 Lee Breslouer/Thrillist
Celebrities sit in incredible seats
When you have sixth-row floor seats, you can't help but be amazed at how close you are to the action.
"That's how we do this, son! WHO LIVE LIKE THIS?!" said Black Thought, in a jokey way. And we both laughed -- because it was true, not many people do! Well, maybe he does? Sometimes I buy the Early Bird check-in on Southwest and feel pretty cool, even though it costs me an extra $12.50.
Sitting truly courtside and six rows directly in front of us are the lead singer of the band fun. and the '80s boxer Gerry Cooney. They throw Cooney's mug on the big screen and the crowd cheers. Thought remembers the heavyweight fighter fondly; I act like I know who he is.
I can't say I'm not disappointed we're not in the first row. This is the danger of expectations being so high they can't possibly meet reality. But I'm here and Carmelo Anthony's WB tattoo is right there.
"We are close!" I say to him, but also to no one in particular. I'm still amazed where we are (six rows deep) vs. where most of the fans are (sitting elsewhere, not nearly as close to the court).
I look at the price on the physical ticket he handed me earlier: $900.
Between the two of us and his friend and our photographer, we have four $900 tickets. I'm no math whiz, but that's $3,600 for 2.5 hours of entertainment. Since these are season tickets, that's $100,000+ for the season. That's more than most dual-income families in America make per year. And the generous guy whose tickets these are isn't even using them.
WHO LIVE LIKE THIS?!
Celebrities are jaded
We watched the game without actually watching it. I remember exactly zero plays. But I do know that whenever Sasha Vujačić scored, the announcer's voice would boom, "SASHA VOOOO-YA-CHICH." I don't blame him, it's super fun to say.
"Do you get immune to luxury over time?" I ask him. I wonder this because we're having the type of exclusive experience that I imagine he's used to.
"I'm immune to everything," he says.
"Oh fuck, that's not true," I reply.
"I'm jaded," he says. "Over time you lower your expectations, if you have any."
I didn't want to believe it was true, but I got used to sitting six rows from half-court about 20 minutes in. I don't think he's ungrateful for the money, success, and fans from over 20+ years of being in a band, but I guess you can become jaded to anything. Not me, though!
I tell him I saw a picture of Seinfeld's kids sitting courtside at a Knicks game looking like they were watching a Netflix documentary on paint drying. I was incredulous. He countered that his young daughter once fell asleep at the Grammys. Kids these days!
At a certain point, money can buy whatever you want, but you can't buy a feeling of wonderment. I expected to have my socks blown the hell off the second I sat down in these seats. And I did!
That feeling lasted 20 minutes.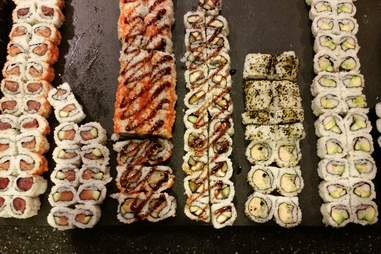 Lee Breslouer/Thrillist
Celebrities eat the free food
Black Thought eats from a box of free popcorn as the game continues, though at this point if all the players switched jerseys, I might not have noticed.
"You got a driver's license?" he asks.
"Yeah, I can't drive stick," I say. "You learn to drive stick when you were younger?"
"Yeah."
"Because of that I can't drive a sports car, not that I can afford one."
He tries to make me feel better. "Any sports car worth its salt comes in automatic too."
"Are you a car guy?" I ask.
"No, but I was in LA the other day -- I had an Aston Martin DB9. Automatic." He pauses. "I lied earlier, I can't drive stick either," he laughs.
I lose my shit.
"You're trying to seem like you're better than me, but you're not! Plus, you've got popcorn in your beard."
Celebrities are just like us, with popcorn detritus in their beards and their inability to control a vehicle unless the car shifts gears for them.
Before we know it, it's halftime and the rich and famous (OH SHIT IT'S FORMER GOVERNOR ELIOT SPITZER) flood the Delta Club. I can't believe all this food is free -- everything from sushi to sliders to freshly cut meats to Rice Krispies Treats in Knicks colors.
We get Magnum bars, which are a premium ice cream bar I've never had before. He tells me he and The Roots used to "survive on tour off these in Europe." It tastes like a better version of a Klondike bar.
I couldn't be stuck in a van for weeks with other hungry, broke musicians. I'm reminded that success sometimes takes a circuitous route, and it's rarely by accident. You eat Magnum bars in shitty tour buses before you can eat them for free at Knicks games.
Celebrities are good at rapping
Since neither Black Thought nor I particularly cared how the game ended -- as a life-long Sixers fan, I wanted both teams to lose -- we decided to cut out. Plus, Thought wanted to head to a studio in Queens.
We pick up his SUV from a parking garage, and it gets scary because he tells me I'm driving. I do not want to drive this man's luxury SUV!
But then he walks towards the driver's side and gets in. I slide in the passenger seat. "You're driving, eh?" I ask.
"You think I was gonna let you drive my car?" he laughs. I laugh too. Oh, the laughter that comes from relief is a sweet laugh indeed.
Inside the Queens studio are a few members of the Dap-Kings, the musicians that back up Sharon Jones, and played on Mark Ronson's "Uptown Funk" and Amy Winehouse's biggest hits. I walk in and they treat me as if I've shown up to the studio to hang out a hundred times.
Playing through the speakers on a loop is some music they've been recording all day -- so far it sounds like a bass line, drums, and some horns. Black Thought doesn't go in the booth. He sits on the couch and looks at his phone, and every once in a while I can hear him rhyming quietly.
Like the guy from fun., that boxer, and a former governor, Black Thought went to the Knicks game tonight. He sat close to the action and ate free popcorn. He had an experience that 95% of the crowd will never get to have. Hell, they probably won't get to drive a DB9 or see the world, either. But that's his everyday.
My everyday is working from home writing stories about food and beer and whatever else I can dream up. Sometimes I treat myself to a latte at a coffee shop. Ninety-nine percent of the crowd at that Knicks game probably have experienced something like it. But it's our everyday, and we don't think much of it.
Sign up here for our daily Thrillist email, and get your fix of the best in food/drink/fun.
Lee Breslouer is a senior writer for Thrillist, and thinks both the Knicks and the Celtics suck. Follow him to true statements: @LeeBreslouer.