Sponsored By
Coors Banquet
I Built My Own House From the Ground Up -- and You Can Too
Sponsored By
Coors Banquet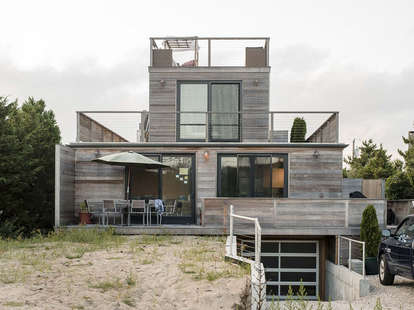 Nicolas Gregory isn't a contractor. He's not a handyman. He actually has screen credits but they don't include HGTV or TLC's Trading Places. In other words, he's not a professional -- but that hasn't stopped him from building a house out of nothing but a hole in the ground in the beachy town of Amagansett, NY. After two long years and a couple big roadblocks, he's finally living in the home of his dreams.
Gregory's a long-time actor, director, and writer who's partly responsible for sticking the Gorton's Seafood jingle ("Trust the Gorton's fisherman.") in your head. For an extended tenure he donned the yellow jacket and matching hat and sold us fish fillets. But his passion extends far beyond acting (and fishsticks, even though those are delicious). Though he can claim roles on shows like All My Children and Sex and the City, there's a part of him that would rather construct scenery than chew it.
It helps to start small and develop your skills
DIY home construction wasn't always his plan. He started fixing up NYC apartments out of necessity in the mid-'90s, when the market was wide open. "I got a loft [in Tribeca] for incredibly cheap and I had very little money to build it out, so I had to do it myself."
Before he put his stamp on it, the Tribeca apartment was nothing more than an old storage warehouse in bankruptcy. "I completely started from scratch," Gregory says. "It was just bare wall." But soon it became a two-bedroom, two-bathroom appointed with opportunistic second-hand appliances, including a stainless steel bar sink and every bodega haunter's dream, a deli fridge.
That was the first time Gregory did a renovation on his own, and his following projects only became more ambitious. His next apartment on the Lower East Side got a 10' x 8' skylight. But it was his little A-frame in Amagansett that took him beyond remodeling into building. It got completely knocked down and a new home -- his current residence -- was erected in its place.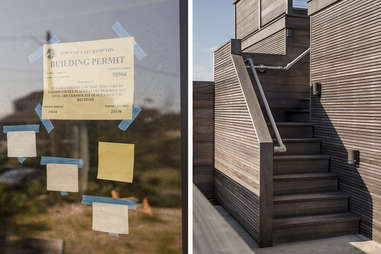 The plan at first was to leave the A-frame intact. However, after he painted it, put in skylights, and built some decks, he realized the 700-square-foot structure still wasn't a home he could live in year-round. But when he tried to extend it, he realized he couldn't do that either. A-frames have "these kind of very pointy chalets so that the snow doesn't sit on the side of the roof during the winter," he explains. "It's kind of set up for the two sides to lean on each other, so it's really hard to do anything to the house without those two sides collapsing."
In the end, it was easier to start from scratch than fight the forces of architecture.
It might cost less money than you think (but more time)
When it seems like everyone is searching for the perfect NYC apartment, what made this city guy give up his sweet pad? Aside from his desire to opt out of communal residence -- "I much prefer owning out here than dealing with co-op bullshit in the city. It's more like you live in this small village and everybody's got something to say about what you're doing in your space." -- Amagansett holds a special place in Gregory's heart. He's been vacationing in the East Hampton town since he was 10 and "loves it out here so much" that he created a TV pilot that uses it as a setting. "I need the nature otherwise I go a little nuts in the city," he says.
So he took matters into his own hands and got to work on his house in January 2014.
According to the U.S. Census Bureau, he was one of 50,000 Americans who built a home that year, the average cost of which the National Association of Home Builders puts at a cool $305,000. For Gregory, and many Americans, building trumps buying any day. Not only does it "give you a very personal relationship with your house" according to Gregory, but even people who purchase an existing home often end up pouring money into renovation regardless. (If you learned anything from House Hunters, it's that a house without granite countertops is not a home.)
The remodeling market is estimated at $310 billion this year, and though the average cost varies, it's safe to call the bulk of projects equal to one year's salary. Add the two together, and purchasing to remodel can come out pretty close to that 305 large to construct from scratch. So you might as well build your own home and get exactly what you want.
Gregory, for example, wanted a huge deck for the ocean view and two outdoor showers "cause there's nothing better than showering outside." You might not agree with that sentiment, but you can't really disagree with it.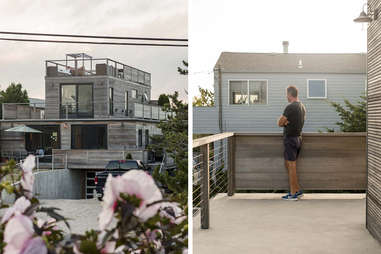 Expect the unexpected problems
But the two-and-a-half-year build has not been without complications (it is, after all, a house). Aside from going nearly 15 percent beyond his projected budget, Gregory's project stalled hard. Even the best handyman can't do every single aspect himself, and he hired an expert for a building technique called ICF, AKA Insulated Concrete Form. The method basically creates the structure of a home out of styrofoam blocks, then fills it in with cement. It's adult Legos, but for Gregory, it wasn't that much fun. "I got kind of held for ransom by the guy who did it," he says, choosing to hold back details out of respect for the local builder's reputation.
The obstacles grew from tempestuous to traumatic when the contractor who was overseeing the project suffered a motorcycle crash that put him in the hospital for four months. Between the two incidents, Gregory's project was knocked back a year. "My neighbors thought that because it was taking so long, that I had gone bankrupt and left them this styrofoam cube in the middle of the dunes," he says.
It's up to you to keep the project going when it stalls
So Gregory sat back and he waited. And he waited. "It's an incredibly stressful process and no matter what, you have to be ready for it not to be done when you expect it to be done," he says of his hiccups. "Just don't drive yourself crazy with deadlines."
Don't beat yourself about the parts of the job that you can't do yourself. Some stages can only move as fast as it takes a part to arrive or a contractor to do it properly. Just don't let it stall. Fill that wait time with the tasks that you can do -- or educate yourself while you're waiting so you have the know-how to do it properly.
Fast-forward a few months and Gregory is back on track, having tackled some of the remaining big projects by hand, including pouring the cement for the propane tanks, and laying the wide-plank floors -- two tasks he had no idea how to execute before this endeavor. But between the underrated ability of adults to continue to soak up information, and sources of knowledge so obvious you almost wouldn't think to hit them up, things just came together. "Little by little as I've gone along, I've just gotten better at it and learned more stuff," he says. "If you don't want to pay somebody a fortune to do whatever it is you need done, [I've] found that I could go to the hardware store and ask them how to do stuff."
The desire to customize grows with you
Fair warning to would-be builders: just because your domicile is complete doesn't mean it's finished. That desire to change and fix remains constant, because the satisfaction of refining and improving the space can be more addictive than TV shows about refining and improving spaces.
That doesn't mean you shouldn't give into the urge. Gregory's favorite part of the house is a custom staircase he conceptualized and built himself. While at the plumbing store, he had the idea to create a railing that "looks like you're on a submarine" out of pipes and other plumbing parts. The stairs themselves are made out of blue stone.
Projects like this, he says, make the house feel like an original work of art. "And I could do a much more beautiful, interesting railing for my house because I did it myself.
"Stuff always looks more complicated than it really is. It's just figuring out the steps and how to do it," he says. "But it's a really good feeling. When I look around my house, I really feel like it's mine -- like it's a part of me."