THRILLIST
THRILLIST
Can Cannabis Be Self Care?
One editor, three products, and a whole lot of chill vibes.
Advertiser Content From

My mind hasn't stopped racing since May. Besides the typical work stress, there was suddenly a year's worth of social events on my calendar: lunches with my grandmother, catchup drinks, an impromptu cross-country trip to meet a friend's dog, weddings, bridal showers, baby showers. Plus, we added in the confusing patchwork of COVID guidelines that seemed to change as frequently as the weather… which was just as anxiety-inducing.
When I feel this way, I try to lean into "self care" to quiet things down. I'm not talking about sitting in a bathrobe at a spa all day (although, that's definitely appreciated every now and then), but rather taking that necessary pause to be present and reset, however I felt like I needed it.
This time, though, my usual tactics weren't working. I couldn't keep myself from grabbing my phone while I was trying to read, the savasana at the end of an online yoga class felt too short and too long at once, and hobbies that had excited me in April seemed like more work after a whole weekend of socializing or long day at the (still virtual) office.
So, I decided to switch things up a bit — with cannabis. In the past, I always thought of cannabis as a group activity, but once recreational use was legalized in my state, I started to rethink that assumption. I visited my nearest Liberty dispensary because of their super convenient online shopping/in-store pick-up option, which was a huge improvement over the, er, shadier ways of acquiring cannabis in the past. After doing some research, I landed on trying three new-to-me products: a pre-rolled joint from Garcia Hand Picked, Jerry Garcia's cannabis line; a package of low-dose Do Drops edibles; and an oil cartridge from Strane. My plan was to use each during my usual self-care activities and take note of the differences I noticed (or not!). Here's how it went: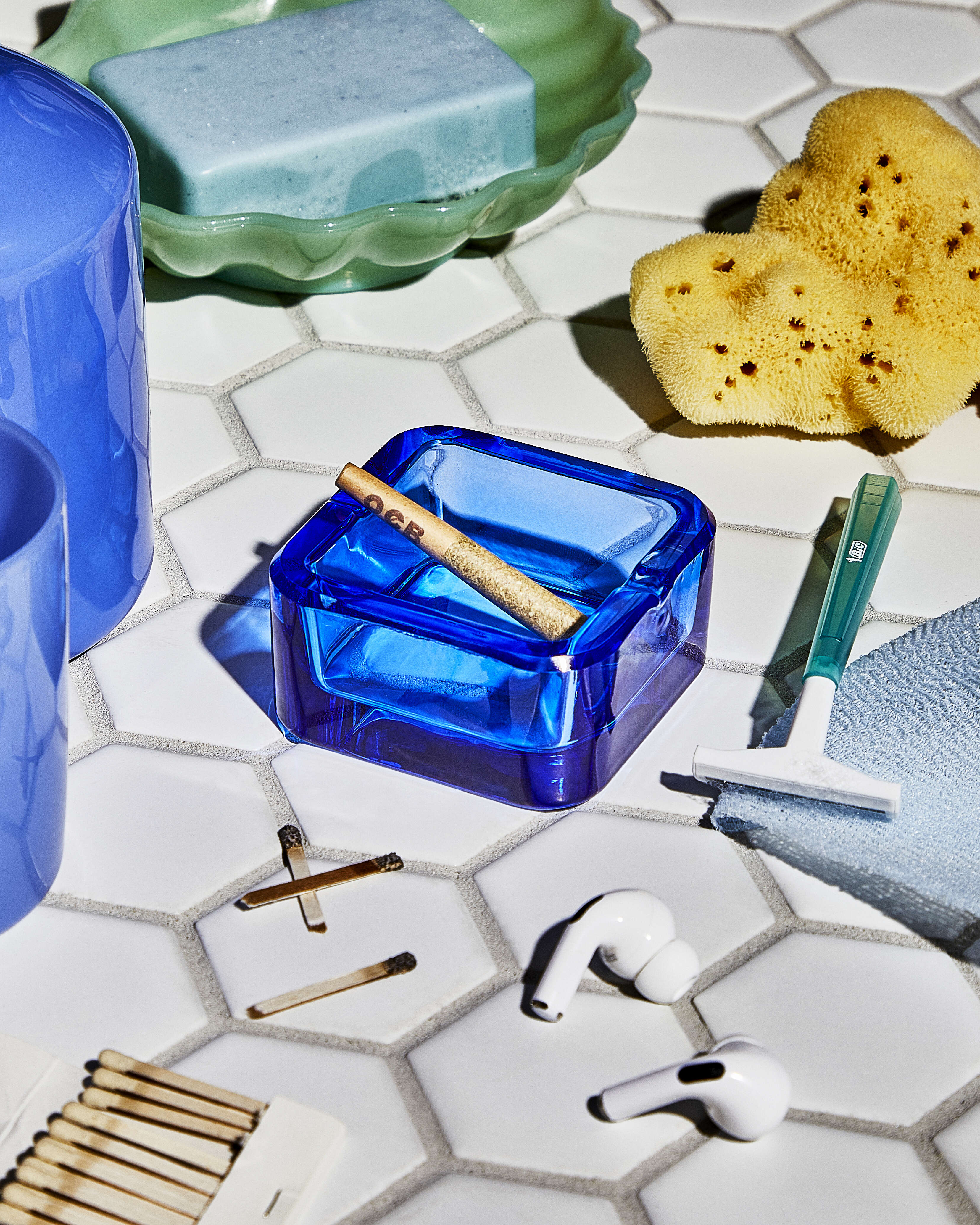 THE BATH
Just like my love of fall and pumpkin spice, I have exactly zero shame in how "basic" my go-to self care activity is. Sometimes, simple is best — especially if it's a Tuesday night and you just spent the entire day on video calls. I don't have a spa-like bathroom setup by any means, but if I toss a candle on the shelf of the shower/tub combo, dim the lights, and play a podcast… it comes pretty close.
Something I am ashamed of? I have no idea how to roll a joint. In my past, smoking one was always a group activity, so I avoided admitting this and (subsequently) never learned how to do it. So the pre-rolled option was pretty darn convenient. Using a vintage plate as a cute ashtray, I lit up, and focused on being present with this ritual to tune out the emails and DMs that would certainly be waiting for me Wednesday morning. Because my hands were busy, I didn't check my phone once during the half hour, and felt chill enough afterward to call it a night — which is exactly what self care should do, right?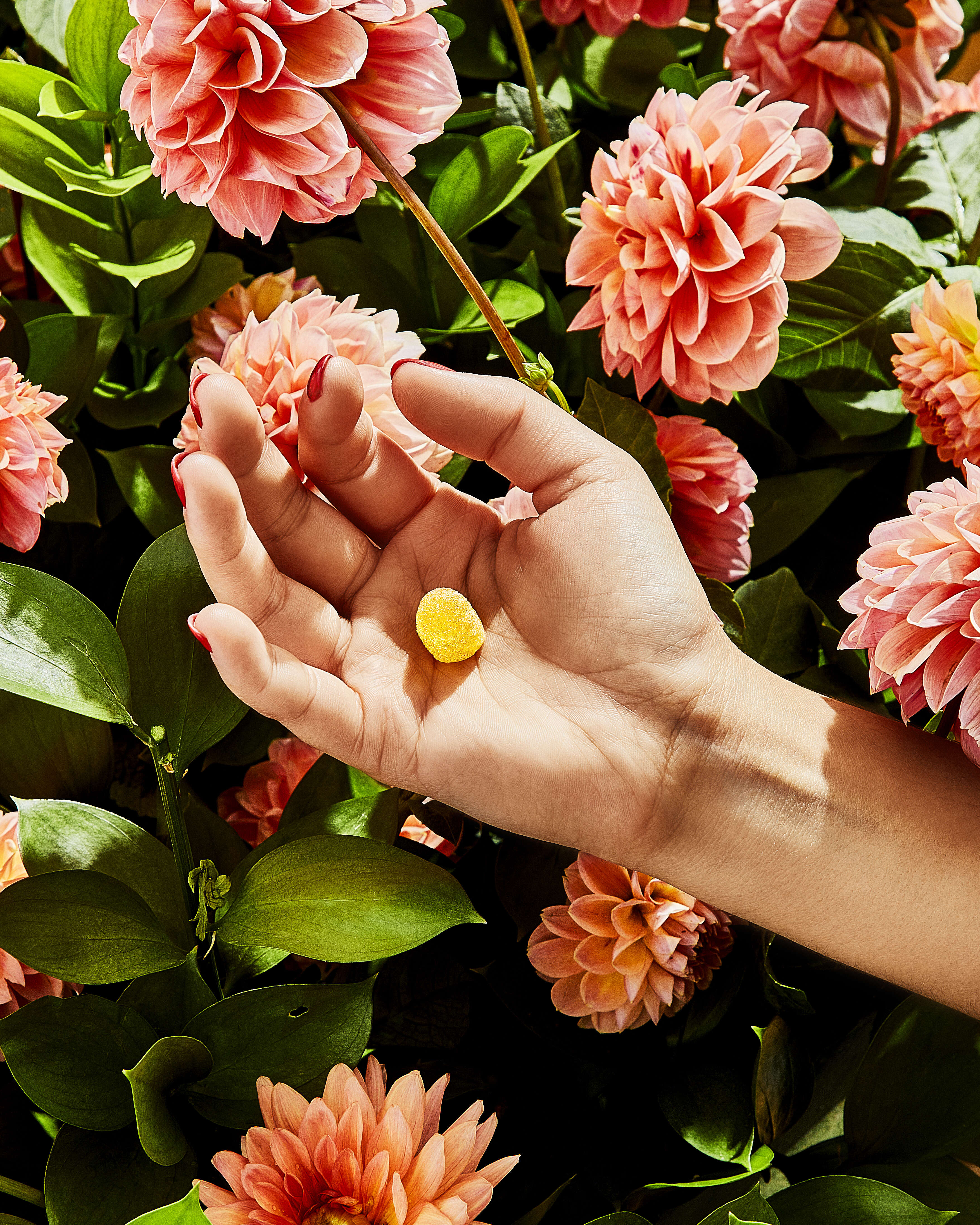 THE GARDEN
I wish I was one of those people who saw "going for a run" as a form of care, rather than torture, but I am not. Instead, I tend to lean into hobbies that get me outside, working up a slight sweat, and have some kind of immediate pay off. For me, my backyard (and specifically the small sunny patch I've turned into a pollinator garden) is my gym. On a warm Saturday, I took one of the Do Drops edibles, which have just 2.5 milligrams of THC, and got to work pulling weeds, dividing plants, and lugging the yard waste bags to the curb.
According to Do Drops experts, the 2.5 milligram dosage is supposed to be an ideal amount for an entry-level enthusiast (me) to microdose with, especially if it's your first time. Because I really did have weeds to pull, I didn't want to be accidentally couch locked, or worse, having a really bad experience when I was supposed to be resetting. This super low dosage delivered on those fronts, and only slightly elevated the experience. The flowers seemed more vibrant, the air seemed a little fresher, and I was 100% present. It was subtle enough that it just felt like a really nice day, which is exactly what I needed.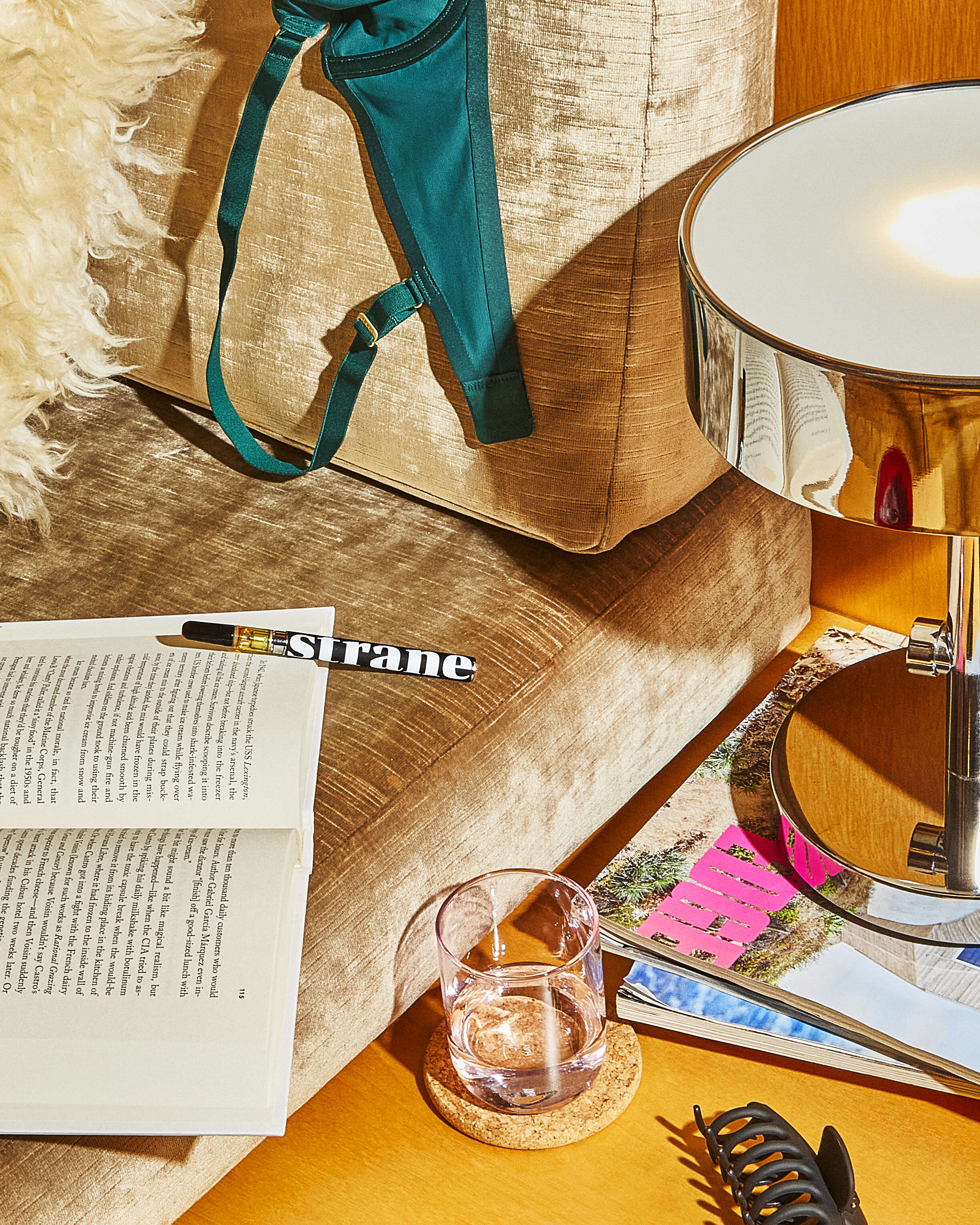 THE NOVEL
When you feel trapped in your own head, the best way to escape it is to go somewhere new. Unfortunately for this Sagitarrius, I can't exactly jet off whenever I'm feeling a little overwhelmed. So I geek out over fantasy novels instead. I've had a certain nerdy, epic trilogy on my reading wish list for years, and it seemed the most fitting to dive into during this particular experiment. It was another nice afternoon, so reading outside was best, and thanks to how discreet these Strane oil cartridges and PAX pods are, I didn't have to worry about getting judgey side eye from an old-fashioned neighbor.
This method was stronger than the other two, but for such a low-key activity, it balanced out nicely. Plus, the Mac & Cheese vapor was gentler than traditional smoking methods. I was able to dive into the world of elves and orcs completely, and read about 100 pages before I felt like I needed to give my eyes a break. In true halfling fashion, I took a nap in the sun when I did -- if anyone gets self care, they do.
ART CREDITS
Photographer - Matthew Kelly
Associate Creative Director - Colleen Lennon
Prop Stylist - Catherine Pearson
Producer - Cassie Doyle
Associate Producer - Hannah Lee
The FDA has not approved marijuana to treat, cure, or prevent any disease. There are health risks associated with the consumption of marijuana. Marijuana has intoxicating effects that may cause impairment of concentration, coordination, and judgment and may be habit-forming and addictive. It is illegal to drive a motor vehicle while under the influence of marijuana. Do not operate machinery under its influence. Keep out of reach of children. Women who are pregnant or breastfeeding should not use marijuana due to potential harm. Please consume responsibly. AR, MI, MD: Medical marijuana is for use only by a qualifying patient. AK, ME, MI, NV, OR, WA: For use only by adults 21 years of age and older. MI: National Poison Control Center 1-800-222-1222.