Take a family holiday devoted to gluttony and remove the pressures of being surrounded by a weird cousin or 12, and you're left with a worry-free day of turkey-based gluttony. That said, there are some rules for guests and hosts alike that will not only maximize everybody's fun, but leave all involved satisfied from stomach to soul.
1. Show up on time
Coming fashionably late is sort of annoying even for a regular party, and a proper Friendsgiving takes a village -- everyone is cooking, helping set up, drinking, and socializing. Rolling in halfway through a meal means missing a huge portion of what this thing is all about (shame-drinking gravy is the other portion). 
 
2. Dress in layers
Friendsgivings typically take place in a small home or apartment. If you've ever been in a small apartment filled with people with an oven blasting all day, you know it's gonna get hot. Be prepared to take a layer or two off. Whether that means wearing a completely tear-away jumpsuit like you're Michael Jordan about to go HAM on a plate of sweet potatoes is up to you.
3. Play agreeable music
Does the new Panopticon album rip? Yeah, of course it does. Is this party an opportunity to convert your friends to loving black metal? No. Keep it friendly for the guests -- also because, hey, your neighbors are probably having regular Thanksgiving and not a lot of grandmas enjoy your same passion for Dub Core Austrian Trance Wave House.
 
4. Don't assume people care about sports
This is one of the few fetes where sports will definitely be on, but your guest list will include plenty of people who don't care. If you're a fan and throwing the party, you're going to have to sacrifice some enthusiasm for the game. If you're fan showing up to a non-fan's house, it's ok to ask about putting the game on, but talk about something besides YAC, and don't let it dominate the party. 
5. Respect oven space
Any Friendsgiving is going to be potluck, but you can't assume you'll get oven space when you need it. Things that can be precooked should be precooked. Don't assume your dish will be given proper space, especially with a giant bird taking up most of the oven. Speaking of which...
 
6. Be polite around the bird
Will it be dry? Maybe. Still have shotgun buck in it? Depending on how locally sourced it is, possibly. Eat it anyway and without complaints. The host (or you) doesn't have the years of experience that an all-pro dad does, but this is where you pay your dues and hone your craft.
7. Make the staples
One friend is going to want to make quinoa fries. They must be stopped at all costs. Experimental dishes should only be tackled once the staples are accounted for, and they are: mashed potatoes, gravy, yams, stuffing, cranberry sauce, turkey, pie. Do not let Charles (it's always this guy) get crazy until all the fundamentals are assigned. 
 
8. Bring food in something you won't miss
It's called a "potluck" because you'll be lucky to get your pot back.
 
9. Organize to avoid redundancies
This is on the host; make sure everybody knows what they're bringing so you don't have 30 trays of yams. Get your spreadsheet game right because you need to get it in writing. Oral contracts are worthless for Friendsgiving.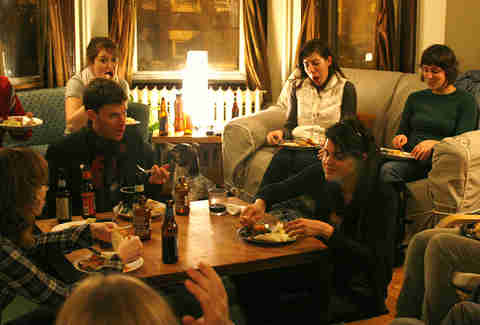 10. Bring the right alcohol
If you're headed to a Friendsgiving and know the host's hometown, bring him or her something from there. If you're the host, it's a cool treat to have a little somethin' somethin' to sip on from each of your guests' native port of call. If it's too expensive to source the local spirit from an obscure Appalachian town, stop making weird grizzled mountain friends.
 
11. Take some pride in the appearance of your place
You would do this for a regular party, right? Maybe? Well, it's way more important for a Friendsgiving. Why? Because you avoided helping your mom clean the house for Thanksgiving because you were terrible as kid and now, guess what? You're the mom to all of these orphans about to show up to your house looking for a taste of home.
 
12. Don't over-book
This is not a standing room event. Make sure there are enough seats for everybody. Unlike a normal house party where people can kind of mill about, Friendsgiving requires the communality of the dinner table. If you don't have a table, look into buying or renting one.
13. Don't bring uncleared guests
This isn't the worst foul for a regular party, but a Friendsgiving is a more intimate affair where, even if everybody doesn't know everybody else super well, there shouldn't be that one rando someone met on Tinder 15 minutes before the mashed potatoes were served.
 
14. No kids
Kids are family. By bringing kids you turn Friendsgiving into Thanksgiving. It's a philosophical distinction, one you'll really come to appreciate when no toddlers are throwing handfuls of mashed potatoes at you/down their pants.
 
15. Have (extra) toilet paper
No regular party is going to include a week's worth of calorie consumption per guest. So, yeah, just think about it. 
16. Be food/drink-inclusive
Gluten intolerances and meat aversions seem antithetical to Friendsgiving... and they are! That still doesn't mean people should go hungry or thirsty. Have some vegetarian/gluten-free options in both food and drink. Cast a wide net. Not every vegetable dish needs to have bacon in it, no matter what your instincts tell you.
 
17. Cake is unacceptable
Pie gets one day a year. Let pie have its day, man. 
 
18. Lend a reasonable hand with cleanup
It's nice to help with the recycling after a cocktail party, but it's pretty mandatory to help with the mess of... everything after Friendsgiving. That much cooking, eating, and drinking is like a hurricane to a basic apartment. Help the host out -- Friendsgiving is a team effort.
19. Bring tupperware
By the end of the night there will likely be leftovers. If you want some (you do), bring your own to-go dish. Don't steal the host's gear to carry home all those vittles you're definitely going to open right when you get home and eat all over again (don't even pretend like you're not, dude).