Other than being the vehicle that gets mouthwatering gelato and sorbetto to your belly, Talenti jars can be used in countless inventive ways. But don't think too hard. Instead, just sit back and enjoy that Mediterranean Mint while we go through ideas that'll have you heading straight to the craft store.
See who can catch the most fireflies
When the weather warms up, the mosquitoes come out to play -- but fear not, so do the fireflies. Few things make us more nostalgic for childhood than sitting around the fire toasting marshmallows and seeing who can catch the most fireflies. Rinse out a few Talenti jars and see how many lightning bugs you can catch. Winner gets to name them. Just remember to poke some airholes if you're not letting them out right away.
Always have cotton swabs at your disposal
Face it, the box that cotton swabs come in isn't exactly for everyday use. Due to its size and inconvenient shape, it's hard to keep it in your bathroom vanity, which means you can't just grab one easily. The good news is that the little personal hygiene helpers fit perfectly in Talenti jars. So perfectly in fact, that if it weren't for the Caramel Cookie Crunch gelato you ate in one sitting yesterday, you'd think the jar were made just to hold cotton swabs. So rinse that bad boy out, pack it up, and head to the grocery store... you're out of Talenti.
Make an epic on-the-go sewing kit
For an easily portable sewing kit (or one that makes a great gift), you'll only need a few things. To make your pin cushion, trace the lid of an empty Talenti jar onto a small piece of cardboard. After cutting it out, glue seven or eight cotton balls to one side (however many it takes to cover the surface, depending on the size of the cotton balls). Next, you're going to cover the exposed cotton with a small piece of fabric. When you flip the cardboard over, glue the fabric down with a hot glue gun leaving very minimal excess fabric. What you just made should look like a pillow. Once dry, glue your pin cushion to the top of the Talenti jar lid. To complete your sewing kit, fill the jar with mini spools of thread, a pair of mini scissors, a set of needles, and a fingerguard. Aunt Laurie is going to love the thoughtful gift.  
Rid yourself of unorganized pantry syndrome
Whether you live in the tiniest New York City apartment or the biggest midwestern mansion (which always look so affordable and shiny on House Hunters) not having enough pantry space plagues even the best of us. You buy a gigantic bag of flour to use one cup and then the thing takes up half the cupboard for the next six months, leaving a powdery film all over everything that gets in its way. Not if you pack all your baking supplies, spices, and even your super secret recipe dry rub into Talenti jars. Not only are the containers air-tight (meaning they'll keep ingredients from going bad), but they're super stackable. Label your flour, salt, powdered sugar… there'll be no stopping you once you realize how much space is being saved.
 
Meal prep your pancake mix
All you need are a few Talenti jars to completely transform your Sunday morning breakfasts. Take four jars and in each one measure out one cup of all-purpose flour, two tablespoons of sugar, two teaspoons of baking powder, and a half-teaspoon of salt. That's it. Set them aside and you've prepped pancakes for an entire month. When Sunday rolls around, mix in one cup of milk, two tablespoons of unsalted butter, one egg, and one tablespoon of vegetable oil. Not only is there no powdery mess, but you've cut your prep time in half. Now who wants bacon?
Let them replace your mason jar obsession
Mason jars have become totally chic in the past few years, but you can't deny the lightweight portability of Talenti containers. Since they're plastic rather than thick, heavy glass, you can just toss them in your backpack without worrying about a major mishap. And because the wide opening makes it easier to get utensils in and out, you can use Talenti jars to make overnight oats, pack a salad, or even use as on-the-go cereal containers. (Just pour the milk in when you get there.) For a creamy yogurt parfait that's still totally Instagram-worthy, layer granola, Greek yogurt, then your choice of fresh berries. Storage and a bowl all in one… we're thinking mason jars may just be a thing of the past.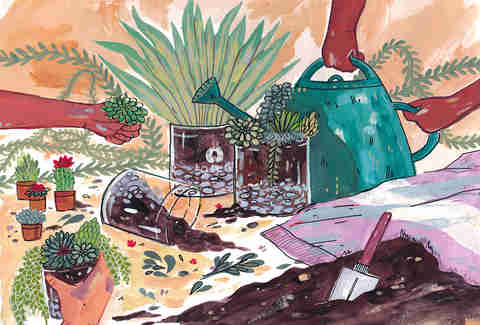 Keep things green by reusing them as planters
In the spirit of conservation, there's no point in going out and buying planters for your little cacti and succulents when you have empty jars of Talenti in the recycling bin. So let's fish those babies out and repurpose them. Just like you'd pot any plant or flower, pick the breed of your choice, select the right soil mix (since dirt from your garden is way too dense), and start getting those hands dirty. The clear finish of a Talenti jar lets you see nature doing its thing, and will give any room and awesome outdoorsy feel. If you need a purpose for the lid, drill a hole in the bottom of the jar, and use the lid as a drainage dish.
Never again lose your favorite markers
Between crayons, paint brushes, markers, colored pencils, and the likes, it can be hard to keep art supplies organized. If you usually just throw everything in a big container or resealable plastic bag... you deserve better. After eating just a few jars of Talenti, use the empties to completely rearrange your crafts. Sort them by product, or even by color so you can draw the entire rainbow without accidentally picking up the purple when you were reaching for the blue.
Light your backyard with these foolproof lanterns
If your backyard or intimate dinner is lacking warmth, we've got an easy fix. LED string lights are often battery powered (and therefore easily transportable), can bend however you want, and fit perfectly into Talenti jars. Match this super inexpensive six-pack of lights with six scooped-out, eaten-and-enjoyed, and cleaned Talenti jars, and your backyard will feel like a fairytale. Line a walkway, a gazebo, or put them on the table in lieu of candles. They're simple, safe, and oh so classy.
Impress your guests with DIY table centerpieces
When it comes to simple do-it-yourself table centerpieces, Talenti jars are your new best friends. Grab some twine or the ribbon of your choice from the craft store and fire up the hot glue gun. Slowly and carefully, continuously turn the Talenti jar in a spiral motion as you adhere the ribbon or twine with glue. After it's dry, cut the flowers of your choice short enough so they stand perfectly straight. Your party guests won't believe you made these -- and they definitely won't believe what they used to be.
Brought to you by Talenti