Sponsored By
Coors Banquet
How Making Fishing Rods by Hand Can Change the Way You Look at Life
Sponsored By
Coors Banquet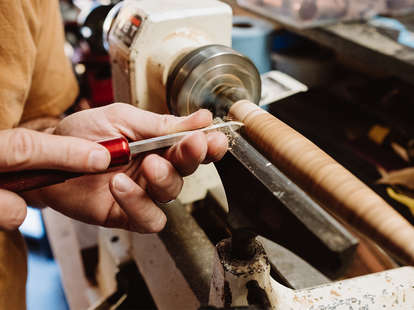 In 2008 Tim Aaron left behind a career as an attorney to move from Atlanta to Portland, OR and pursue his passion. One catch: he wasn't exactly sure what that passion was, only that he'd had enough of day-to-day work. He recalls, "My creative outlet was confined to working on remodeling my house. I knew I had a creative side -- I just didn't know what to do with it."
Fortunately, instead of taking up permanent residence in the limbo between dissatisfaction and purpose, Aaron received inspiration in the form of a wedding gift, a custom graphite 10-weight fly fishing rod from one of his best friends. His fascination with its construction would soon lead him down a path that ended a few centuries back in time.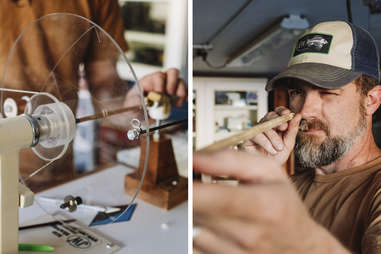 Bamboo rods: a master-apprentice industry
As a fisherman, Aaron was familiar with the anatomy of a fly rod: blanks (the tubes that assemble to constitute its length), ferrules (the hollow junctures that connect the blanks so the rod can be broken down in size), and scrim (reinforcement of the blanks' arc with other materials to give it "hoop strength" along the cylinder). But to turn an enjoyable Saturday morning into a second career, he had to go beyond familiarity into mastery of construction -- and that meant bamboo, despite having never cast a bamboo rod in his life.
A fly rod isn't just flexible to prevent breakage. The give along its length helps a fisherman keep a fish hooked while he tires it out. The bulk of modern fly rods are graphite, which has displaced fiberglass as the rigid-but-bendy space age material of choice. However, bamboo is the best natural material for both strength and springiness.
Since you can't exactly hand-make things with graphite, bamboo is the only way to go if you want to go it alone. So Aaron wrote to several rodmakers in the area to see if they might like an apprentice.
He got one reply.
Steve Kiley, a veteran rodmaker, took Aaron under his wing. Kiley had more than two decades of experience, including a stint making blanks for Orvis, the outdoorsman supplier so colossal that even people who can't roast s'mores without dying of exposure have heard of it.
"Without Steve's tutelage I probably wouldn't have progressed as far as I have," says Aaron. "Steve unfortunately recently passed away, so it's an honor to carry on his tradition."
In his workshop, Aaron follows processes that have changed little for 200 years; the hexagonal rod design favored by modern makers has remained the same since the 1870s, when bamboo's heyday had hit full stride. And he feels that heritage every time he steps into his shop.
"Using bamboo as the material for the rod harkens back to a time before space age materials came about. When I am handplaning strips of bamboo in my shop it makes me feel like I could be back in the late 1800s doing the same thing."
Fishing is a sport that necessarily leaves practitioners alone with their thoughts, and in the rodmaking process Aaron finds a similar meditative bliss. "The whole process makes you forget about the internet, cell phones, etc. It's just a very peaceful and simple process. "
The perfect bamboo rod doesn't exist…but the perfect rod for you does
Let's get nerdy for a minute. These are the major factors all rodmakers -- woodworkers and machinists -- must consider when constructing a rod:
Power is a rod's resistance to bending under pressure and is derived from the rigidity of the blank. Thicker or stiffer blanks will increase the power of a bamboo rod.
Action is where that bend occurs along the rod's length and ranges from slow to ultra fast (slow rods bend closer to the handle, fast ones near the tip). Bamboo generally has a slower action than the springier graphite or fiberglass.
Weight actually refers to the weight of the fly line that should be used with the rod, and is measured by the first 30 feet of line. This is much less concrete than the previous two factors.
Graphite is strong, light, and tough. It's also mass-produced, making top quality rods affordable to anyone. Handcrafting makes modern bamboo rods more expensive, but also more treasured by the fishermen who keep a mental magazine of each rod's nuanced action.
Perhaps because machine-made rods have bequeathed fishing a standardized quality instrument, a culture -- or even mystique -- has materialized in admiration of bamboo. As Aaron points out, "Bamboo is different than graphite or fiberglass -- but it isn't better. I tell every customer that. That said, I think one thing bamboo allows is easier manipulation."
Bamboo's drawbacks -- time, expense, weight -- when compared to industrial production, are also the wellspring of its advantages: personalization and specification. The height of the fisherman, the type of fish being caught, the speed of the river it will be used on: all of these affect a rod's efficacy. Aaron consults with his clients to evaluate their needs before a build, and advises accordingly. From there he tailors a rod's construction to that specific client: length, action, power, and weight are adjusted accordingly.
"All of those things are very easy to do once you understand basic rod design," he says. "Those things are also possible with graphite and fiberglass -- but not on a small scale. Try calling up Orvis and asking them to make your favorite rod 6" shorter, etc. It's not going to happen. They would have to create a new mandrel and reconfigure their process, and they just aren't going to invest that much time and money to please one customer. With bamboo every single rod is customized to suit your needs/desires. To me, that is its greatest advantage."
A tradition that doesn't frown on innovation
Although the traditions of fly-fishing and its craftsmanship are well instituted, that doesn't mean the field (or more accurately, stream) turns down a good innovation when it sees one.
Aaron's signature mark, for example, is to use a wooden grip, whereas it's more common to make a rod's handle out of cork for its lightness and water resistance. Although he "started doing it because I loved turning wood on the lathe" the result is a beautiful grip that presented three unexpected advantages.
"First, a wood grip is heavier," says Aaron, "and with modern light reels you almost need some more weight in the grip to balance out the weight of a bamboo rod. Second, they are ultra sensitive. Every single tick from the end of the rod transfers right to your hand with no cork to dampen it. Finally, they stay in mint condition. Use a cork grip for a season and it will look like you've drug it through the mud. Use a wood grip for a season and it will still look brand new. "
Rodmaking educates the fisherman, and vice versa
There's a relationship between love for (or at least intrigue in) the functionality of the instrument and the technical aspects of its creation. To build a great fly rod, you have to know what a perfect cast of the line demands from both fisherman and pole.
Aaron credits his work with slowing down his cast when he's on the river. "It really made me think about the physics of the rod and what I was really trying to do," he says. "Prior to making rods, I just watched people cast and tried to imitate them without much thought. Since I started making and designing rods, I focus more on understanding the science behind it. Why is the loop falling apart on my back cast? Is it me or the rod? Why can't I punch this cast through the wind or cast big flies? You can't cast every rod the same way. You need to modify your cast to fit the rod -- and that requires learning how your movements impact the line and fly. I just never really gave that much thought before I started making rods."
He's also become an "almost exclusive" bamboo rod fisherman, admitting, "even when it may not be the best choice […] anyone who tells you that a bamboo rod is the best rod for fighting tarpon or bonefish on the flats [a shallow portion of the bank] with a 25 mph crosswind is probably not being honest. I just do it because I can -- and because I want to test out my rods. Those kinds of conditions and fish put the rods through an unbelievable amount of stress, and seeing them hold up under those conditions give me the confidence to know that they will likely stand the test of time against any fish."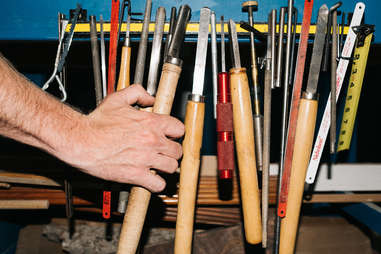 Custom rodmakers chase a standard that will always elude them
"The process [of rodmaking]," says Aaron, "is quite simple -- but it requires a quest for perfection to really make a great rod. I mean you never reach perfection -- but you have to want to. There are just so many ways to screw up -- you have to be willing to throw out hours and hours of work and start over if you really want to make a great rod. It takes a certain kind of person to do that."
How often does he have to throw out a rod and the 40 to 50 hours of work he puts into it? "Almost never," he says, though it may be necessary to undo the last step or several. The big hitch comes if "something went wrong when I glued it together. There is no way to undo that, so I just have to start over."
Along the way, though, there are a lot of parts that prove inadequate for the build, and Aaron finds himself "throwing out a lot of strips that are almost ready to be glued up because they have cosmetic or structural flaws that weren't initially apparent. Most of the time, for a two-piece rod (which has 12 strips -- six for the butt and six for the tip) -- I will make 6 extra strips. That way I am ready if I find a strip or two with a problem. When I have down time -- I take those random strips and use them to make test rods for myself."
As the tradition enfolds innovation, so it also allows for an end-justifies-the-means mentality -- it's all about the rod that Aaron knows he can wrangle from bamboo and wood, however he has to get there. "Sometimes that is a combination of two different methods, sometimes it means making a new tool, and sometimes you just go with the tried and true method. I am still modifying my process on every rod I make -- and probably always will. There is always a better way."
Of course, perfect is the enemy of good, and part of that pursuit is knowing when to quit. "I use my wife as a barometer to know when I have gone too far. Nine times out of 10 when I reach that point she sets me straight and tells me that I am insane because one, nothing is ever perfect and two, nobody is ever going to notice the .001-inch diameter dust nib on the varnish (the one I can't help but see). If I waited till every rod was perfect before I sent it out the door… I wouldn't have a single rod out the door."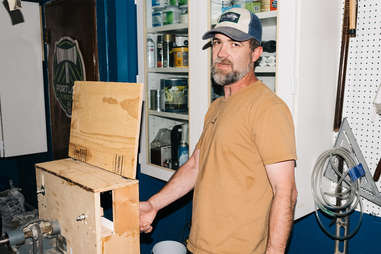 The work connects the rodmaker to the sport he loves
Aaron's love of making rods has yet to eclipse his pleasure in what they're built for: landing a beautiful fish…or possibly just mobilizing a man to go enjoy nature, alone with his thoughts.
"Fishing -- and fly-fishing in particular -- is such a peaceful retreat for me that I honestly don't really care if I catch a thing. I know that is a cliché to say, but it is very true. I don't imagine that I would stand in the middle of a beautiful river for hours and hours if I weren't fishing. But fishing give me a great excuse to do that. And when you are out there -- you hear nothing but rushing water -- everything else just kind of melts away."
That's when the toymaker becomes the kid with the toy box. Since he can build a rod for any purpose he desires, Aaron's always got the right rod for the occasion. But for all that, the two rods he has from other makers are among his most treasured. The first, that graphite wedding present from his friend.
"The other is a bamboo rod made by my teacher, Steve Kiley. My wife got it for me for my birthday. It only comes out of its rod tube on special occasions."