Trending on eBay: November 30th
The internet is peppered with an endless number of gift guides, ranging from the niche to the downright silly. But this is 2018 -- why trust some random person's "expert" opinion when we have the gifting needs of thousands of people looking for the perfect gift for their loved ones? For that, we recommend taking a look at eBay's new Trending tool. It creates live gift guides based on what people are searching for. Plus, chances are, those people are window-shopping for what they want, so snagging items off the Trending page will make you look like a mind reader. Here's what everyone's been clamoring for this week:
Pokemon: Let's Go
Whether you're team Pikachu or Eevee, Pokemon: Let's Go is the hottest game for the Nintendo Switch. Until the new Smash comes out and inevitably hits the Trending page, that is. The Let's Go games are glossy reimaginings of the Pokemon world that take full advantage of the Switch's capabilities and make the RPG games even more addicting that ever. Even though you could probably sink endless hours into these two games, the speedrunning crowd already beat them day one and then put them up on eBay, which means promising deals for you.
eBay
Monopoly For Millennials
If the tagline is "Forget Real Estate, You Can't Afford it Anyway," you can already tell this Monopoly game isn't like others. This time, you're collecting experiences like any good Millennial, whether that's a 3-day music festival or hitting up the vegan bistro. Crashing on your friend's couch or a parent's basement is a pretty good reminder of the original anti-capitalist themes of Monopoly. You still have to buy the game though.
eBay
Yeezy Boost 350 V2 Zebra
Remember when Kanye said "20 G's for the Yeezy's off of eBay"? We felt that. It's a real phenomenon -- every time Adidas restocks their wildly popular Yeezy Boosts, they sell out immediately, and eBay's the only place to find them. Luckily, you won't need to drop 20 G's for a pair -- just shop around for a good deal.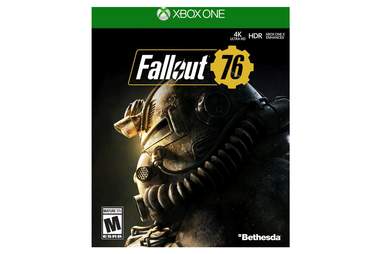 eBay
Fallout 76
Can't get enough of the Fallout world's post-apocalyptic retrofuturism? Luckily for you, Fallout 76 promises endless fun in the irradiated wastes, so it's no surprise it's trending. While you're in the holiday spirit, be sure to check around the site for even more Fallout swag.
eBay
Bose Solo 5
Bose speakers are a hot commodity every year during gifting season, since they're high-quality products with a good balance of cost to value. This year's trending pick is the Solo 5, a huge soundbar that connects to your TV and brings out the sound you've been missing out on. It can function solo as a Bluetooth speaker as well, so it's a great pick for any audiophile (or Netflix binger) in your life.