Nostalgic for that four-year vacation called 'college'? Us too, which is why we're bringing back College Week. Double-sink all of this week's college goodness, all week, right here.
During College Week, in order to best utilize our weird passion for ranking everything, Matt and I took on the Herculean task of ranking every single Division I BCS school. There are 128. We would normally go on about the factors we weighed when ranking these things, and how we considered the college town, athletics, etc. But we want to be real with you. We based these mostly on our completely subjective gut feelings about whether we'd want to go to these schools, the tolerability of the student body and alums, and other random things that will drive you crazy if you try and parse them in a logical manner. 
Also, please keep in mind: we kid because we love, friends. Except you, Notre Dame.
128. University of Notre Dame
The Touchdown Jesus thing is NOT them being cute. Your average Domer sincerely believes God's divine providence shines on their football team. Think about that and then Google Prince Shembo. Also, I went to a Notre Dame wedding once, and everyone in the church kept checking the score on their phone during the Catholic service. While they were playing Navy. And the worst part was: they were losing!
 
127. University of Southern California
An entire school populated by the villains from teen romcoms, all of whom are embarrassingly proud that, at some point in their life, they've been asked to work at Hollister. Just imagine Trip McNeely from Can't Hardly Wait, but, like, with dorms.
 
126. Arkansas State University
Come for the Jonesboro Municipal Airport, stay for assistant professor Jason Barrett-Fox's tentatively titled book Performing Persuasion and Rerouting Rhetoric: Feminism, Indirection, and the 1920s' Public Woman.
 
125. Fresno State University
I refuse to joke about something that makes me this sad.
 
124. Louisiana Tech University
Isn't this the school that was originally recruiting Neon Boudeaux before Nick Nolte's Western University Dolphins ILLEGALLY bought him a Lexus? No? Oh.
 
123. Troy University
If you didn't steal Helen from King Menelaus, maybe the US News & World Report would rate you higher than 82nd in graduate programs for rehabilitation counseling.
 
122. University of Central Florida
You don't get to be the second-largest state university in the nation by letting just ANYONE in. Oh wait, yes you do. Start letting Starbucks employees go for free and maybe you can pass Arizona State.
 
121. Brigham Young University
Look up the words "docking" and "soaking" and then destroy your computer's cache.
 
120. University of Toledo
You: "I went to UT."
Stranger at party: "Oh, I love Austin!"
You: "No, Toledo."
Stranger: [Tries to find new conversation]
119. Georgia Tech
If you like basketball, building robots, and practicing tongue-kissing girls with your hand, you might be from Georgia Tech (shout out to Yellow Jackets alum Jeff Foxworthy!).
 
118. East Carolina University
I refuse to comment on a university based on a fictional state.
 
117. Old Dominion University
Their name comes from an old nickname for Virginia given to them by King Charles II because they were loyal to the Royalists (aka the Cavaliers) during the English Civil War. Wait, why do all college nicknames in VA imply loyalty to the English Crown? I smell an Outside the Lines investigation.
 
116. Ball State University
Being the fictional home of Jerry Gergich's timeshare just might be the most exciting thing about Muncie.
 
115. Bowling Green State University
Even people who go to Bowling Green aren't 100% convinced it's a real college.
 
114. Arizona State University
Because the people who work as STS Travel spring break tour guides in Cancun can't all go to Florida schools.
 
113. Florida Atlantic University
Perfect place for that Boca girl who thinks tuition is kind of a waste and daddy's money is much better spent on Louboutins and plastic surgery.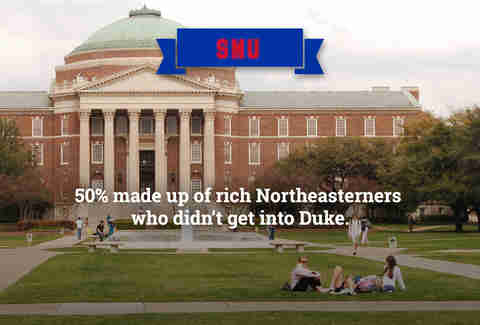 112. Southern Methodist University
SMU likes to think of itself as the Duke of the Southwest. And it is, in that half the students are really good-looking people from the Northeast who didn't get into Duke. But seriously, it's an astonishingly good-looking student body, even if most of the dudes should be punched in the hair for Dave Matthews concert cuts they'll be trimming the moment they waltz into their finance job.
 
111. Georgia Southern University
The Arby's of Georgia colleges.
 
110. University of Nevada, Las Vegas
Did anyone really think this was a good idea?
 
109. University of Louisiana at Monroe
Famous alums include Bubby Brister! Sorry, I didn't mean to put an exclamation point after that.
 
108. Utah State University
Where the "cool" Mormons go. We're kidding of course, but CAN YOU IMAGINE?
 
107. Texas State University
Texas State enjoyed a brief period of relevance when Scott Bakula and Sinbad took the football team to prominence in 1991. Unfortunately, that was in the movie Necessary Roughness, and the real Texas State -- which was known as "Southwest Texas" until 2003 -- is still waiting for its "Badkula" moment.
 
106. Temple University
If you are Jewish and you go here by accident based on the name, that will be an awkward mistake.
 
105. Middle Tennessee State University
Despite the fact that the name sounds a little bit like a bunch of random word magnets put together on a fridge, we quite enjoyed Lacey Kanipe's review of comedian Ben Bailey in the thrice-weekly student newspaper Sidelines.
 
104. University of Southern Mississippi
Somehow still upset Marcus Dupree didn't pan out as they'd hoped.
103. University at Buffalo
29k students mildly confident in their choice to not attend Rochester.
 
102. Boise State University
If you want to see people truly, astonishingly, inexplicably proud of the color of the fake turf at a football stadium, put this on your bucket list.
 
101. Baylor University
Cliches are cliches for a reason, so if you want to matriculate on the side of a highway, get the frat beaten out of you in largely unimaginative ways, be summoned to the dean's office because an informant said your hair smelled like beer, and be engaged by the time you're 20, this is the school for you.
 
100. Northern Illinois University
It's kind of a bummer to attend a commuter school where the campus life lags behind that of other universities. It's an even bigger bummer if the place you're commuting to is DeKalb.
 
99. University of Houston
If you're going back to college at 32 and don't want to deal with "the college experience," this commuter school's a perfect fit. Bonus points for that vague feeling that you're somehow part of the legacy of Phi Slama Jama; bonus half-point for that vague feeling that you're somehow part of the legacy of Andre Ware.
 
98. University of South Florida
When your name screams "I failed eighth-grade geography," that's all you need to know.
 
97. Central Michigan University
Mount Pleasant is decidedly unpleasant.
 
96. Duke University
If you went to Duke, you're probably sitting there in your custom chair shaped into Mike Krzyzewski's exact body, thinking you know everything we're going to say, Eminem-in-8 Mile style. Like how the fiery passion and dorkiness (which isn't cool like nerdiness, friends) of the Cameron Crazies is annoying to the point of insanity, and how you can always tell people who went to Duke when you meet them in real life because they're being condescending to you in confusing and inconsequential ways. Well, congrats: you're smugly right again!
 
95. Eastern Michigan University
Welcome to Ypsilanti, the trashy cousin Ann Arbor hopes won't show up to family functions.
 
94. Mississippi State University
In case you didn't already know them as the redneck school in a predominantly redneck state, they spend the entirety of their football games aggressively ringing cowbells to further hammer home that point.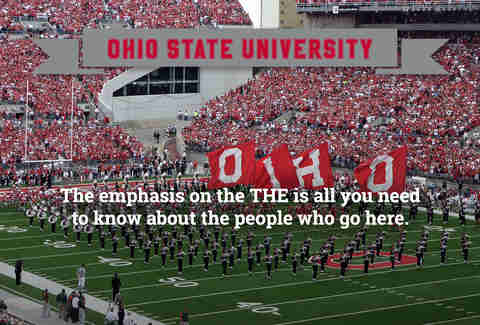 93. Ohio State University
The emphasis they put on THE Ohio State University alone is enough to tell you what kind of people go here.
 
92. Tulane University
A popular girl who used to hook up with our high school gym teacher went here, and that feels like everything you need to know about Tulane.
 
91. Texas Christian University
Much like the TCU football team, Fort Worth exists at the brink of relevance -- it's never an embarrassment, and sometimes it's pretty good, but it doesn't really excel as either a college town or major city. On the plus side, the student body defines "Christian" as "2.8 GPA, not afraid to pound light beers on a Tuesday."
 
90. Georgia State University
What a run in the NCAA tourney, or something!
 
89. University of Idaho
For people who look at Boise State and think, "Too diverse."
 
88. University of North Texas
Amazing music school, which is partly why Denton is where almost every cool Texas band comes from. So enjoy being a fan of a cool Texas band, because there's... not much else to do in Denton.
 
87. University of Illinois at Urbana-Champaign
You know what stinks? The university as a whole is so incompetent that there's nobody left standing with the clout to fire the spectacularly embarrassing athletic director who has had to fire several of his spectacularly embarrassing hires. You know what else stinks? The cloud of cow shit blowing over from somewhere West of Urbana. Nice campus library though!
 
86. University of South Carolina
We've put them here as a punishment for all of the snapback caps reading "COCKS" we had to endure in the '90s.
 
85. University of Akron
Man, it's going to be rough when LeBron leaves again and takes those scholarships with him.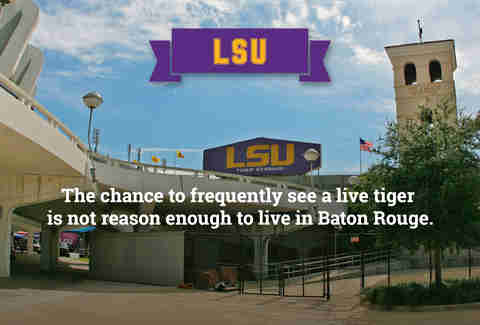 84. Louisiana State University
The chance to frequently see a live tiger around campus is not reason enough to live in Baton Rouge clad in purple and gold.
 
83. Wake Forest University
When I went to visit Wake Forest, one of the guys showing me around asked me what other schools I was looking at. When I told him, he thought about it, and told me to go to one of those other schools.
 
82. Purdue University
Has turned out more astronauts than any other university, indicative of either strong science education or the fact that graduates want to get REALLY far from West Lafayette.
 
81. Marshall University
Too soon?
 
80. San Diego State University
If upscale chain steakhouses had executive recruiters for hostess positions, this is where they would fulfill their entire hiring quota.
 
79. University of Oklahoma
A story in The Oklahoman right now states that "University of Oklahoma will end baboon program within 4 years" thus helping stave off the eventual, inevitable ape uprising and domination of our planet for at least another 10 years. Boomer Sooner, indeed.
 
78. University of Texas at El Paso
You're not even sure where you are right now.
 
77. University of Texas at San Antonio
You know where you are, but you're not sure why you're here.
 
76. Washington State University
Actually somehow in Idaho.
 
75. University of Cincinnati
"Bearcat" sounds like something a 5-year-old would come up with after too many juice boxes.
 
74. University of Utah
"We're not all Mormon," they whisper as they quietly watch bootleg R-rated movies while drinking fully caffeinated sodas in the judgment-free safety of their dorm rooms.
 
73. Western Kentucky University
University founder 1: Let's brainstorm nicknames!
University founder 2: Bears, dragons, unicorns, tigers, lions, jaguars, cougars...
University founder 1: Hilltoppers?
University founder 2: No.
University founder 1: You're fired.
 
72. University of Louisiana at Lafayette
Ragin' Cajuns is by far the best of all the college nicknames, and definitely better than U Penn's Moderately Upset Quakers.
 
71. University of Memphis
Were you really planning to honor John Calipari, the man who just goes from college to college vacating wins as if they are empty lots in semi-residential areas?!?!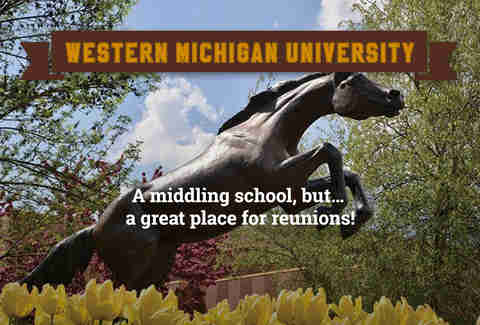 70. Western Michigan University
If college kids drank good beer, being in Bell's' backyard would earn some more points. But alas, they do not, making it a great place for reunions when you're a pleated Dockers-wearing dad.
 
69. Ohio University
Whenever the most exciting thing about your school is the band, it's a bad sign.
 
68. Texas Tech University
Lubbock has everything you need in a college town: it's in the middle of the fucking desert; it didn't allow packaged liquor sales until 2009; it's still coasting on a "music town" reputation built on the backs of musicians who were prominent well before you were alive and mostly left for other cities anyway; and it's in the middle of the fucking desert. Also, the football coach looks like a second-string linebacker at T.C. Williams High School.
 
67. Florida International University
Want to go to college in Miami but can't afford the U? Come to FIU, where you're only a short 17-mile drive in unmoving traffic from anything you ever saw in Bad Boys. But, hey, Hialeah is RIGHT THERE.
 
66. San Jose State University
A predominantly working-class university nestled into an area where 24-year-old tech billionaires regularly crash drones filled with gold bullion into their Teslas out of boredom. What could go wrong?
 
65. Kansas State University
"Manhattan, Kansas has four or five really good restaurants," a Kansas State alum named Bill told me, but you could tell Bill's heart wasn't in it.
 
64. Syracuse University
Have you ever wanted the experience of being surrounded by loud people from Long Island, except with colder weather and less proximity to the ocean? Welcome to Syracuse!
 
63. Pennsylvania State University
There are a lot of different terrible kinds of truthers out there. Penn State truthers are some of the worst truthers.
 
62. University of North Carolina at Charlotte
The Billy Baldwin of North Carolina universities.
 
61. University of Tulsa
The irony of a school in Tornado Alley calling itself the Golden Hurricanes has not been lost on Mother Nature.
60. University of Missouri
Pleasantly forgettable, the college version of nitrous at the dentist.
 
59. Rutgers University
Essentially a college based on a Bruce Springsteen song, but, like, one of the sad, long ones.
 
58. University of Nebraska--Lincoln
"Enough with the jokes about corn and electing football coaches to congress," no one from Nebraska ever really shouts.
 
57. Auburn University
There's no better way to remind the country that you're the cow college of your state than by crying over dead trees.
 
56. University of Nevada, Reno
For parents who definitely still want their children to become blackjack dealers, but don't think they can handle the bright lights of UNLV.
 
55. New Mexico State University
6,000-acre campus with the Organ Mountains as a backdrop bordered by a highway, pretty decent science programs, lots of students who look like Jesse Pinkman and that scary dude named Todd. It all feels weirdly familiar...
 
54. University of Tennessee
You can not make your school colors that blindingly burnt orange and expect to move any higher on this list.
 
53. University of Wyoming
The highest elevation of any Division I football school. Also the highest frequency of people asking "wait, are you SURE Wyoming is DI?".
 
52. Appalachian State University
"It's basically the UC Boulder of the South," someone just told me seriously, and I laughed and laughed and laughed.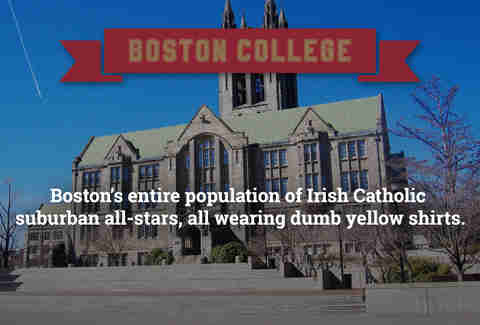 51. Boston College
A school filled with fourth-generation Irish Catholic kids who grew up in an upper-middle-class suburb of a moderate to large city along the Eastern seaboard, all of whom are wearing yellow "Super Fan" T-shirts and trying to fight each other outside of Mary Ann's.
 
50. North Carolina State University
The Daniel Baldwin of North Carolina universities.
 
49. Oregon State University
Often gets pegged as the lesser of Oregon's two major universities, largely because it is the lesser of Oregon's two major universities.
 
48. Florida State University
It's a good thing you're pretty.
 
47. Iowa State University
The Michael Kutcher of Iowa schools.
 
46. Kent State University
Somehow still too soon.
 
45. University of Florida
You're the best public university... IN FLORIDA. This is kind of like being the best-dressed guy at Walmart.
 
44. University of Miami
Congratulations. You just spent $45,000 a year for a degree that -- North of Palm Beach County -- is indistinguishable from one you'd get from Florida State. But totally worth it to get a selfie in front of that gold-plated Maserati.
 
43. University of South Alabama
Come for the beaches, stay for the Mardi Gras and college football in the state of Alabama! Oh, wait... Mobile doesn't actually have beaches and no one cares about their Mardi Gras or South's sports besides the locals? Then come for the beach-like heat, stay for the chance to feel like a middle child!
 
42. University of Connecticut
When a big part of your social life is trying to figure out how to get a ride to your women's basketball team's away games, you're not getting much higher on this list.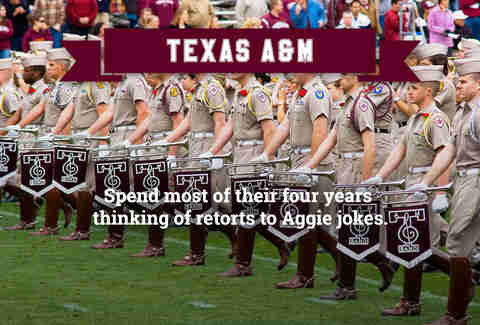 41. Texas A&M University
Become an Aggie and your sole reason for waking up in the AM will be hating a university that you no longer share an athletic conference with and a town that makes yours look like a rural piss stain (which it is). Technically your classmates will be far less dumb than the stereotype (the academics are very solid), but you'll still somehow emerge from undergrad a less interesting person than when you started.
 
40. Michigan State University
Couldn't get into Michigan? Love arson? Fantastic, glad to have you as a Spartan. Now set this couch on fire, please.
 
39. Oklahoma State University
Only this high because we're trying to get a discount to attend Keiton Page's basketball camp. HOOK US UP!
 
38. University of Arizona
Two types of people go here: smart people from Arizona, and dumb people from everywhere else.
 
37. University of Alabama
There's only so many times you can yell "We've got 15!" while wearing houndstooth and eating Taco Casa before you remember that Tuscaloosa is a very unexciting town for seven months of the year.
 
36. Clemson University
A college based on a commercial somehow simultaneously for Vineyard Vines, Chevy Tahoes, and Wayfarers.
 
35. University of Arkansas
Congratulations on having the only team hat able to make Green Bay cheeseheads think they've made solid sartorial choices.
 
34. Virginia Tech
Surprisingly smart kids aggressively tailgating in surprisingly dumb ways.
 
33. Rice University
Rice is like MIT for people who'd rather die than live in Boston. Okay, maybe some of them wanted to go to MIT but whatever, at Rice you can be a sunburned science/math nerd.
32. University of Louisville
The town-to-college equivalent of the parents being way cooler than the kids.
 
31. Miami University
Sometimes referred to as J. Crew U in Midwestern circles. People in Oxford believe this is complimentary. Also, this happened.
 
30. University of Kansas
We will begrudgingly admit that attending a Kansas basketball game is one of those bucket-list moves that actually might be worth making a bucket list for.
 
29. West Virginia University
Highly affordable, but you get what you pay for.
 
28. University of Maryland
DO YOU LIKE OLD BAY?!?! That's our imitation of every conversation at Maryland.
 
27. University of Massachusetts
The best part of going to UMass is you can totally take college classes at much better schools also in your town. Wait, maybe that's the worst part? Either way: GO TO THE WHITE HUT.
 
26. Vanderbilt University
The combination of Northern expat blonde girls who want a four-year vacation in a city made popular by a show starring Coach Taylor's wife, and their Southern clones who politely insult them by saying things like, "Bless her heart, I love her to death, but she's just a horribly slutty Yankee." In other words, it makes so much sense that Jay Cutler went here.
 
25. University of New Mexico
Would move so much higher if you could actually major in green chile.
 
24. University of Iowa
You've never seen people so dedicated to their love of frozen yogurt until you attend an Iowa basketball game. And I say that with A LOT of admiration.
 
23. University of Minnesota
A pleasant campus in a pleasant place where pleasant Midwesterners show a pleasant amount of enthusiasm for pleasantly average athletic teams.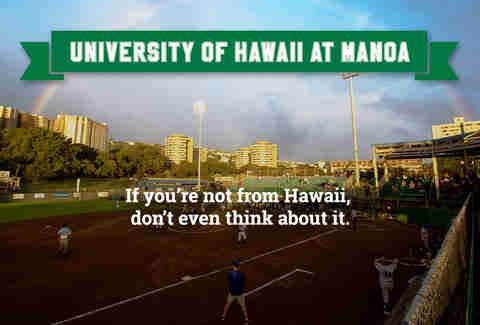 22. University of Hawaii at Manoa
If you're not from Hawaii, don't even think about it.
 
21. Northwestern University
They may lag behind the rest of the Big 10 as far as athletic prowess goes, but MAN do they know how to party. Oh wait. They absolutely do not. New Trier throws better ragers.
 
20. Indiana University Bloomington
Home to irrational devotion to a modestly popular bicycle race and an entirely rational devotion to a basketball coach with a penchant for berating students and abusing furniture.
 
19. University of California, Los Angeles
A good school in a nice part of LA that has everything going for it. So why does everyone go to sleep at night quietly wishing they went to USC?!?
 
18. Stanford University
When the tech bubble bursts (you heard it here first Suze Orman!), perhaps that will deflate the massive egos of these kids bombing around Palo Alto on Segways in tank tops that say "Talk nerdy to me." But until that time, we'll just have to endure the waves of kids discussing creating "Yik Yak but for ZocDoc" over veggie burgers at Gott's in a suburban town twice as expensive as the nice part of London.
 
17. United States Air Force Academy
Really cool.
 
16. United States Naval Academy (Navy)
It's great, you guys. Boats! Freedom!
 
15. United States Military Academy (Army)
Oh man, SO great. Go America!
 
14. Colorado State University
Coolest football helmets in the college game. That'll get you somewhere in this ranking.
 
13. University of Colorado
A fantastically beautiful school on basically a mountain-based movie set. Too bad it's mostly made up of wealthy white kids from the East and West Coasts who love to listen to Yonder Mountain String Band and use phrases like "pow pow" and "der der" and are seriously bummed that Colorado legalized weed because they had this crazy plan to... wait for it... sell weed. They're still coming up with alternative plans.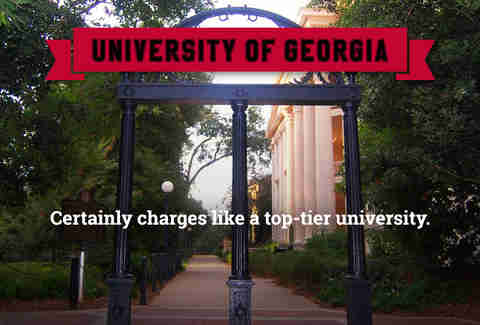 12. University of Georgia
Charges like a top-tier university. And if you're an upper-middle-class pink-neck from Marietta, it probably seems like one. Luckily, Athens is handsome in a rugged way that kid from Marietta will never be.
 
11. University of Michigan
Welcome, Jewish kids of Long Island who were not accepted to Penn! The wealthy sons and daughters of suburban auto industry executives who only go to Detroit for Red Wings playoff games would like to invite you to grind on the dance floor at Rick's!
 
10. University of Pittsburgh
Actually a pretty awesome time, though students here sometimes rub the nose on a special panther fountain before exams for good luck. This might help to explain how they ended up at Pitt, stuffing fries in their sandwiches and binders and car doors.
 
9. University of Kentucky
Pretty school filled with pretty students who will all sell medical equipment to doctors in four to seven years. And they will be good at it!
 
8. University of Mississippi
In case anyone has doubts, just go ahead and tape a sign to your back with "Southern" written in old-fashioned calligraphy with an arrow pointing up towards the bow tie that would be barely visible underneath your collar, if you weren't wearing your seersucker jacket.
 
7. University of Oregon
Now that the Ducks are a powerhouse, Eugene's finally shaking its reputation as a school for jam bands, hippies, and other stereo... aw shit. Oregon just legalized weed.
 
6. University of Virginia
Based on the aesthetics of the school and town alone, you would be in the top two. But you know it all too well, don't you UVA students? And it's that smug satisfaction that you have somehow already won some sort of life lottery that keeps us from allowing ourselves to push you even higher. Also, despite the national fame from Pitch Perfect, your men's a cappella team is only slightly above average.
 
5. University of California
Its reputation as a hippie incubator for kids taking independent studies while sitting in redwoods protesting the capitalistic expansion of their favorite vegan burrito spot is only 70% true.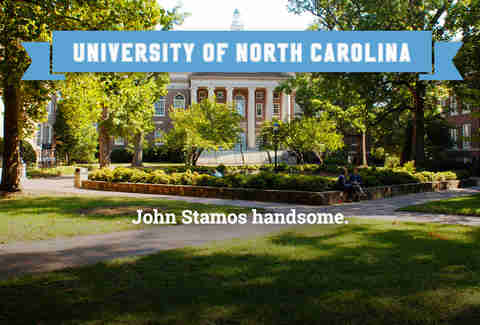 4. University of North Carolina at Chapel Hill
Chapel Hill is the Alec Baldwin of Carolina schools and is too damn handsome for us to be mad at it, even if it leaves unacceptable messages for its daughter berating her about her weight.
 
3. University of Washington
We want to tailgate on boats too. Please let us in so we can tailgate on boats. PLEASE?!!?!
 
2. University of Texas
UT is cursed by underperforming football and basketball teams... and you'll get over each annual heartache in about four minutes, because Austin is that rare bird that's one of the best college towns in America, and one of the best town-towns in America. Yeah, the traffic's ass, but you'll be living walking/biking distance from campus so who cares. Just try and ignore the roving packs of mid-30s dudes on bachelor parties asking where Franklin Barbecue is.
 
1. University of Wisconsin--Madison
The Terrace, Camp Randall, Bascom Hill, all those beautiful lakes that famous dead musicians' planes crashed into, one billion (literally) bars, legitimately amazing biotech and engineering programs, RON DAYNE -- people who went to Madison won't shut up about how great Madison is. And if you've ever visited, you have to begrudgingly admit it's because Madison is pretty damn perfect. As long as you aren't there in February.
Sign up here for our daily Thrillist email, and get your fix of the best in food/drink/fun.
Kevin Alexander is Thrillist's executive editor and went to Trinity College, which would be somewhere around Arizona State in these rankings. Follow his blacklisting at most major universities: @KAlexander03.
Matt Lynch is Thrillist's deputy editor and wanted to go to one of those New Trier ragers so badly in high school. SO. BADLY. Follow his pain: @MLynchChi.