Everything You Need for an Awesome Picnic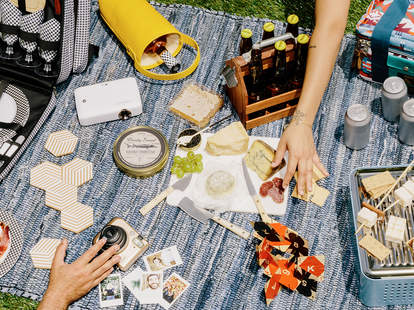 Photography: Nathan Perkel, Prop Styling: Sophie Strangio
Blanket? Check… and duh. Throwing the perfect picnic requires a nod to tradition, of course, but you can do a lot better, and throw a picnic for the ages. From swank snacks to an ingenious mini-barbecue, we've got all you need to make the whole park jealous.
Not just any picnic blanket
No. Gone are the days of a thin sheet laid out in the grass to get muddy and covered in ants. Real ballers relax on blankets like this travel rug, made from recycled vintage denim. It's nice and thick, and so provides a cushion for your fine dining (later), plus you can probably re-repurpose it as a pair of jeans someday.
Photography: Nathan Perkel, Prop Styling: Sophie Strangio
Magazine-worthy photos
If you go out on a beautiful day and don't take any photos, did you really go out at all? You can go several steps beyond the usual phone selfies and record the proceedings in real style. Maybe your group has a designated photographer who whips out their massive DSLR, or you could go old-school and grab one of these cool instant film cameras. Just watch out for the dips.
A genius picnic basket
Whoever invented the picnic basket probably didn't understand how heavy charcuterie could be. Plus, wicker never seemed like the best material for lugging around an entire dining set. Increase your picnic-ing range by grabbing something like this picnic backpack, making it easier than ever to cover ground with champagne in tow.
Snacks fit for a king
The whole purpose of a picnic is to eat fancy snacks outdoors, right? What are the 1% passing around these days? Probably some top shelf cheeses and caviar -- top hat and monocle not required. Make sure you get the right container for said snacks, like this triple-stacked contraption that makes you look like a minimalist food guru.
Real silverware
Eating outdoors doesn't mean you're about to sacrifice the comforts of a modern kitchen. If you want your picnic to be the envy of the nearest frisbee game, check out some options like flashy Italian knives for all that cheese. And since you're breaking out the caviar, check out these camel bone caviar spoons.
Advertisement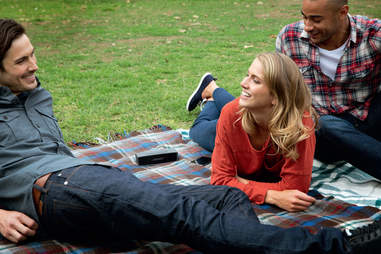 What's an awesome picnic without awesome tunes? Amp up your style with the Bose SoundLink Mini II, the finishing touch to the perfect picnic.
Photography: Nathan Perkel, Prop Styling: Sophie Strangio
Entertainment for winners
Ballers don't play hackeysack. After you've polished off wine and cheese, keep the momentum going with these cool wooden playing cards. They have interlocking slots so you can stack them together to create awe-inspiring mini works of architecture, or you can just use them to crush your friends in hearts.
Drinks served just so
Improperly chilled drinks? So amateur. Make sure your whites stay chilled with a leather wine tote, lined with fleece. You can even get it monogrammed, if that's your style. Don't forget about the IPA's, either -- these coolers make it easy to carry your favorite microbrew in style. Alternatively, rock the rugged look with a wooden six-pack holder that makes you feel like a lumberjack with great taste in beer.
A good-looking barbecue
The best picnics involve cooking up food on the spot, not just carrying someone else's snacks that were pre-made and become unidentifiable after hours in the sun. Portable barbecues have come a long way in recent years, like this barbecue-in-briefcase option. Throw in a handcrafted rosewood BBQ set and you'll be counting jealous looks while you flip skewers.
A final course
Regular chocolate bars and grocery store marshmallows? Yawn. S'mores can be so much s'more than that. Check out this dulce de leche s'mores kit, with salted caramel milk chocolate to go with your horribly scorched marshmallow. (Real pros cook their marshmallows however they want.)
After-dinner movies
Finish off your night right with an on-the-go movie. Whether you're trying to show a highbrow French film or just your favorite '80's action flick, hook it up with a minibeam projector that can turn any flat surface into a screen. Kick back, relax, and bask in the glory of having thrown the most awesome picnic of all time.