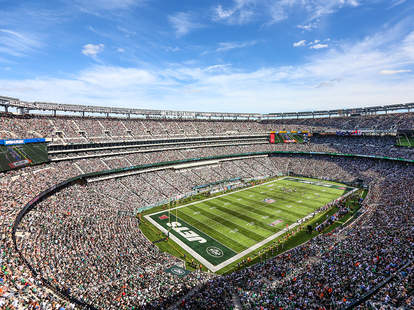 Courtesy of The New York Jets
This season, the Jets and JetBlue are launching the Jets Boarding Pass, giving you access to a new premium experience in a different section for each of the Jets' 10 home games. It's the best way to see every angle MetLife has to offer and we're here to prep you for a perfect Sunday no matter where you're sitting.
If you've ever made the pilgrimage to East Rutherford, New Jersey on a crisp autumn Sunday to see the Jets, then you know the best thing about MetLife Stadium is that there isn't a bad seat in the house. Whether you're within earshot of players, coaches, and the Jets Flight Crew cheerleaders down on the sidelines or cheering your heart out with the diehards up in the 300s, every seat and section has its own set of joys.
100-Level
You have to be ready at all times, sitting in this prime real estate. This is for the fans who need real, raw action. One moment you could be grabbing a drink from the Blue Point Pub (behind Section 143) or the Bow Street Irish Pub (behind Section 109), and the next moment you could be up on the videoboard roaring a show of pride next to the fans leading the iconic "J-E-T-S JETS! JETS! JETS!" chant. Who knows? Amped up by the sweet seats you scored via the Jets Boarding Pass you could end up leading the cheer. No pressure.
As far as gameplay views go, these are so close to the action, you can hear the QB call audibles on the field. After the play, tell your friends to look for you in every slow-mo replay, and make yourself easy to find with some outlandish fan gear. Down here, every play is a chance to brag to your friends about getting your cheerful mug on the cameras before a timeout.
When you get hungry, Boardwalk Fryer down here brings the best of the Jersey Shore -- think fried clams, chicken fingers, and fries -- to East Rutherford. You're also going to have easy access to MetLife Central, where you can grab a Jersey-worthy grilled cheese with thick-cut bacon and roasted tomatoes, mouth-watering parmesan garlic wings from Wingman or ribs, hot links, and cornbread from BBQ Shack. You're not going to want to share, so grab extra for your friends back in their seats. Or just eat their food on the way back and tell them you forgot to place their orders.
If you're in the mood for a knish or corned beef, there's also MetLife Central's New York Delicatessen. Grabbing a Jets Boarding Pass that lands you near this spot is like having an exceptional deli in your house -- except your house also has an NFL team playing outside it. Your move here is to get a hero -- pastrami or corned beef, depending on how much you like a smoked spice exterior. (But if you don't, what's wrong with you?)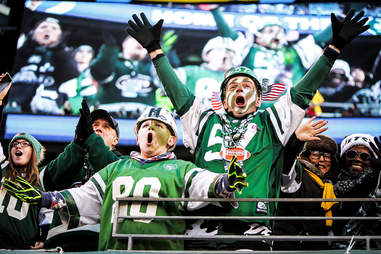 Courtesy of The New York Jets
200-Level
If the O-line is busting open daylight for Matt Forte, you'll see it from the 200-Level first. And you're going to want to keep your head on a swivel up here since this is a prime target for the t-shirts flying out of the Jets Launch Crew cannon. Those little suckers really fly and you're in a great position to snatch one up if your Jets Boarding Pass lands you in the 200 level. (You know you've always dreamed about snagging that soaring bundle of cotton; this level is your best shot at t-shirt glory.)
But don't keep your eyes glued to the gridiron too tightly. There's plenty of action up here too, so expect some surprises. Win or lose, the fans in the stands here make sure there's a party going on. Snagging a Jets Boarding Pass ticket up here means you're quite literally in the middle of it all!
When it comes to food you're going to want a Thumann's hot dog. Or two. Or probably half a dozen. Trust us, they're just that good. But get (and finish) them early, before the Launch Crew arrives, and remember not to don your new t-shirt until after you've licked every drop of mustard and ketchup off your fingers. You're not going to want a big glob of relish on your face while you're on the big screen now, are you?
One thing to keep in mind while entering the Stadium is that the 200-Level is home to the Toyota and Touchdown Clubs so make sure you're entering through the correct gate if you don't have club seats. For sections 220-232 go through the Verizon and SAP Gates, while sections 207-245 should head through the Bud Light or Pepsi Gates. No need to memorize it; the gate you want will also be on your mobile pass.
Tip: Show up hungry if you're in the club seats. Here, you can grab filet mignon sandwiches, wings, oysters, sushi, lobster rolls, and more.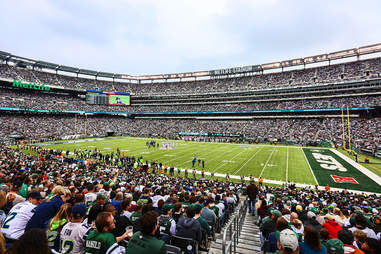 Courtesy of The New York Jets
300-Level
This section is for the die-hard Gang Green fans, where the cheers are the loudest and the passions run highest. Land a Jets Boarding Pass that puts you in the 300-section and get ready for a ride into the heart of football fandom. And luckily for you, this happens to be where the Jets team up with partners to do whole row giveaways every Sunday. That means that your Boarding Pass could become a ticket to free swag while you're watching Quincy Enunwa leave some corner sprawled out like a fool on a double move seam route.
The 300-Level also happens to be home to some of MetLife Stadium's best food options, including an unbelievably delicious meatball sub from Nonna Fusco Kitchen. This is not your typical stadium grub; the meatballs are a handmade combination of beef, pork, veal, parmesan, and basil based on chef Eric Borgia's grandmother's recipe. Let's hope she liked to cook for his friends, because she's now feeding the states of New York and New Jersey. Score a ticket up here one Sunday and you'll feel like you're back in grandma's kitchen for supper.
Savvy veterans of the 300-Level know the move here is grabbing a Muhammad Wilkerson-sized burrito from Tacos Roqueros just before the second half kicks. Its hearty serving of rice, beans, beef, and salsa will keep you full until the final whistle blows.
Word to the wise (and the beer drinker): Last call is at the end of halftime, so plan your bathroom breaks accordingly. That being said there are 1,350 total restroom facilities here so hustling back to your seat should never be a problem, no matter where your Jets Boarding Pass has you sitting.
As you can see, you've got options in your seating -- all of them with a payoff in both the viewing experience and your culinary options. But no matter what level you call home on your next Jets game, contribute to its field advantage: Cheer as loud as you can for the J-E-T-S JETS! JETS! JETS!