Lifestyle
Sponsored By
The Complete Guide to Men's Moisturizer
Sponsored By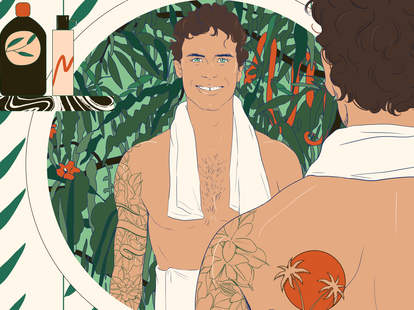 Fellas, the days of splashing water on your face before heading out the door are over. Moisturizer is a must with all the beard grooming and shaving you do, plus the windy and sunny weather we're all forced to face… face first; so we got some insight from our friends at Bulldog Skincare for Men that we're passing onto you. Keep reading to find out why you should be moisturizing what your mom calls "that sweet handsome face," when to moisturize, and what kind is right for you.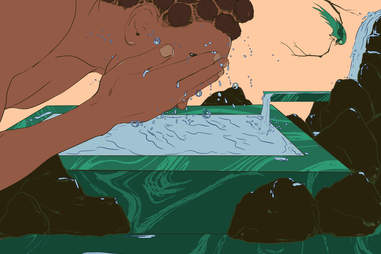 Lindsay Mound/Thrillist
Always cleanse first
Before you even consider moisturizing, there's one very important step that can't be skipped: cleansing. Washing your face will make you look good, smell good, and certainly feel good -- but there's a reason even beyond those why doctors recommend it. According to male groomer and makeup artist Carissa Ferreri, men's skin tends to be thicker and more oily than women's. "When the oil combines with dirt and dead skin cells, it can clog pores and cause breakouts," she says. Now imagine not washing all that gunk off, then sealing it in with a layer of moisturizer. Hard pass.
To ensure you don't moisturize an oily or dirty face, Bulldog Skincare for Men's product line includes three different types of cleanser. If you're not sure where to start (which, face it, most guys aren't), try Bulldog's Original Face Wash. It's non-drying and lathers up in your hands and on your face for a deep clean that leaves you feeling super refreshed. If you're particularly oily or have sensitive skin, Bulldog's got options for that, too; the Sensitive Face Wash is fragrance-free and is designed to minimize irritation and calm sensitive skin, while the Oil Control Face Wash has been specially formulated to remove excess oils.
Different skin types require different moisturizers
Dude, stop stealing your girlfriend's moisturizer out of the medicine cabinet. It's not working for you. (And it's putting your relationship in peril.) Everyone's skin is unique, requiring a different type of moisturizer. Luckily, Bulldog has a moisturizer to fit every need. If your skin type is easily irritated and prone to itchiness and redness, Bulldog's Sensitive Moisturizer is a no-brainer. Ferreri says someone with sensitive skin (as in skin that would get red easily and sting or burn after product use) would want to look for a formula that is mild and fragrance-free, with few ingredients.
And you might not believe it, but oily skin can require moisturizer, too. Just look for something "free of oil or non-comedogenic" Ferreri advises. Enter Bulldog's Oil Control Moisturizer; it contains witch hazel, willow bark, and juniper to provide lightweight hydration while giving a mattified finish.
If you feel like you're somewhere in between sensitive, dry, and oily (which most people are), stick with Bulldog's Original Moisturizer, the perfect daily companion for your face. You can also consider Bulldog's Age Defense Moisturizer, which helps reduce the appearance of fine lines and wrinkles after four weeks. Don't worry: It won't reduce those smile lines. They're your best feature.
Lindsay Mound/Thrillist
Read the ingredients
Regardless of skin type, you can't just blindly pick a moisturizer and assume it's going to work. What makes Bulldog a no-brainer is its dedication to healthy ingredients, rather than those that strip away your skin's layers and natural vitamins. You see, moisturizer should leave your skin feeling hydrated, and certain ingredients are known to do that better than others.
Green tea is found in several Bulldog products, like the Original Moisturizer, for good reason. "It's known to contain many antioxidant benefits that fight stressors that come out when the skin experiences inflammation, redness, and sun damage," Ferreri says. "It is used to combat our body's negative reaction to things around us like UV rays, air pollution, and cigarette smoke." So unless you want to sip enough tea that you're running to the restroom every five minutes (which, hey, hydrating is highly encouraged), just reach for the Bulldog.
But that's not all you should look for, according to Ferreri. "Some ingredients are helpful no matter what skin type you have," she says. In addition to green tea, be on the lookout for products that contain Vitamin E (which helps to hydrate and prevent inflammation caused by acne or shaving), aloe vera (to protect against the sun's harmful rays and soothe irritated skin), and of course, SPF.
Quality over quantity
Now that you've got the know-how, it's important you don't glob on your moisturizer. Luckily, you won't need to go heavy when it's filled with nutrient-rich ingredients. You only want to apply as much as your skin can use at any given time. When to apply and how often comes down to skin type (like most grooming tactics), so getting to know your skin is important. Bulldog's products come with instructions; the brand recommends using the Original Moisturizer, for example, both morning and night, and applying evenly to your face and neck after cleansing. After using moisturizer regularly, Ferreri says the benefits will start to show. "Moisturizing helps to lock water in the skin and create a youthful-looking brightness to the face. Fine lines and wrinkles will also appear smoother and skin will look more nourished and hydrated."
Glowing skin sounds pretty awesome to us. Good thing you know exactly where to start.