Follow These Easy Tips to Totally Upgrade Your 20s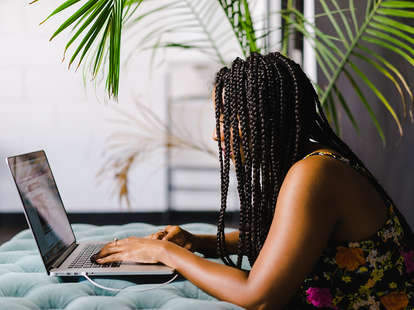 Copyright TONL © 2017
Copyright TONL © 2017
Nobody's saying you don't know how to handle your 20s. We're very proud of how you maintain good oral hygiene and almost always make it into the office before 10am on Fridays. But this is a magical time when your dreams remain uncrushed and your body is still superpowered enough to pursue them. So we want you out there savoring life. Let's tighten up your day-to-day operations so you can get back to the business of being young forever.
MAKE A BUDGET
Wait! Come back! Budgeting is to money what the gym is to strength: a small daily grind, that quickly gets you in the best (financial) shape of your life. A budget doesn't say "No" to your desires, it charts a realistic map for saying "Yes" to them. Even better, you live in an age of apps like Mint and You Need a Budget. Set up cash-tracking in a single lunch break and never do math again 'till you're counting the pile of Benjamins you use as a pillow.
You probably think you don't need a budget because you don't earn or spend a lot, but that's exactly why you do. Most of the fun you can have in your early 20s is low-budget, yet thanks to compound interest, investing a single paycheck this year earns hundreds of thousands more than waiting 'till you're 30. Right now is your most lucrative chance to invest in your future self and since we know that's something your father says, let me rephrase: You can party in Ibiza now and still buy a house in cash if you do your homework this one time.
MASTER FIVE GREAT DISHES
Learning to cook is great for your new budget, since food costs plummet even as you eat healthier. But we get it, not everybody enjoys impressing romantic partners with incredible food for pennies. Even so, learn a few dishes to get you through the week, and you'll absorb basic food prep skills to diversify later.
Cooking is also good practice for project management; nobody wants to dig around the cupboard for the right spice while the veggies are burning. A smartwatch like the Fossil Q Gen 4 Touchscreen will give you accessible tools like a timer and web search even when you're in the weeds. The first time you ask your wrist how many tablespoons are in a cup without touching a screen using raw chicken hands, you'll know you're wearing more than just a watch.
PLAY WITH (TWO GREAT) KNIVES
A quality knife will save you hours of food prep frustration. Since 90% of your slicing and/or dicing uses a chef's knife or a paring knife, drop $20 on a couple of decent knives at an off-price department store. Forgo the pricey block of specialty blades until you find a great deal. You can sub a santoku for a chef's knife in most circumstances, or even get down to one blade with a cai dao, the Chinese chef's knife (which resembles a cleaver, but is meant for finer cutting). We recommend the triangular chef's knife option: Sometimes you just need to poke a hole in something.
THROW AN ACTUAL ADULT DINNER PARTY
No, not a red cup backyard rager. Grab a recipe book, and show off your newly versatile knife skills with an elegant evening of refined conversation and fine dining. Tell friends to bring a bottle of cheap yet quality wine from Argentina, South Africa, or Australia. Put drinks and snacks in their hands when they arrive, so everybody can relax together while dinner finishes cooking. Your goal: Go out of the way to make every single guest feel like the party couldn't have happened without them.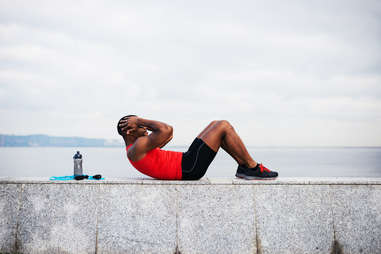 GET IN SHAPE WITHOUT AN EXPENSIVE GYM
Gyms can be absolutely worth it, but you get what you put into them, so develop the basics first and learn to appreciate the burn of exhausted muscles. Bodyweight exercises coordinate major and minor muscles while perfecting form and minimizing injury risk. You can do them quickly and just about anywhere (for free!) instead of scheduling a round trip to the gym, which leaves time to hit the bank and invest the money you saved on a membership in your IRA. Woohoo! Buff and budgeted? That's two goals with one workout. Some people pay extra for a personal trainer to plan a workout and yell at them to do it, but you can get both from your Fossil Q Gen 4 smartwatch. It uses Google Fit to remind you to work out, and tracks your heart rate while you do. Can your personal trainer tell you what's in your heart? Not unless you two are in love. It's emotionally safer to just get the watch.
MAKE YOUR HOME A SANCTUARY
Nothing says, "I'm not ready for a relationship" like having a mattress on the floor. Don't wait for a significant other to force you into a bed frame, take the initiative to make sure you present a nice abode when dinner -- or any other -- guests arrive. Ditch your posters, or at least frame them, and add actual art and photographs. Yard sales and thrift shops are a great place to get cool frames, even if you don't like the art that comes with them. Some other touches to make it look like you didn't move in last week: Hide your wires, make your bed, keep a plant alive, dust/sweep/vacuum once a week -- these are all things you can do for under $10 and ten minutes. Beyond impressing guests, you'll be surprised to come home and feel nice. The mental effects are palpable.
INVEST WISELY IN WHAT LASTS...
Now that we've shown little touches matter, always remember this: Clothes change style quickly, but accessories are timeless. Choose two great pairs of shoes that will last 'till your 30s: one dressy, one casual (if you live in a rural area, consider waterproof boots). Similarly, versatile shades and a quality belt will tighten up your look. Considering how often you'll wear both, it's actually cheaper to buy quality.
On your wrist, the Fossil Q Gen 4 Touchscreen Smartwatch is a good choice for the long haul: Its numerous functions do almost everything your phone does -- but without having to be replaced every couple of years. Since you can swap the bands and easily change the dial to display your favorite photos, you'll only need one watch to match every outfit you wear.
...SO YOU CAN EXPERIMENT WITH PERSONAL STYLES
You're in a new phase of your life so do a little personal reinvention. Who do you want to see in the mirror? Don't be afraid to err boldly. Nobody looks cool in photos 20 years later anyway. Just find your style wavelength and you can reduce the amplitude from there. Sample sales and outlet stores are your friends.
KEGELS
Everybody do these.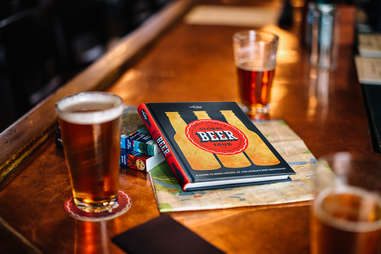 REVISIT THE BAR
Good workout. Your body's exhausted and your mind is hungry. You've earned this beer, but ditch the jam-packed happy hour/meat market where everybody's power-drinking. Take a book to the bar on an off-hour, and savor the emptiness. You're not allowed to look at your phone. Just study people or write by hand. Just BE here. You're smart. You're contemplative. Ah, so continental. People at the bar are going to want to get to know you and possibly come to your dinner parties.
PRACTICE EXCEPTIONAL COURTESY
Your new bar friends -- especially if they're older -- want to share their wisdom and see you prosper. If you care more about their well-being than your own needs, that's all it takes to be awesome. If people invest their time, money, energy, or reputation with you, the absolute least you can offer them is your gratitude. They may not expect more than that, but they sure will appreciate it. And if they don't? Be gracious and courteous, because nobody owes you anything. You'll still win, because you're improving your personal skills.
TAKE IN A SUNRISE ONCE A MONTH
Sure, you'd rather sleep in, but there's something amazing about the whole world quiet yet illuminated. It feels full of potential belonging only to you before the day begins. Also, you get the freshest bagels.
MAKE TIME FOR A CREATIVE HOBBY
Creativity is a lot more fun when it's play and not work. School gave you a meager arts education, and soon you'll have responsibilities that cut into creative opportunities. Right now is your best window to exercise your right brain. A garage band with friends is more rewarding than collectively burning $200 at the bar. Or make sea glass mosaics, draw caricatures, compose a terrarium... find something that makes you look at the world differently. In the old days, it was necessary to carry a notepad everywhere to save ideas when creativity struck, but the advantage of a Fossil Q Gen 4 watch is not only one less item in your pocket, but recording memos and musical ideas is as easy as lifting your arm.
USE YOUR RESILIENCE TO TRAVEL
It is possible to travel without destroying your finances. Luxury hotels are for old people who never leave the resort anyway. All you need is a clean, comfortable bed and locker so you can explore the area. Find reputable hostels and sleep well for the cost of a movie ticket. Transitwise, we can't lie to you: Buses are rough. The trick is to accept what's coming and build mental space to accept it. You may find you get a better story riding in a farmer's wagon than you would on the speed rail.
Technology's your friend to soften the impact, letting you travel light and tight with resources like music, calendar, email, payment methods: things that used to fill an entire backpack. That Fossil Q Gen 4 Touchscreen Smartwatch is not only going to put it all on your wrist, it's harder for someone to steal while you sleep. The watch even updates time zones automatically, so your alarm won't fail to wake you before your stop. Now get out there and make some fantastic mistakes of your own.