A full-time job saves a woman from homelessness
So fair warning: you're here to read about the extravagances of the rich and famous, and we'll get to that. But sometimes the biggest presents aren't the flashiest. They can be something simple like an opportunity. But if that opportunity makes the difference between having a roof over your head and being homeless, then that present might as well be as big as a house.
That's what Bredette Dyer of Santa Cruz, CA learned when in 2014 her rent increased by $300 a month -- well beyond what she could afford with her part-time job. But upon hearing the news, Dyer's manager at Garden Store spoke to the owner, and increased her hours to full time: a gift that not only kept Dyer from homelessness, but gave her the means to maintain a home herself. And then Garden Store threw in a free Christmas tree too, just to show off how good they were at the whole generosity thing.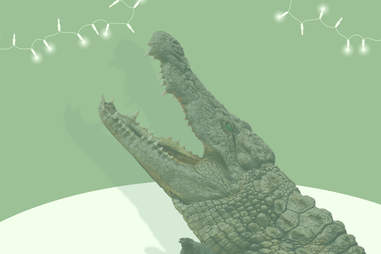 Mammut Vision/Shutterstock/Daniel Restrepo/Thrillist
Beatrice Lillie sends Noël Coward a Christmas alligator
If a small gesture can save someone's world, it's also true that an extravagant gift doesn't mean it's pleasant. In 1951, Beatrice Lillie was a popular comic actress and Noël Coward a successful playwright known for his wry, unflappable wit. She had starred in many of his productions, but the two had a love-hate relationship. The story goes that Lillie did a little shopping for Coward at the famed Harrod's department store, known for procuring unique items -- in this case, a live alligator she sent to Coward with a note reading, "So what else is new?"
Beyoncé watches Jay Z like a boss
Did you know that millionaire pop stars like to buy lavish gifts? No? Is that why you haven't released your multi-platinum album yet? Because if you did maybe you could buy your significant other the kind of badass watch Beyoncé bought for hubby Jay Z in 2013. Yep. Specifically, a $5 million watch that you might assume is fashioned from Wolverine's bones and encrusted with Faberge eggs. Actually the truth is slightly more ridiculous. The Hublot Big Bang Tourbillion contains 1,276 precious stones, and hopefully, for that kind of money, can help you travel in time as well as keep it.
But it seems you don't have to be married to Beyoncé to be on the receiving end of her generosity. That same year she visited a Wal-Mart and announced that she would pay the first $50 dollars towards the shopping of everyone in the store. Incidentally, this was the perfect time to buy a Hublot Big Bang Tourbillion watch for the low price of $4,999,950.00.
Saami Ansari/Shutterstock/Daniel Restrepo/Thrillist
The world's most English couple makes a house a home (and a salon)
Did you know they give big presents in England too? Of course, you did. You've read A Christmas Carol.
Meet Billi Mucklow, the former star of the English reality show The Only Way Is Essex (a.k.a. "TOWIE" -- it's England's version of The Jersey Shore). Her boyfriend, Andy Carroll, is a famous soccer player who seems like a pretty rad guy, considering he up and built his lady her own private hair salon. Yep, just gifted her a dedicated salon room.
And while anybody can pay to have a sink installed, Carroll amped it up by building the salon as a secret room in the couple's new house that only his girlfriend has the key to (although presumably so does her stylist?) and branding it "Billutifuls." He even installed frosted mirrors and purple neon lights for the full classic salon style.
When the two moved in together during the holidays, Mucklow was surprised and delighted to find she had her own hidden clubhouse. Not quite as surprising? Carroll saved one mirror for their bedroom ceiling. Prudent foresight from a soccer star who gave his beloved the gift of a lifetime.
Taylor Swift's gift to Harry Styles can't be beat
Taylor Swift can apparently give boyfriends something other than break-up songs, and in 2012 she did just that when she dropped $80,000 on Beatles memorabilia for then-boyfriend Harry Styles of One Direction.  Although the purchase was confirmed, there are no details on where Harry stored every one of Paul McCartney's used toothbrushes or if Swift wrapped them all individually. Whatever Beatles stuff Swift actually bought, it's safe to say there's no trace of its influence in One Direction's music.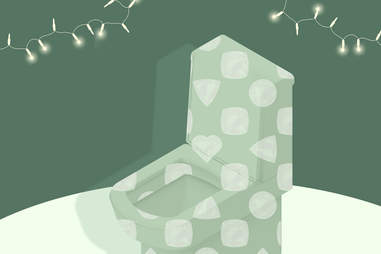 yum-yum/Shutterstock/Daniel Restrepo/Thrillist
Ben Affleck gives J-Lo a metaphor
Recent events probably have you thinking that Superman vs. Batman was the most bombastic creative failure that Ben Affleck's been associated with, but back in 2003, he apparently bought then-girlfriend Jennifer Lopez a gem-encrusted toilet seat. What's worse then buying your girlfriend a $105,000 toilet? Designing it yourself, which Ben allegedly did. "Honey, I was gonna craft a beautiful necklace for you to wear around town, but then I wondered, how can I spend lots of money while in conjunction with bodily waste?"
In Bennifer's defense, Ms. Lopez's rear was quite famously admired in the press at the time. Although her talents as an actress, dancer, and singer should be her legacy, let's hope he wasn't commenting on those with his choice of presents.
A frugal court reporter turns out to be a very generous millionaire
Despite what the aforementioned rich folks might have you believe, the biggest gifts aren't the flashiest. As proof, consider the woman who reshaped her entire town. In 2003 a Virginia court reporter had amassed $3 million by living incredibly frugally. And what did she do with all that cash? Put a 67% down payment on Jay-Z's blingtastic watch.
No, actually she left most of it to charity in her will. Ruth Greiner of Bristol, VA never even owned a clothes dryer, and by living earnestly as a court reporter for 60 years(!) was able to leave $1.2 million to a church and hundreds of thousands of dollars to local arts and charitable organizations.
Greiner, who had also inherited some of her money from her late father and husband, continued to work and live far within her means when she didn't have to. A life humbly spent meant massive donations to charitable causes after she passed. She didn't just give a few million bucks; she gave her entire life to helping out her community by practicing her asceticism.
And if that isn't the definition of giving, what is?
Gladstone is the author of the Internet Apocalypse Trilogy on Thomas Dunne Books. Book three, Reports on the Internet Apocalypse, comes out November 1st, 2016, and is available for pre-order now. He has also written for Cracked.com, Slate, Time Out New York, and Maxim, as well as contributing to The Onion and McSweeney's Internet Tendency.