Paid Content For
Jim Beam Apple
Going Back to School in Your 30's is Easier -- and More Rewarding -- Than You Think
Paid Content For
Jim Beam Apple
Whether it's learning a new language, (finally) learning enough math to handle your financials like a whiz, or becoming an expert in the one skill that will put your resume over the top, heading back to college can be an even better investment than it was the first time. While it's obviously a major investment of cash and time (yes, your weekends may involve essays, again), the return is even better now: higher paying jobs, a more impressive resume, a bigger paycheck, or just being a more interesting, educated human being. And since you're already a fully-formed adult, this time around, going back to school is blessedly easier than you remember. Here's why:
You're much better prepared this time around
Unlike the first time around at college, staying home to read a book as an adult inspires neither guilt nor FOMO -- it's actually quite pleasant. This is one of the many advantages of being an older student. It's actually been shown that more mature students do better in school. Researchers in Canada performed an extensive study of community college students, and their findings suggested that mature college students (those over 25) actually performed better on their final exams (on average six to seven points higher) than their younger counterparts. This data makes sense if you think about it: you've already had a chance to travel and find yourself (and spent weekends perfecting your beer pong game), so you can finally focus on getting your degree first when you make the decision to go back. Plus, you've already had to do tedious things like taxes and credit card applications, so taking notes should be a breeze.
Hate your job? Study your way out
One of the great things about heading back to college for a second degree or certificate is that the rewards are immediate and tangible. Your first time around, it's not always clear what the long-term rewards of struggling through statistics are. But when you know that the stats you learn may be the way to escape from a less-than-ideal work situation, it's a lot easier to dedicate yourself to mastering the skills required. And once you've got those skills, you can sell them to employers who might treat -- or at least pay -- you better.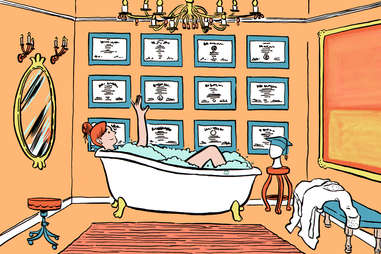 Like your job? Stay, study, and get a sizeable promotion
Of course, you don't have to pack up your desk and burn your bridges to get the benefits of a few extra credits. You can also better your prospects while remaining a good company man or woman by furthering the degree you already have rather than starting something new. CareerClout career counselor Todd Gareiss often recommends a secondary degree for those whose interests coincide with an in-demand niche, like real-estate finance, as opposed to a traditional MBA, which tends to saturate the market with candidates at regular intervals. U.S. News specifically cites law, financial management, and nursing anesthesiology as fields where adding a 30-odd credit Master's degree can have the immediate effect of bumping your median potential salary well into the six figures. There are few limits to the skills you're able to market if you take a gamble on yourself and head back to school. Gareiss does, however, recommend part-time and online programs which allow you to keep your current job while training for a new one, and more importantly save you from spending that entire pay increase on new student loan debt. Plus, you can do it from the convenience of your own home (no dorms and wearing shoes in the shower for you, you fancy adult, you).
Learning online is super easy, PLUS your boss may pay your tuition
Online programs have made going back to school seamless for working or busy adults. All you need is an internet connection to get to class, rather than trekking across a giant campus or (worse) trying to find parking as a commuter student. And despite some skepticism for the quality of online programs, experts attest that they are often just as good as traditional degrees, where students sit in classrooms. In addition to the flexibility, it offers students the ability to communicate through technology -- both with other students and with teachers. This combined with it being more affordable, explains why according to a study in U.S. News, online enrollment has steadily risen since the fall of 2014.
It's also far less pricey than attending traditional universities and private schools because you're not paying for room and board, and you can study while earning income at your job. Besides all that, it may actually be even faster to get your degree online. Many online programs cut the fat by providing targeted degree options that take away extraneous classes that aren't directly related to your major. (That means no more forced languages or "math for poets" classes). Not to mention that in your adult life, you have someone other than your parents and the federal government to hit up for tuition: your boss. As long as you're not planning to study for a new career and abandon them, it behooves your employer to help you educate yourself. In addition to smarter, well-trained, happier employees, they get a good old tax break for their generosity. Up to $5,250 of employer-provided educational assistance is tax free, even if it's for classes that aren't related to your current gig, according to a recent study by the American Institute of CPA's (and those guys know their tax laws).
You can tailor-make your education for a burgeoning industry
The Bureau of Labor Statistics' most recent study, which projects job openings all the way up to 2024, cites the need for 81,000 computer programmers in that time period, more than 400,000 chefs, and 169,000 financial managers -- just to name a few career paths set to open up. According to the study, availability in certain areas is set to explode, due to factors such as low graduation rates from those programs or high retirement rates. Some of these areas of high loss over the next few years, like bartenders, carpenters, or cashiers, might not require a full-on return to college, just a few courses to get a certification. Other, in-demand professions like translators and physical therapy aides, require only an additional degree. If you strategically tailor your studies, it won't take you 10 years to make your career goals come true.
You can embrace your inner jack-of-all-trades
Maybe you're thinking of going back to college to gain a skill for you rather than your resumé: like, you want to impress attractive strangers at the museum with your masters-level knowledge of art history or up your meal-prep skills with new-found culinary chops. Whatever nagging academic desire you had and never got around to mastering, it has a new chance at life in your 30s. Plunging yourself back into an academically-charged environment is one of the best ways to make sure you finally master it. And there's no reason to be worried about having to start a new subject with true undergraduates: According to the National Center for Education Statistics (NCES), 33% of undergraduate students in the US are over 25, and 22% are over 30. That's because those people all have something in common: "They're go-getters. They're determined to better themselves and won't take 'no' for an answer," Gareiss says. So don't worry, you won't be the only one in class with salt and pepper hair trying to take the next step in your career, whatever you decide that may be.
With additional writing and reporting by Christie Rotondo.