9 Golf Experts On How They Fell in Love With the Game
Liana Cervantes/Thrillist
Liana Cervantes/Thrillist
Joshua Jacobs
CEO of TGA Premier Junior Golf
"I was introduced to the game by my grandparents at age 3, and I fell in love with it because of its broad appeal and unpredictability. You can play on the same course in the same group with family, friends and people of all different ages and abilities. And no shot or condition is ever the same. It's like life itself: there's always something new to learn."
 
Robert Trent Jones, Jr.
Golf architect
"Although I was born into a golf family, the moment that I first felt truly energized by the game came when I was 13 years old. I was playing with my brother, Rees, at Montclair Golf Club in New Jersey. We teed off on the par-three fifth hole toward an uphill green. I was too short to see here the ball went. We couldn't find it anywhere. Then Rees looked in the cup and there it was: my first hole-in-one. From that moment, I was hooked."
 
Gary Player
9-time major championship winner; member of World Golf Hall of Fame
"I was 14-years-old when I played my first round of golf. My father took me to Virginia Park just outside Johannesburg. I was resistant to the idea, thinking golf was a sissy sport. But it was love at first sight in more ways than one. In the pro shop, I met a really beautiful girl whose name was Vivienne. Then I went out and parred the first three holes. I was hooked right then and there. But I knew if I wanted to become a professional I had to practice harder and longer than any man alive, and so I did. Oh, and I later married Vivienne. We celebrate 60 years together in January."
Liana Cervantes/Thrillist
Alison Lee
LGPA Tour player, member of the 2015 Solheim Cup team
"To be honest, when I first started playing golf at 5 or 6 years old, I didn't like it. My dad had to bribe me to play with him when I was kid. But then when I was 7 years old, I played in a tournament and won. The rush of the competition and feeling of being under pressure -- it motivated me in ways I'd never experienced. That same motivation still drives me today."
 
Damon Hack
Co-host Golf Channel's Morning Drive
"The beauty of golf is that it gives you the chance to fall in love over and over again. I fell in love the very first time I played -- at Spanish Hills in California -- and again when I received my first set of clubs, Arnold Palmer Peerless irons. I was heartbroken when Greg Norman blew the Masters in 1996, but I fell hard for the game again the very next year, when Tiger Woods romped by 12. The older I get, the more I fall in love, with every sunset round or bucket list course checked off. The beauty of the surroundings and the challenge of the game got me hooked. And they still keep me smitten."
 
Jim Gallagher Jr.
Five-time PGA Tour winner; Golf Channel analyst
"Growing up as the son of the club professional at Meshingomesia CC in Marion, Indiana, I was exposed to the game at a very young age. Surprisingly, though, it was my mom who would take me out to our backyard, which was really the 17th hole of the club, and help me with my grip and anything else she could remember my dad telling her about the swing. She kept it simple. As I grew older, my dad was able to take a little more time off away from the shop, and he would also teach me the basics of the golf swing. Dad would allow me to stay out there just long enough for me to want to come back the next day. The key was to know when to make me stop playing so I'd beg to come back. And I would. I would dig holes in the back yard using Campbell's soup cans for cup liners and play all around the house if dad was not able to take me out himself. It wasn't a long course by today's standards but it was my Augusta National right there in my backyard. What started for me at age 3 has become a lifelong long passion that I've passed on to my own kids. I credit my mom's patience and my dad's love for the game for giving me the incredible life in golf I've had."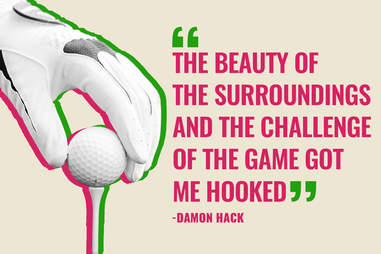 Liana Cervantes/Thrillist
Joe Passov
Travel editor and chief architecture critic for GOLF Magazine
"My grandfather introduced me to the game when I was a young boy in Ohio, and so that's how it started for me -- a chance for a grandson to spend time with his grandpa. As I got older, I came to appreciate the courses themselves, how they were all beautiful in their own way. To this day, that's where my love of golf is rooted: it's in the beauty and infinite variety of its playing fields."
 
Brian Henninger
Two-time PGA TOUR winner
"There was so much to it. There was the beauty of the golf course, and the sound of spikes hitting the asphalt. There was the thrill of caddying for my father and the bonding that took place. And then there was the clincher: the first time I hit a golf ball really, really far."
 
Gerina Piller
LPGA Tour Player
"What made me fall in love with golf is the competition. In other sports it's one team versus another team, there's a winner and a loser, but for golf there's 144 girls and you have to beat 143 girls to win. I look at it as the biggest of all the sports, but the smallest ball and putting it in the smallest hole."