The Great Lakes may not overwhelm with the sparkling West Coast magic of Malibu or the rugged East Coast charms of Martha's Vineyard. But as pretty much the entire state of Michigan can attest, you don't need an ocean to find a kick-ass beach. Hell, the Great Lakes coastline is nearly twice as long as America's Atlantic coastline, making a formidable playground in the middle of the continent. For some of these, pack your passport. For all of them, bring your trunks.
Oval Beach
Saugatuck, MI
The main attraction in one of Michigan's best beach towns is easily the pristine Oval Beach (also lauded by the Chicago Tribune as the finest beach in the Midwest), where you can rent kayaks, sailboats, and even do a little sport fishing. The beach may not be as isolated as others, but it'll keep you busy, with sand dunes and paddleboat rides also vying for your attention at this Hamptons-style retreat -- not to mention, in nearby Douglas, the excellent Saugatuck Brewing Company. Fill up your growler, hit the beach, repeat as necessary.
Ohio Street Beach
Chicago, IL
Not many beaches in the US give you gleaming Downtown skyscrapers RIGHT THERE, but Chicago rolls them out, and little Ohio Street Beach is easily the city's most overlooked. While meatheads chug brews at the nearby North Avenue and Oak Street Beaches, this quiet Downtown nook is the perfect place to spread out a blanket, wander the excellent (and also criminally underrated) adjacent Milton Lee Olive Park, or knock back drinks at the cabana bar Caffè Oliva.
Sleeping Bear Dunes National Lakeshore
Empire, MI
The most beautiful place in America (a hundred thousand Good Morning America viewers can't be wrong) has all the usual lake fun -- kayaking, camping, hiking -- set against freakishly huge glacial-deposit dunes. Here you can peep a lake sunset from a 450ft-tall, westerly-facing mountain of sand, or you can stay in the car and take in the scenes from the 7.4-mile Pierce Stocking Scenic Drive. Nearby Glen Arbor likewise is full of bars and restaurants with fine lake views, like the romantic waterside eatery Blu. The best way to spend the day? Post up at one the several sunny, bluff-side beaches that line this glorious 35-mile stretch of Michigan coastline (like the secluded Peterson Road Beach) and just chill.
Sauble Beach
Sauble Beach, Ontario
The motto of the town that shares its name with this beach is "Live Life Slow," which tells you pretty much everything you need to know about this outpost on Lake Huron's Bruce Peninsula. At seven miles long, it's one of the world's longest freshwater beaches -- with shallow, warm waters colored a near-Caribbean turquoise. The well-maintained beach offers soft sand and glorious sunsets while the town sparkles with a cool California vibe. Despite being in, you know, the bottom of Canada.
Ludington State Park
Ludington, MI
Ludington State Park offers more than just miles of pristine beach. There's also forest, a lake, and a river for those times when you know you're getting too much sun but are too lazy to do a damn thing about it. Luckily at Ludington, options abound: fishing, canoeing, and biking. Although, let's be honest, you're not really thinking about leaving the beach.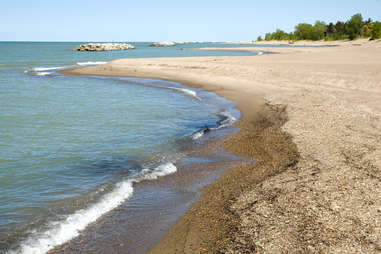 Presque Isle State Park
Erie, PA
This Midwest gem juts out into Lake Erie on a stunning, arching peninsula surrounding Presque Island Bay and, in addition to historic lighthouses and 34 miles of trails, offers 13 beaches to choose from. They are all numbered and everyone has their favorite (don't skip number six), but any beach you stumble across will offer everything you need plus the gentle sounds of waves crashing onto the rocks -- giving this local treasure more of an ocean feel, ideal for staring into the waves and contemplating life. Or your next meal.
Holland State Park
Holland, MI
The most used park in the Michigan state park system offers pristine white sand on a wide, busy beach that's big enough for you to scratch out your own quiet space. Stroll along the surf, toss the Frisbee around, or set up the BBQ in the picnic area and make friends. The dunes lining the shore are suitable for wandering off to find some solitude or getting a gull's-eye view of the sunset over Lake Michigan. The beach is whatever you make it, kid.
Big Bay State Park
Madeline Island, WI
The Apostle Islands are both the most beautiful AND the most underrated attraction in all of Wisconsin (sorry, Mars Cheese Castle, we still love you). So when you get tired of kayaking through ridiculous sea caves, island-hopping, or hiking through serene backcountry, it's time to pack the beach bag and plop it at Big Bay State Park on Madeline Island (accessible via a 20-minute ferry ride from the town of Bayfield). Wintertime bonus adventure: walking along the massive ice chunks that form when the top of Lake Superior freezes solid, jostles apart, and re-freezes.
Warren Dunes State Park
Bridgman, MI
Located about 20 minutes north of the Indiana border, Warren Dunes State Park is where you go to play out your Frank Herbert-inspired fantasies, scaling 240ft-tall dunes and proclaiming that, yes, he who controls the spice controls Southeast Michigan. After you tucker out, sink into a lawn chair and space out in the sand, under a blank sky, surrounded by quiet nature trails. If you're thirsty, the boozy town of Sawyer is just down the road. While you can camp, you can also stay in one of the Midwest's nicest places to cabin your ass off. Which you totally should.
Park Point Recreation Area
Duluth, MN
Sandwiched between Lake Superior and Duluth Harbor in one of the Midwest's most underrated cities, this seven-mile sand dune is the world's longest freshwater sandbar and a popular spot for kite flying, beach partying, and when the waves kick up, even surfing. The beach, skinny though it is, abounds with wildlife and, in the peak of the summer, scantily clad sunbathers. So yeah, it's kind of like Miami Beach. Only it's Minnesota. So maybe Miami Beach crossed with Winnipeg.
Sign up here for our daily Thrillist email, and get your fix of the best in food/drink/fun.
Jay Gentile is a Thrillist contributor and he always packs plenty of cheese with him for the beach. Follow him @innerviewmag.