The 13 Coolest Hammocks You Can Buy Right Now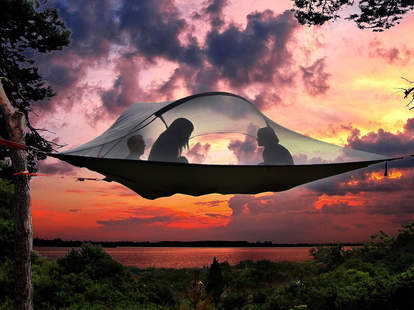 It's summer, meaning it's time for grilling, chilling, and hammocking like nobody is watching. We've rounded up the best apparatuses for summertime snoozing -- all of which involve lounging between two trees, or a stand if you don't have trees at the ready. Now get ready to maximize your chill by floating off to dreamland in one of these.
Courtesy of Hydro Hammock
The Hydro Hammock is what happens when a hammock and a hot tub love each other very much and create one of the greatest, although completely unnecessary, relaxation vessels. It's made from a durable fabric that can hold 50 gallons of water and two adults, plus its heating system will keep things steamy for hours, and even charge your phone.
Courtesy of Tentsile
While a regular hammock will elevate your body (and your life), it won't remove you completely from critter range. The Vista Tree Tent can be suspended high enough to dissuade most animals from seeking out a bite or two. Plus, it supports three grown adults, and because you can completely remove the top, we're considering it hammock, dammit.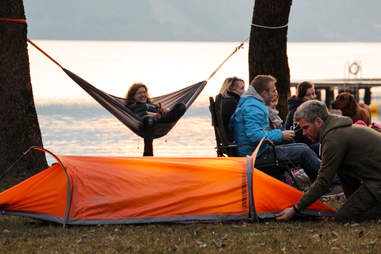 Courtesy of Flying Tent
Not only is it a hammock, but you can attach a top and secure it to the trees to make a floating tent, set it up on the ground as a bevy tent, use the package as a comfy seat, AND the hammock can be converted into a poncho for when the weather goes sour. It's like the Swiss Army Knife or Troy Brown of hammocks.
Courtesy of Fatboy
Okay, technically, you won't be suspended from trees in this. BUT you will still be floating on air in this inflatable hammock, achieving maximum relaxation. Plus, it's way easier to lug to the beach than one of those freestanding hammocks. You'll basically pull it around like a kite to inflate it, and after everyone is done laughing at that, you'll be the envy of the shore.
Courtesy of Hammocraft
These vessels are adapted for SUPs, rafts, drift boats, and duckies, so you can drift off after you've had a few beers on your float. Plus, the hammocks are crafted out of the same materials used for white water rafting, although we suggest you stick to the rivers and the lakes that you're used to.
Courtesy of Clayborne
Only monsters nap without a blanket, as there's truly no way to achieve maximum snuggli-ness without at least a sheet. We're assuming you're not one. This hammock is basically a sleeping bag that gets suspended from the trees, so you'll be able to take a proper snooze while you gently swing in the breeze.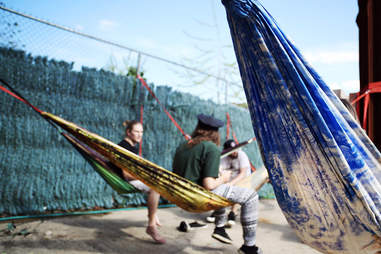 Courtesy of Infinite Bit
Why go to Burning Man when you can just cop this hammock, which is a digitally-designed trippy art piece. It'll satisfy some of those ridiculous urges, but with so much less sand in your shorts.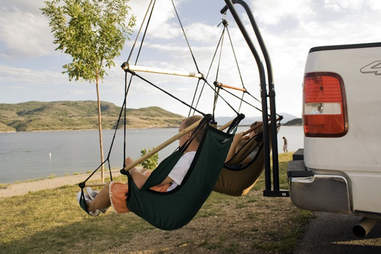 Courtesy of Hammaka
Now, you don't even need a tree to get your aerial chill on -- these hammock chairs swing from an attachment to your trailer hitch, perfect for after you've had 10 hot dogs at a tailgate or grill party or weird RV park initiation ritual.
Courtesy of Kammok
If you've ever woken up from a nap outside in a puddle of your own drool and half your face completely sunburnt, you can breathe a sigh of relief. This hammock and shelter setup is designed to shield you from all the elements, as well as nurture and protect you. So feel free to crawl into the fetal position and sleep like a newborn.
Courtesy of Trinity Hammocks
The Infinity Hammock removes all the anxiety of having a partner in hammock crime, as its double design allows you to peacefully nap alongside another person without flipping over. Plus it comes with a tiny suspended table on which the two of you can place drinks with tiny umbrellas.
Courtesy of Hacked Pack
You should always be prepared for emergencies: snack emergencies, weather emergencies, fashion emergencies -- that includes nap emergencies. There is no better way to be fully prepared than with the Hacked Pack, which is a hammock built into a backpack. Then, when you see two perfectly placed trees, utility poles, or stationary and very sturdy people -- you'll be ready.
Courtesy of Toer
You know what would be nice? Falling asleep in a warm field of grass. You know what isn't nice? Dirt, bugs, and youths trampling on you. Bring the grass (or, the grass-like synthetic polyamide pile fabric) to you in this Field Hammock and you'll avoid all that nonsense.
Courtesy of Hammacher Schlemmer
This hammock was clearly designed giant axe-wielding lumberjacks in mind, as it's wider than two king-sized mattresses and can hold up to 1,000 pounds. That means about five of your friends could comfortably hang out on it, or, as the retailer points out "a herd" of children (though we believe the official term is a "soul crush" of children).