Paid Content For
Coors Banquet
How an Extinct Bean Accidentally Made Me a Farmer
Paid Content For
Coors Banquet
Christopher Leaman
Christopher Leaman
There are nearly 300 different types of tomatoes growing on Tim Mountz's small, 10-acre Happy Cat farm in Chester County, PA. He's also got 140 different varieties of vegetables grown exclusively for heirloom seed packets, and a mix of greens, cucumbers, carrots, peppers, and radishes that haven't been grown in Pennsylvania for decades, or that are from as far away as India and Mexico.
Small farms preserve the local heritage
Mountz started Happy Cat in 1993, when, after his grandfather was killed in a car accident, his grandmother handed him a jar of beans her late husband had collected. While his grandfather wasn't a farmer himself, he had grown up on a farm, and his family had been working the land in Lancaster and Berks counties since 1683. Mountz had spent lots of time with his grandfather in their family "garden" (an acre of vegetables for two people, so garden is a term he uses loosely), making him the logical heir to the jar.
"Nobody has seen this bean in 75 years. It was extinct until you poured it onto my table."
His fascination with the beans doubled after he read a book on heirloom vegetable gardening by William Woys Weaver, and contacted the author to see if he wanted to check out his stash. When the two men met, something amazing happened.
Mountz recalls, "There was one [bean], he put in my hand and said 'Nobody has seen this bean in 75 years. It was extinct until you poured it onto my table.' It was a goosebumps moment."
He went on to work with Weaver for a year, "learning a ton about not only the history of plants, but the history of the people [German immigrants in the Lancaster, Berks, and Chester Counties] and my culture, the culture that makes up agriculture. It was fascinating," he said. Eventually he stopped studying landscape architecture and moved from Philadelphia out to Chester County to start a full-time farm.
"I realized then that you don't choose your legacy, your legacy chooses you," he said.
It's a struggle to keep obscure breeds on people's plates
Before the industrialization of agriculture, there were hundreds of different varieties of specific plants and vegetables, mostly passed down through generations of families and ethnic groups because they adapted well to the specific land they were grown in -- a less intangible terroir.
Today, though, we're bombarded with crops that are grown to be consistent, travel well across the country, and produce at high levels. What we now think of as "heirloom" is a package of tomatoes in different red hues at the grocery store. But there are some farmers, like Mountz, who specialize in reintroducing some of these bygone varieties back into our diets.
"These vegetables have all these fantastic stories behind them with all these amazing people," Mountz said. "I see people growing all this bland, hybrid stuff and maybe that produces a little bit better, but this varietal -- I can't take this varietal to market because the second you pick it and put it down on something it bruises. You have to eat it right there in the field. You have to be outside and experience the whole package. Working through that first sweat of the day and with a sore back from the day before, and the dust and the dirt."
Competitors are giant... but can't offer the same depths of flavor
Of course there are hardier varietals that Mountz can take to market. But it's the variety that makes his crops so desirable. The yellow pear tomato, for example, looks just like it sounds, and is sweet enough that it was used mostly for desserts in the 18th century. The Black Krim, from the Isle of Krim in the Black Sea, is a dark purple tomato and Mountz describes its savory flavor as "the most amazing thing you will ever put in your mouth."
There's a pretty good chance that the last tomato you ate came from a "large farm," which the Department of Agriculture defines as one that makes more than $1 million in income each year. Large farms make up only 3% of all the farms in the United States, but they control the bulk of vegetable sales, about 65%. And their standardized crops are great for reliability... but not as great as having a rainbow of tomatoes to taste. Moreover, variety is essential to a healthy species. Homogeneity is why bananas are threatened by a spreading fungus right now.
Small operations like Mountz's, however, constitute the overwhelming majority of farms in the United States, and while they control most of the direct farm-to-consumer sales (like at farmer's markets), they still aren't getting in on that big piece of the tomato pie.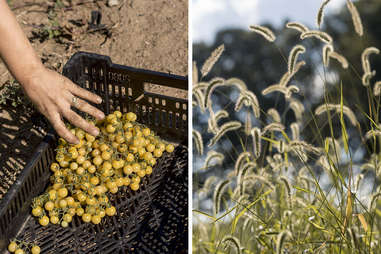 You can do everything right but nature gets the final say
Even within their stake in the market, things are not always easy at Happy Cat. Just this past spring, Mountz had lined up six planting days in May. It was cold in Pennsylvania, and on the few days it wasn't unseasonably cold, it was wet. In the unforgiving math of agriculture, six planting days were done in only three. Come the end of July, it's normally time for the "tomato tsunami" (as he calls it), when he'll harvest 2,500lbs of tomatoes a week. Instead, it's only drizzling; the farm has only harvested 400lbs.
There was hail the week before that, but luckily, nothing was really harmed. When it's summer, and hot in Pennsylvania, a sudden storm could mean disaster, so he's constantly keeping an eye on the weather. Selling heirloom vegetables, which require more tedious work to cultivate and harvest, means that some pieces of produce can earn a price tag of up to $5, which can cause some farmers market customers to balk, and competitors with larger farms to try to undercut his bottom line.
"If you get caught up on the challenges, you should do something else, because every day is a challenge," Mountz said. "A big mower broke last week, then a weed wacker broke. It all happens at once, and if you aren't optimistic about it you're being a curmudgeon and people can taste that in your food."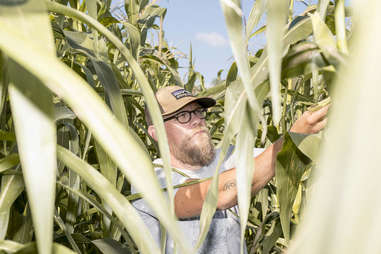 Ultimately, it's worth it
Happy Cat is looking to expand its seed packet business, where they already package more than 13,000 packets by hand. They also make sauces, ketchup, and jams -- and recently opened an online store to modernize the selling of their ancient harvest. They even teamed up with a nearby brewery and local dairy farmer to bring back an old-school farming concept, the "CSA" (or Community Supported Agriculture) box. A person pays up front for the entire harvest season, then each week gets a curated box of beer, cheeses, and a share of the veggies that were harvested.
"You're just ready to call in a napalm air strike and have this whole thing burned to the ground."

Happy Cat has a few wholesale accounts and sells at farmers markets around the Philadelphia and Pennsylvania area, and works directly with some restaurants. Mountz's big plan, though, is to eventually put a pizzeria or taqueria on the farm, then drive a "tomato truck" around Philly, a traveling farm stand to bring his rare tasting experiences directly to the people.
"There's one tomato we grow, it's called Rosalita. It's very tiny, olive shaped, and it's pink -- almost metallic pink. It's really a great tomato and it's really early producing," he says. "And a lot of time I will be standing in the tomato field, after we've planted 10,000 tomatoes, we've staked them, we've suckered them. It's just so much work and you've thought about it for so long, like from the winter or the fall before, and you still have all the work of harvesting ahead of you. And you're just ready to call in a napalm air strike and have this whole thing burned to the ground.
"And you look over and there's this little pink gem, it's the first one, and you pick it, and you eat it, and your eyes roll back in your head. And you're like 'This is why I do it.' And then it's over, and you get back to it, and you continue to work hard."