Paid Content For
Chevrolet
Compact Design Trends That Are Changing the Modern Landscape
Paid Content For
Chevrolet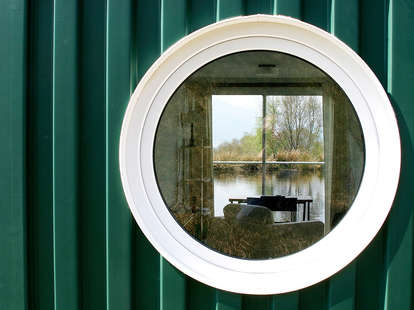 <a href="https://www.facebook.com/officialcontainercity/photos/a.305664669517943.73670.305664039518006/327099964041080/?type=3&amp;theater" rel="nofollow" target="_blank">Container City/Facebook</a>
<a href="https://www.facebook.com/officialcontainercity/photos/a.305664669517943.73670.305664039518006/327099964041080/?type=3&amp;theater" rel="nofollow" target="_blank">Container City/Facebook</a>
Compact design is changing how we live, how we travel, and even how we think of libraries. It creates opportunities to use unconventional building materials and get creative with space. Compact buildings, for example, leave more room for more preserved, open areas. And unless you like staying inside all the time, green spaces are hugely beneficial to your sanity and give you more chances to socialize with your community. This isn't just a ploy to make you feel better about your 300-square-foot, $2,000-a-month apartment.
Personal sleeping pods
Opened in 1979, Capsule-Inn in Osaka was the world's first capsule hotel. This basically means you sleep in a human-size pill tablet, but two layers of mattresses make it a cocoon of fluffiness. And even though smoking is prohibited in the capsules, they're outfitted with a sprinkler system, just in case. If you start to feel claustrophobic, most capsule hotels have common areas with amenities like spas, pools, and saunas.
Tubohotel in Tepoztlan, Mexico, is jumping on the smaller-is-better concept, squeezing queen size beds into recycled concrete tubes. Like capsule hotels, bathrooms are outside your room… highly unfortunate if you're one of those people that always has to use the bathroom in the middle of the night. The pod idea is also making its way to airports (it's about dang time) with Minute Suites in places like Dallas/Fort Worth International, and GoSleep in Abu Dhabi. Because sleeping across three chairs on a layover is the worst.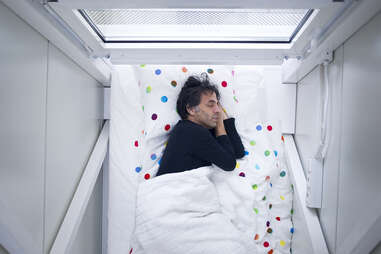 Teeny, tiny, takeaway houses
There's an entire movement around tiny houses and living small, for people who are concerned about the environment -- and the financial impact of purchasing full-size living quarters. Many compact cottages that you can order are mobile, meaning when you get tired of one location you can plop it down somewhere new (pending you own land or have some other legal method of squatting). Most are also prefabricated (like Monarch Tiny Homes) so you can order a home. Right. Now. Of course, you'll also need a few thousand bucks, but it's way simpler and more efficient than having a monthly mortgage.
Small houses are between 100 and 400 square feet versus the typical American home of 2,600 square feet. Most of these spaces still manage to magically pack in a bathroom, kitchen, and sleeping area. Of course, if prefab homes and finding land isn't your thing, there are stationary small houses like the Keret House in Warsaw, Poland. It's just 48 inches at its widest and 28 at its narrowest. Granted, it's an art installation, but it hosts traveling writers because tight spaces squeeze out creativity. Or something like that.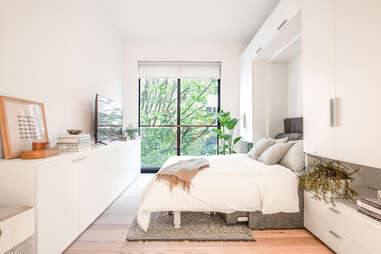 Small apartments that don't feel like closets
Carmel Place by Ollie in Manhattan's Kips Bay neighborhood currently has apartments ranging from the super compact 265 square feet to the still super compact 355 square feet. They come with access to work spaces, a spa-like pool area, and a roof deck. Rent even includes housekeeping. But if you're an introvert, it may not be the place for you. Even though the compact rooms scream comfort, the folks at Ollie are all about building a community. Organized networking events, volunteer opportunities, and day trips are available to tenants, so hopefully you like your neighbors.
And they're spreading the love across the country; the folks behind Ollie are taking their swanky compressed apartment designs to Los Angeles.
Recycled containers turned vacation homes
Flood and fire proof and with millions that won't be used for cargo again, shipping containers are up for grabs for about $1,500 apiece (you can find a bunch on eBay). Savvy do-it-yourselfers, also known as those people who basically bring Pinterest to life, turn these seemingly useless steel boxes into livable spaces. While some people combine several containers for a bigger structure, the creative geniuses at Atelierworkshop in New Zealand designed the Port-A-Bach prototype with just one. "Bach" is the term used by those Down Under to refer to holiday homes, and the retrofitted container is the perfect size for a family of four for a weekend getaway. Any longer and you may want to strangle your family for some private time.
Elsewhere in the world, containers were used to create the Decameron Design Shop in Sao Paulo, Brazil, as well as studio spaces and apartments in London's Container City.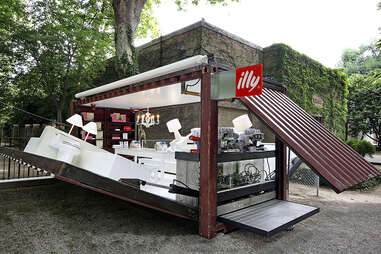 Temporary shopping structures
The folds behind Illy coffee commissioned Adam Kalkin, designer of the Push Button House, to create a push button café. In 90 seconds, the shipping container goes into Transformer mode and turns into a fully furnished coffee shop. Sadly, it was more a PR stunt than an actual place to go and have a cup of espresso.
But other pop up shops play off the concept that if something is temporary, more people will flock to it. They often use existing spaces, fitting a shop into the space that's available versus starting from scratch.
Restaurants with barely any (or 0) seating
Eateries are proving that, if the food is good enough, people will come… even if there's nowhere to sit and eat that food. About 400 square feet in size, The Shack restaurant in Virginia has little space to fit diners, given that 130 or so of those square feet are devoted to the kitchen. But people fill tables every night not only because there are so few to fill, but also because rotating dishes like maple quail are insane.
Compact isn't limited to brick and mortar eateries, either. Food trucks prove you don't need a lot of kitchen space to whip up amazing things. And Carabiner Coffee Company proves if one area gets old, there's always a new place to explore. The coffee shop in a VW bus spent some time in Seattle's South Lake Union before traveling to Boulder, Colorado, and is now puttering along the West Coast in support of Patagonia events.
Libraries the size of birdhouses (but made for humans)
The Little Free Public Library's take a book/leave a book concept may or may not have been derived from the take-a-penny/leave-a-penny trays. Anyone who wants to can build one on their property, register it, and get an official charter. There are technically no rules on what it should look like, but most look like something between an oversized birdhouse and an undersized dollhouse.
Chances are you've run into one somewhere in the US, but you can also find them in Germany, China, Costa Rica, and South Africa, among other places. You can't actually walk into them like a real library, but with books always rotating, you may discover gems like 1997's Living With Cats by Gale B. Nemec.