Before signing the Declaration of Independence, John Adams said that the day would be forever celebrated with "with pomp and parade, with shows, games, sports, guns, bells, bonfires, and illuminations." That sounds pretty 'Merica to us. To put your patriotic pomp on Founding Father level this Fourth, we've rounded up some of the most star-spangled attire you can get your hands on.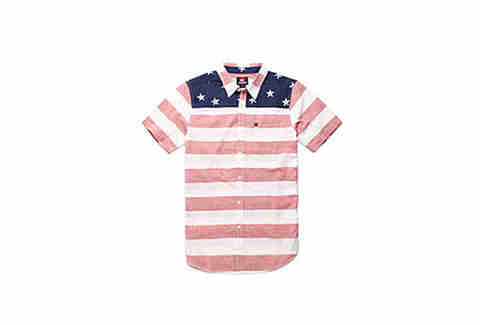 This button down is spiffy enough to wear during a presidential golf outing, but casual enough to help you be the most dashing dude at the barbecue. Just be careful not to get mustard on it when you chomp into a burger.
The red, white, and blue bathing suit is a classic -- dare we say, iconic -- example of Fourth of July patriotism. It exemplifies everything that's truly American: unabashed confidence, athletic prowess, and foolish gallantry. Plus these ones have cute little whales on them. Wear it as proudly as you would sing This Land is My Land.
Because clearly, you should be wearing your absolute best to your country's birthday party -- including your designer denim decked out in a stars and stripes pattern. These will also keep you prepped for cooler-weather patriotic holidays, like Veteran's Day and Memorial Day, so triple win.
We would be remiss to round up the most 'Merican apparel and leave out a baseball hat. That would be like rounding up America's top achievements and leaving off that we were the first ones to walk on the moon, or the first to realize baseball caps were way cooler backwards.
It's an election year, which means if you're not spewing off on Facebook about your political views or in some way sporting the party you're tied to (see what we did there?), then you're doing patriotism all wrong. Luckily, these ties will have you covered -- unless, of course, you're an independent. As usual, you'll have to write your candidate in, but you can do that on this t-shirt.
You know who one of the first politicians to flash a peace sign was? Winston Churchill, when it meant "V for Victory" during WWII. You can thank the hippies of the '60s for taking over this symbol and making it one of the most iconic symbols of American counterculture, and now you can endorse the idea without even having to lift a finger.
No Fourth of July outfit would be complete without the shoes to match your red-white-and-blue attire. To celebrate Independence Day, Havaianas has created limited edition patriotic flip flops. So you can literally show your American pride from your head down to your toes. 
If you know you're a patriot, then you know that you don't need to don the stars and stripes from head to toe to prove how much you love 'Merica on the Fourth. Instead, you can keep your feet firmly planted on your American ideals with these red, white, and blue socks.
If you aren't the suit-and-tie type, but still think that the Fourth of July requires you to look as dapper as that other bowtie-sporting stud, Abe Lincoln, then strap on this stars and stripes-printed pair. Bonus patriotism points if you can also grow a crazy long beard to match.
We hold this truth to be self-evident: that all patriotic pants are certainly not created equal, and that this pair will further establish your right to life, liberty, and the pursuit of happiness. Just don't blame us when someone spends the cookout trying to read all those words on your butt.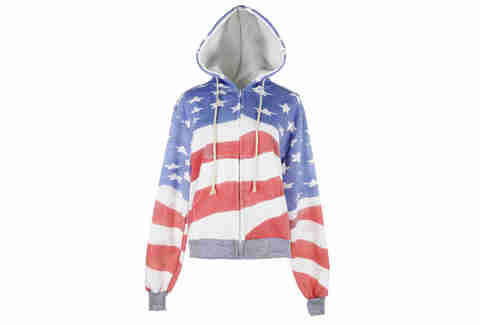 Things can get pretty chilly once the sun goes down, but you wouldn't want to cover up your festive Fourth apparel with just any old hoodie. With this option, you can keep things patriotic through the fireworks finale, even if the temperatures drop. Bonus: hoodies are comfy all year round, and your patriotism should be just as consistent.