How to Ensure an Awesome Backyard BBQ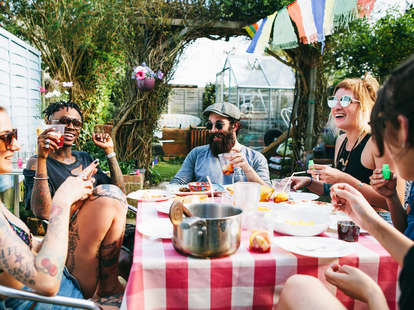 kkgas/Stocksy
kkgas/Stocksy
The Food
Whether you're looking for something out of the ordinary or you're looking to... well... cheat, we've got you covered.
1. Impressive Side Dishes
We hit up chefs across the country for sides worthy of the beef/pork/chicken/(fish?) they'll be straddling, like corn done right, the ultimate mac and cheese, and spicy fried potatoes.
2. Quick BBQ Recipes
Whether you call it a barbecue or a backyard party in which grilling happens, grilling is obviously most people's go-to at these affairs. But: slow-cooked greatness doesn't have to take all day. In fact, sometimes it only 30 minutes. Is this legal? Yes. Should you tell everyone about your shortcuts? Indeterminate.
3. Party Dips Ready in 5
From jalapeño dip to cookie dough dip. And did we mention 5 minutes? And cookie dough?
The Drinks
Technically your friends should be providing things like great summer wine and solid seasonal beers. If you want to augment those tributes, try:
1. Three-Ingredient Wine Slushies
These adult slushies, which mix wine, peach, and strawberry, are a wayyy better concoction than when you used to mix all the slushy flavors together at the convenience store. Mostly because wine.
2. Summer Cocktails
A fizzy grapefruit margarita, maple mint vodka spritzers, blackberry mojitos... To drink these inside would be plain wrong.
3. Dragonfruit Sangria
What's more impressive than regular sangria? Sangria named after fruit named after creatures that could light entire cities on fire, but were notoriously bad at making sangria.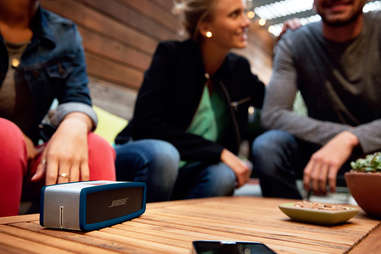 Crown yourself king of the 'cue with the Bose Soundlink Mini II, designed to work outdoors and deliver sound almost as powerful as your BBQ rub.
The Set-Up
Barbecues are supposed to be the most low-key kind of party you can throw, but it's only low-key because your planning made it look easy.
1. Have options for cooling off
This serves two purposes: 1) No one will pass out from heat exhaustion and 2) You can hose down that one guy who definitely did not shower before coming over. And while hoses, sprinklers, and pools are obviously great choices, might we suggest something a little more interesting, like this water gun you can also fill with ice or a kit for turning your umbrella into a mister.
2. Make sure you have enough (and only) enough cooking fuel
For charcoal, make sure you use a full chimney's worth for high heat cooking (burgers, etc), but only a quarter of your chimney for thicker cuts of meat. If you're using gas, this device syncs up to your phone to let you know how much propane you have left. Because not everybody has a propane store down the street.
3. Get enough ice
This may seem obvious, but volume is key here. More than you think you need. A quick rule of thumb is one pound of ice per person, per hour. The last thing you need is the beer getting warm. That would be disastrous.
4. Wear sunscreen
Whether or not you provide sunscreen is totally dependent on your magnanimity gene, but you should definitely wear it. Here's a few tips on how to select a good one.
5. Keep bugs away
If you suddenly notice your guests slowly trickling out, it's probably because they've become an all-you-can-eat buffet for gnats, greenheads, and mosquitos. Beyond zappers and citronella, there's plenty of ways to drive them off, like using a lantern that actually repels bugs, or bringing in plants they for some reason hate, like peppermint and marigolds.
6. Make cleanup easy
The easiest way to clean your grill is to have a robot do it for you. If it needs a serious scrubbing, soak the grates instead of using a sponge on your grill, as it will leave behind a gross soapy taste and potentially nastier sponge pieces.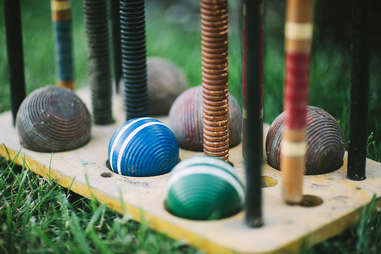 The Games
Yeah, the food is really the star, but in between eating and beers, people are going to get really bored of "catching up" and making small talk about the heat. To avoid the conversation quickly escalating to vibe-ruiners, like politics and annoying celebrities, we ranked the best lawn games here. You're welcome.
The Five People You Want There
At every cookout or pool party, there's the normal cast of characters, but make sure these folks get an invite first:
1. The Grill Captain
If you own a boss backyard but aren't necessarily into the responsibilities associated with playing the cook role, make sure you invite someone who's so enamored of their own abilities they almost wouldn't be able to resist shoving you out of the way even if you did initially assume those duties.
2. The Audiophile
As you get further away from being 15 years old, it gets harder and harder to know things like "What is this year's Song of the Summer?" and "What are bands that aren't Franz Ferdinand?" That might be overstating things a bit -- obviously everyone keeps up somewhat -- but when it comes to playing DJ for three to five straight hours, you want someone who's deeply invested in knowing what is, what was, and what will be up.
3. The Errand Boy
If a true emergency arises, like you've run out of beer or the ice has melted, you'll need someone else to handle running out to pick up more. This person might be spending most of the party inside in front of the TV, because they don't really like social situations, or sunlight.
4. The Ref
This is a job for that one friend who considers being "late" to work showing up at 9:15 and always brings a bottle of wine to a house party. They like to play fair and will make sure Ron doesn't step in front of the board during cornhole so you don't have to be the one who calls Ron out, because it's not that big a deal. Except it is.
5. The Steadfast Sidekick
At the end of the party, you're still going to need to peruse the yard for scattered paper plates, so that's a job for either your ride-or-die or your friend's new S/O who is really trying to make a good impression. We like her/him!
The Tunes
If you don't have an audiophile friend and aren't one yourself, we had a bunch of Austin musicians tell us their summer picks; we also ranked the top albums of 2016 (so far, anyway -- we still don't know what this year's "Song of the Thanksgiving" is).