Let's be clear: A career in freelance is not for everyone. Some people will never see any need to abandon the comfort and security of a 9-to-5 job, with its guaranteed wages, health benefits, and retirement plan. However, others, whether compelled by creative passion or a desire for independence, may feel an irresistible pull toward the freelance lifestyle.
For those lucky few who have ditched the office gig for a career in freelance -- whether as a writer, photographer, illustrator or in any of a thousand other fields that support employment outside a brick and mortar office -- the transition can be rewarding, if not without pitfalls.
To give would-be freelancers a fighting chance at success, we spoke to veteran freelancers about the absolute essentials for their relatively unstructured career path… and how to make that path more enjoyable once you've got your bases covered.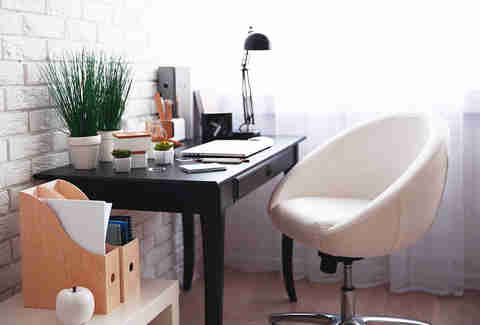 Pick your spot
Among the most obvious advantages of an office job is the office -- that is, a dedicated space where the work gets done. Freelancers are responsible for figuring this space out for themselves, whether at home, a café, a library, in a plane, on a train, with a fox, in a box, etc.
One of the key advantages of freelancing is escaping the mind-deadening labyrinth of cubicle walls and beige carpets, but once you've escaped there's no secret formula for discovering your ideal, productivity-maximizing alternative workspace. Everyone's preferences are different, and finding what works for you might take a little trial and error.
"I love variety," says Robert Evans, a writer & editor at the humor site Cracked, who constantly refreshes his surroundings with travel to stay creatively stimulated. "I've worked from the tops of mountains, villages in rural India, hostels and bars around Europe, two active war zones, plus planes, trains, and automobiles," he says. "And of course my home office and the Cracked office. I prefer variety to any one place."
Evans began his freelance career at 20 after leaving a job as an aid in a special education classroom, which -- while objectively a noble and rewarding calling -- included a trying amount of "being punched in the face." With a desire to write, but no formal training or specific career goals, Evans applied for an unpaid internship with Cracked, writing articles for the online magazine and any other publisher he could find. He landed a full-time contract gig with a tech news site until his toehold at Cracked turned into a stepping stone.
"Eventually Cracked started paying me to freelance," says Evans. "That gradually evolved into a full-time freelancing gig. Then they hired me on salary." Now the editorial manager of the site's personal experience article team, he still finds time to write his own material for the site and freelance elsewhere on his own time.
But not all writing thrives under such stimulating conditions. For freelance comics writer Ryan Cady, whose body of work includes books for Image Comics and Archie, seclusion is a necessity, at least in the beginning.
"I have a really terrible attention span, so I have to get super disciplined," says Cady. "I can't write first drafts or full scripts at a busy place like a coffee shop or a park -- I have to do it at home, usually in the kitchen when everyone else is asleep."
Once the structure is laid in seclusion, ensconcing himself in a bit more of a vibe becomes essential to drawing the outer character of his stories.
"When it comes to rewrites and edits, though, I love to find a Starbucks and let the background noise and people watching eat up my leftover attention while I focus on the work."
Going into an office every day is overrated. Skip business casual and stick to your pjs with the Samsung Chromebook Plus, which will help you be productive anywhere you want with its convertible form (a 360º rotating screen device) and slim, lightweight design. When you need a break, flip the screen so you can enjoy a quick movie on its Quad HD screen.
Secure your weapon of choice. Or weapons.
"I'm a bit obsessive about my gear," says Evans. "I've always been a tech enthusiast." He admits to having once taken a tablet to the top of Guatemalan volcano to test its hardiness. The tech did great, but for him, it's about finding the limits of his equipment so he knows how far to rely on it. "I like stuff like that. Trying to break nice things to see how well they hold up."
His current kit for remote journalism includes a reliable laptop, tablet, primary and backup recorders, paper notebook, and a sturdy metal pen.
In spite of his obsession with new technology and gadgets, Evans reveals his software usage is limited to a word processor, email, and a calendar to facilitate scheduling interviews and tracking deadlines. "I used Open Office in my freelancer days. Now that I live the rich wild life of an editor, I use Word."
For podcaster and radio personality Ralph Sutton, new technology has been the key to growing his podcast The Sex Drugs & Rock-n-Roll Show and GaS digital network while laboring under a freelancer's budget.
"Everyone told me a new studio would cost $100,000," says Sutton, who was able to keep the budget under $10,000 by using new innovations rather than the technology that had been traditionally recommended. The process required lots of time watching YouTube tutorials and shopping for the latest gadgets online. He estimates he saved 40% by building his own equipment.
Sutton's freelance gigs include hosting duties at rock 'n' roll events across the country and worldwide. "When I was hosting [The Full Throttle Saloon at] The Sturgis Rally, I'd need a literal van full of equipment," he says. "Now, I can do everything on my phone," which also acts as Sutton's backup recorder. "I can edit, add sound effects, plug my phone in to the LINE OUT on the [cruise ship] or wherever I'm recording and send the whole thing back to the studio." He adds that "technology allows full autonomy."
Cady embraces technology to bridge physical distances and personal limitations: "Laptops, always," he says. "I have terrible handwriting." Many of his projects include work with a co-writer, most recently Tini Howard, with whom he collaborated on Image's acclaimed series Magdalena. The two "Skype and chat, we lay out outlines, and then we just sort of maddeningly work in a single [shared] doc."
Plan to hustle
The biggest question for would-be freelancers is perhaps "Where do the jobs come from?"
And that question, unfortunately, is the hardest to answer. Evans points out that he left his full time job with a little money in the bank, which he could stretch to cover about five months' of rent and ramen and that he looked for work from "whoever would pay. I spent my free time Googling online writing jobs and sending out applications. I took odd gigs whenever they came up."
He says the key to such a scrape-and-scrounge existence is to "worry about paying your bills, not about making money. And what I mean about that is accept that you will have to spend money to do the stuff you want before anyone will pay you to do it. If you want to do travel writing, figure out what kind of writing will pay the bills and then get on the road and start pitching articles to publications you like. You can't afford to wait to get hired to do the thing you want to do."
Sutton provides similar advice. "It's a matter of doing it part time until you make money," he says. He first paid his bills by working as a DJ at a men's club while transitioning into broadcast radio, and later, podcasting.
He counsels fledgling freelancers to take advantage of the global accessibility of information, and availability of work to all skill levels: "Learn a couple of skills. Embrace the gig economy." He points to gig sites like Upwork and Fiverr as examples of how freelancers can proactively find work, at least in the short term.
To do this, Sutton recommends a diverse skill set, even if line items aren't as impressive as "built a sound studio from scratch." He notes that he not only taught himself how to build computers and design web interfaces, but also mastered the more commonly demanded Excel, which "made me more marketable" to everyday employers.
Strike a balance
So here you are. You've really done it. It's the middle of a weekday, and you're at the café on your laptop completing your first freelance gig.
Now what?
"[There's] fear [that comes from] being a freelancer," says Evans. "If I'm not writing then eventually I'll live in a dumpster." His solution is to embrace that fear.
"As a writer, there's a lot of value in being forever scrambling… I don't manage my time well so I am perpetually working but also perpetually slacking." He adds that it's best not to spend all your time at work. "My only hard schedule requirement is 90 minutes a day to work out. Mostly running."
Cady echoes that need for balance.
"You just have to give yourself tasks and chores, make sure you leave the house so you don't go insane, and feel like you have concrete responsibilities beyond the work. If creating is the only thing you have to do, it's easier to put off. And that's just a slippery slope to all the bad stuff."
Candidly, he adds, "I'd never had real issues with depression before I started freelancing full time. You have to do everything you can to keep working, to get outside, to interact with people. Don't get lost in your head, creatively or personally."
Finally, while you might get discouraged, don't get disheartened. You're chasing your dream, and Sutton says the cliché, "Do what you love and you'll never work a day in your life" is nevertheless true. And with the right tools and mindset you've got a fighting chance of doing just that.