Paid Content For
How to Host a Tranquil At-Home Spa Day for Your Friends
Paid Content For
If the weekend is meant to be an escape from everyday stresses, why are you spending it buying overpriced drinks at a crowded bar, waiting forever for a table at that trendy new restaurant that opened up down the block, and then finishing it all off by sitting in traffic coming home? It's time to truly treat yourself -- we're talking the full-on pampering of a spa day. And really, there's no need to pay big bucks at a fancy spa when you can create a little tranquility right at home. From how to decorate, to the treatments (and yes, the snacks) you'll indulge in, we've got your step-by-step guide to hosting the most relaxing spa day for your friends. Come Monday, you'll all be ready to take the week by storm.
SET THE MOOD
You're having people over, so you already know to pick up your clothes, sweep the floor, and definitely clean your bathroom. (Seriously, when was the last time you wiped down that mirror?) But to really transform your ordinary digs into a five-star spa, you'll need a few added touches.
Candles, candles everywhere
Unless you're pyrophobic, nothing is more zen than candles. They smell good, give off gentle light, and are calming as heck. That's why spas put them, well, everywhere -- and why you should, too. Instead of scattering a few tealights and calling it a day, opt for something more creative (and definitely more eye-catching), like floating candle centerpieces.
To make them, grab a pack of pint-sized mason jars and fill each an inch high with marbles. Next, choose a flower to fill the rest of the jar. (Gardenias and roses are two of the most fragrant types.) Lastly, fill the jars with water and rest a tealight candle on top. Your guests will think they walked into a resort.
Scatter a few plants and flowers
If you're not the crafty type (we can't all be Martha Stewart), just get A LOT of plants (or flowers, if you're less committal) to brighten up your at-home spa. Rather than expensive vases, grab those same mason jars and flowers of your choice. Trader Joe's bouquets start at just $3.99, so you don't need to spend a bundle for a bundle. Mix and match tulips, wildflowers -- whatever looks freshest that day -- and cut them short so they look full in the jars. For plants, succulents are a low maintenance, inexpensive option that you can buy in bulk. You can leave them as-is, or replant your new little friends in small mason jars, bowls, or teacups.
Pick up an oil diffuser
Purchase an aromatherapy oil diffuser for this spa day -- you'll probably use it every day, so it's really worth the price. Grab one for less than $20 on Amazon and pair it with your favorite essential oils. Not sure which scent you like? Studies have shown lavender reacts with the brain the same way that anti-anxiety medications do. Essentially (get it), it calms you down. Or try a variety pack for a sampling of scents.
BYO fuzzy slippers
You'll be providing pretty much everything, so it doesn't hurt to ask your friends to bring a few things. Enforce a strict leggings or sweatpants policy, and tell guests to pack their own fuzzy slippers, robe or comfy hoodie, and sandals for pedicures. Sure, you're gonna relax -- but you also mean business.
Throw on a calming playlist
Finally, complete the mood with some quiet background music. And no, we don't mean Drake or Taylor Swift -- save them for your New Year's Eve bash. Scour Spotify for playlists labeled "Chill Out Music" or "Chill Vibes" to find songs you've maybe never heard of, but will probably serve as your morning soundtrack from here on out. We like "Petals" by Bibio for giving a real feel for how this spa day is gonna go down.
THEN SET IT UP
Just like a real spa, every treatment needs its own dedicated area -- you can't facial where you manicure and massage where you meditate. Here's how to set everything up so your guests can move effortlessly and seamlessly from one station to another (without messing up a single nail in the process).
Mani-pedis
For the manicure station, clear off your dining room table and lay out the basics: polish remover, cotton balls, nail file, clipper, cuticle cutter, buffer, lotion, tons of polish colors, and a fan for drying (plus some paper towels to protect your table). Encourage friends to socialize while their nails dry, and ask one another for help with their non-dominant hand, if needed. No need for Jen to get polish all over her left hand if Alex's secret talent is nail art.
Pro tip: The best part of getting a professional manicure is the warm towel and hand massage, but you can totally mimic that first part here (more on the second later). Fully wet your washcloths in warm water, then roll them up and put in a slow cooker on low heat for 30 minutes. (For added luxury, drop some essential oil in there.) The closed pot will keep the towels warm until you're ready to give your hands a steam bath.
Now, onto those pedicures. The only additions you'll need are toe separators, disposable foot files, and some inexpensive bins. Simply fill them up from the bathtub and give your friends a selection of bath salts to choose from. (Guys, this is when you whip out that Christmas gift you never opened. Just make sure it's not from one of your guests.) Even if not everyone wants polish, who doesn't appreciate a nice soak?
Face masks
It's not a spa day without a face mask. (For some, it's not even a Tuesday.) Since every skin type has different needs, you'll need multiple masks. In the living room, set up a few bowls with signs identifying each mask, some paint brushes so no one's hands get messy, headbands to keep the goop out of your hair, and hand mirrors so everyone can see what they're doing. Now what kind of masks shall you make? Here's a cheat sheet:
For dry skin: The omega fatty acids in avocado and olive oil help seal skin cells, so try mixing those with plain yogurt and honey -- or look for other avocado mask ideas. (And try not to eat the bowl. The snack ideas are coming, we promise.)
For oily skin: The natural acid in lemon juice is known to reduce excess oil and remove dead skin cells. Pair it with (cooled) cooked oatmeal to decrease redness, and an egg. (This one doesn't sound too ready-to-eat, so we're not worried.)
Try a few more, like masks for acne-prone skin and for sensitive skin, so everyone can participate without feeling like there's a breakout in their near future.
Massages
This doesn't have to be as intimate as it sounds, but get a feel (sorry, we can't help ourselves) of the group dynamic to determine if your friends would be down for this one. Get some natural oils and focus on massaging areas like the hands and shoulders -- places that are less personal.
The hands contain several pressure points that alleviate tension and stress: Some easy ones for beginners include gently applying pressure to the muscles between the thumb and index finger, below the pinky where the hand meets the wrist (palm side), and where the thumb meets the hand (also palm side).
For shoulders, concentrate on making circular motions with your thumbs, followed by shoulder kneading (squeezing the shoulders with alternating hands). Next, move your fingers along the shoulders while pressing down firmly, and end with finger presses along the neck.
The best part of giving a massage? Obviously, getting one in return.
Meditation lounge
Though your whole house is gonna be zen, take it one step further and designate one room (i.e., bedroom, office, or wherever you have space) as a meditation lounge. Arrange yoga mats or blankets and pillows on the floor for guests to lie down on for 15 minutes (or longer), either in silence or with a guided meditation from Spotify or iTunes on the speakers. We suggest limiting the lounge to two people at a time and implementing a strict no cell phone policy -- so people actually feel refreshed when they leave.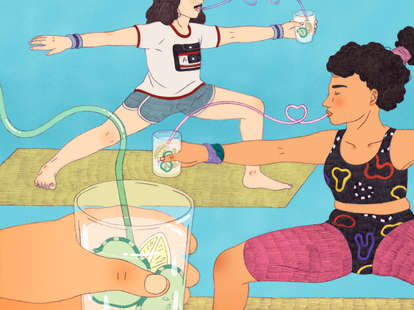 Jo Yeh/Thrillist
Jo Yeh/Thrillist
THEN SERVE IT UP
You didn't think we'd let you and your friends go hungry, did you? And since the goal is to feel refreshed at the end of this, these snack ideas will fill you up without bogging you down. (Sorry, that means no Flamin' Hot Cheetos or pumpkin spice lattes.)
Detox water
Pick a fruit, any fruit, because detox water can be anything you want it to be. A simple classic is lemons, which aside from being crazy refreshing, promote weight loss and digestion and have countless nervous system benefits. Cucumbers taste great, deliver antioxidants, and are high in vitamin B5 (which promotes healthy skin) and vitamin K (which promotes bone health). If you're looking for something sweeter, strawberries can help burn stored fat, boost short-term memory, and even have anti-aging properties.
A stocked tea station
Several caffeine-free tea varietals are known to reduce stress and anxiety, so you'll want, nay, need them at your home spa day. The menthol in peppermint tea acts as a natural muscle relaxant and will give you a feeling of overall calm. (In this vein, look for other herbal teas infused with mint.) Chamomile tea, meanwhile, is known to reduce stress and anxiety AND treat insomnia/relax the muscles.
Make your own yogurt bowls
Allow everyone to make the yogurt bowl of their dreams. Turn your kitchen counter (or bar cart, if you're fancy) into a customizable station with bowls and spoons, a large tub of plain Greek yogurt, several fruits (blueberries, kiwi, oranges, pineapple, etc.), sliced or chopped nuts, granola, honey, and whatever else you want. You can even award a gift card to the guest who makes the most Instagrammable bowl.
Hummus and veggie cups
You can never go wrong with hummus and crudités. Instead of making your guests hover over a tray, pre-portion scoops of hummus in plastic cups and garnish with sliced carrots, bell peppers, and celery -- pretty and practical.
Deviled eggs
Everyone loves eating deviled eggs, but we're all too lazy to make them. Since the theme of the day is decadence, show your guests you went the extra mile by preparing this special treat. You'll need a dozen eggs, mayo, and mustard (plus a pastry bag, if you're feeling especially fancy) -- try this Creole version for a spicy twist. You may not be Martha Stewart, but show them you're a regular Rachael Ray.
Avocado toast, duh
Is there anything more crowd-pleasing than avocado toast? Upgrade your slices with anything-but-basic toppings such as chili flakes, Trader Joe's Everything But the Bagel Sesame Seasoning Blend, poppy seeds, or Sriracha. The options are endless.
AND SEND YOUR GUESTS HOME WITH SOMETHING SPECIAL
OK sure, it's not a bridal shower or a Sweet 16, but it's still nice to give your pals a token to take home. Our suggestion: Homemade foot scrub. (And trust us, it's easier to make than you think.)
Coconut Salt Scrub: This Wonky Wonderful blogger says you only need three ingredients (coconut oil, coarse salt, and vitamin E oil) to make her foot scrub, and can adjust the recipe based on how much you need to make -- just keep the salt to oils ratio 2:1. (For extra fragrance, add coconut essential oil.) Package your scrub in 4oz mason jars tied with decorative ribbon or twine.
Lemon Foot Scrub: Adjust this recipe based on the number of guests, but you'll need 2 cups granulated sugar, 1/4 cup coconut oil, and about six drops of lemon essential oil. Again, package your scrub in 4oz mason jars and decorate with ribbon or twine. You totally got this by now; who needs us?
When your friends are begging you to throw another spa day, they'll have this gift to tide them over. And hey, just send them this handy guide and ask, "Who's hosting next?"