How to Turn a Pumpkin Into a Keg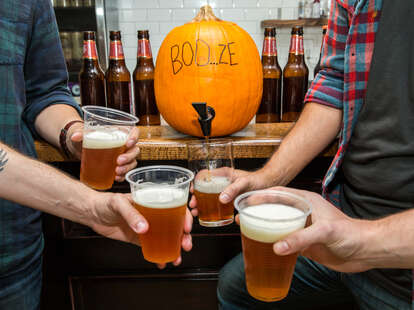 Cole Saladino/ Thrillist
Cole Saladino/ Thrillist
Ah, fall. The season of pumpkin spice lattes, pumpkin pie, Oktoberfest, pumpkin picking (?), pumpkin carving, and finally, pumpkin kegs. That's right, pumpkin kegs.
While the majority of your peers will be trying their artistic hand at carving jack-o'-lanterns and getting upset when theirs doesn't look like the one in the picture, you'll be kicking back and enjoying pints of fresh pumpkin ale, poured straight from the admirable pumpkin keg you just made. Sounds nice, right? It only takes about 15 minutes and will hold anywhere from six to 10 beers depending on its size.
No tricks here, pal. Only treats.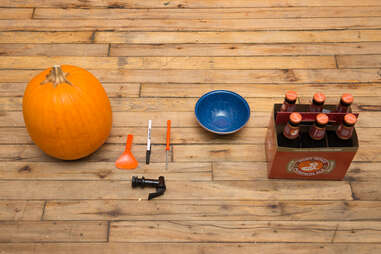 Materials
• 1 big, dumb, boring pumpkin
• A pumpkin carving kit (or serrated knife and large spoon)
• A bowl to discard those delicious seeds
• A pen
• A spigot
• A sixer of pumpkin beer (your choice!)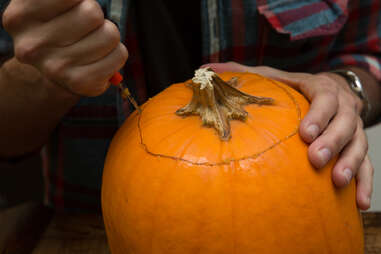 Step 1: Crop the top
Take a pen and draw a circle around the top of the pumpkin. This will help you carve out a nice, clean incision to rip the top off.
Step 2: Clean the keg
Remove the top and put it aside. It's time to mine this giant gourd for its delicious seeds.
Step 3: Discard seeds
You can either keep the seeds for some nice roasting later, or plant them to grow a pumpkin patch of your own.
Step 4: Outline the spigot
This will provide a perfect circle for you to cut out, in which your spigot will snugly fit.
Step 5: Jam the spigot into the pumpkin
It might seem like you're hurting the pumpkin, but you aren't. Pumpkins don't have central nervous systems and can't feel pain.
Step 6: Fill with beer
I chose Brooklyn Brewery's Post Road Pumpkin Ale. It did not disappoint.
Step 7: Admire your work
You just turned a pumpkin into a keg. You're like the Archimedes of gourds.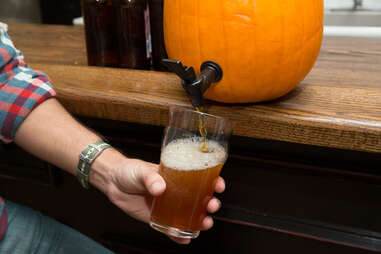 Step 8: Enjoy the fruits of your labor
If all went according to plan, when you flip the spigot, delicious pumpkin beer will start to flow like the Colorado River out of the pristine Rocky Mountains. The whole process took about 15 minutes and the beer came out cold and flavorful. Just the way Mother Nature intended.
Sign up here for our daily Thrillist email, and get your fix of the best in food/drink/fun.
Alex Robinson is an editor at Thrillist who likes pumpkin beer way more when it flows from an actual pumpkin. Check him out on Twitter: @ItsAlexRobinson.