Reimagine gift-giving this season with American Express Membership Rewards® points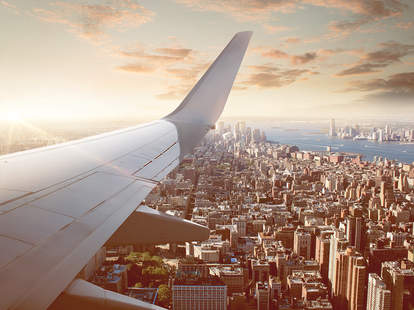 lassedesignen / Shutterstock
Getting gifts is great and all, but nothing turns you into a true holiday hero faster than giving the perfect gift. This holiday season, American Express® Card Members have the opportunity to show up fellow gift givers (all in the name of holiday spirit, of course). Use those hard-earned Membership Rewards® points to…
Gillian Vann / stocksy
Treat yourself to a night in for you and your boo
Listen: Never underestimate the value of quality time during this hectic month. If you've been running around from store to store, prepping for holiday dinners, and trying to close out your busiest quarter at work, take a night off and just stay in with your partner. Membership Rewards® points can be used directly at checkout on Seamless and GrubHub, so you can order in a meal for two and show your loved one that they're the greatest gift you can receive -- especially accompanied by carryout and a movie.
Make a donation to a charity
Use Membership Rewards® points to make a donation to the charity of your choice -- with over 1 million participating nonprofits to choose from, including disaster relief funds and human services -- as part of American Express Members Give. From 2010 to 2016, participating nonprofits received $84 million through Card Members' redemptions of Membership Rewards® points and donations made on their cards.
Go see the newest blockbuster
It's no secret that the best flicks come out during the holiday season. From November to December, movies hit theaters seemingly every weekend hoping to garner some serious Oscar buzz and draw huge crowds. By using Membership Rewards® points on an AMC, Regal, or Cinemark gift card, you'll never have to miss a movie again. This year, everyone's talking about Call Me By Your Name, Lady Bird, and Star Wars: The Last Jedi. Snag that gift card -- plus your tickets -- now, and spring for the popcorn and Milk Duds while you're at it.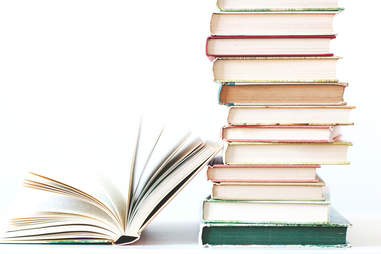 Kelly Knox / Stocksy
Grab a new read for each of your pals
Books are easily one of the best presents to give for the holidays since they're inexpensive and you can find one for pretty much every interest. Use Membership Rewards® points to grab a Barnes & Noble gift card, then head to the store and pick out new reads for a few of your closest friends. For the friend who always talks about moving to the mountains, get Michael Finkel's The Stranger in the Woods. For the friend who likes to openly weep on his morning commute, go with R.J. Palacio's Wonder. You'll probably even have a little something left over for yourself.
Host an ugly sweater party
If you've always thought an ugly sweater party seemed like too much work, think again. Just use Membership Rewards® points directly at checkout on Boxed and the bash basically throws itself. You can buy ornaments, your favorite brands of snacks and mixers (like Doritos, Stacy's Pita Chips, Tropicana Grapefruit juice, and more), and even wine, and have it all delivered directly to your door. Then all you have to do is set up and dress up. Show your friends you love them by throwing this awesome party, and pick something up for the friend with the ugliest sweater while you're at it (not for nothing, you can buy freakin' flowers on there).
Buy your busiest friend a personal assistant
Everyone has a friend who's always too busy to hang out. And, well, that's just not gonna fly during the holidays when quality time is almost as important as the presents. (Okay, fine, it's just as important as the presents.) Free up your pal's schedule this season by gifting her a personal assistant. We're talking about Alexa, Amazon's intelligent personal assistant, of course. Since you can use Membership Rewards® points directly at checkout on Amazon, you can purchase a brand new Amazon Echo. The device connects to Alexa, who'll help free up even the most hectic schedule by setting calendar reminders, ordering dinner, making calls, setting timers, and so much more. That gives your friend more time to, we don't know… show up for your very important ugly sweater party.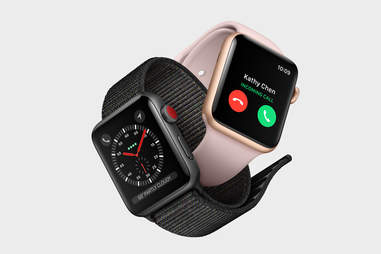 Courtesy of Apple
Ball out on an Apple Watch
'Tis the season for thinking about New Year's resolutions. To help you get a jumpstart on your ambitious plan to run a half marathon in 2018, you can use Membership Rewards points on the American Express Membership Rewards site to buy an Apple Watch (or other premium Apple products). That way, you can treat yourself this holiday season completely guilt free. A new tech gadget could help you stay on track with your other resolutions, too -- like getting to inbox zero, never being late to a meeting, and calling your mom once a week.
Do all of your holiday shopping without spending a dime
If you're overwhelmed by the thought of heading to the mall or scouring the internet for the best deals this season, your points can come in handy. Membership Rewards® points can be used for gift cards from over 80 retailers. And we're not just talking about generic gift cards either: Buy your friend who just got a new apartment a West Elm card or gift your mom a mini shopping spree at Williams Sonoma.
Johnny Adolphson / Shutterstock
Cozy up at a ski resort in Park City
This is winter after all, so why not plan on hitting fresh powder? Park City, Utah is known for having incredibly light snow that attracts skiers and snowboarders from across the country each winter. The St. Regis Deer Valley Resort is a Starwood property, so you can transfer Membership Rewards® points directly to the Starwood Preferred Guest rewards program and use them for hotel stays. That means you'll get the perks of being a Starwood rewards member, like earning even more points on your stay, or getting a promo for a hotel suite. Plus, St. Regis Deer Valley was the first ski resort in the country to bring in the same sort of service you'd find at a luxurious hotel, so expect plenty of bonuses (think gourmet après options and a full-service spa).
Book yourself a night somewhere exotic
It's common knowledge that American Express cards are practically synonymous with travel perks. But it's not just about flight miles. You can use Membership Rewards® points for hotel stays, too, as they can be transferred to Starwood Preferred Guest, Hilton Honors, and Choice Privileges hotel rewards programs. So if you're daydreaming about going somewhere warm (or treating your partner to a relaxing weekend), you may be able to cover a lot of the cost if you've saved up enough points. And we're not just talking about boring locales, either. Options like the Conrad Maldives Rangali Island is a Hilton property, so Membership Rewards points would be transferable for a hotel stay here. Getting a discount to stay at a beach villa on a private island? Vacations don't get much better than that.
Surprise your parents for the holidays
Besides being able to book your flight with Membership Rewards® points through Amex Travel, you can also get access to their discounted Insider Fares for substantial savings. The best part: The flights you book with points will still earn you frequent-flyer miles. Who knows, maybe you'll even be able to plan your trip home for the 2018 holidays, too -- and even afford to bring your boo out. (Mom's already dusting off the embarrassing home videos.)

Terms apply to all Membership Rewards® point redemption options and partners.